Together Women Rise is …
Together Women Rise is a powerful community of women and allies dedicated to achieving global gender equality. We have hundreds of local chapters across the U.S. where members learn about and advocate for gender equality issues, give grants to organizations that empower women and girls in low-income countries, and build community to forge meaningful connections that increase our strength and collective impact.



Our International Women's Day Event
Our theme this year was the "Power of Community to Achieve Global Gender Equality". We celebrated the power in coming together as women and allies who care about making the world a better place for women and girls.
WATCH RECORDING
Our New Identity
Dining for Women is now Together Women Rise. This new name, logo, and tagline are aligned to create a fresh, modern look that is inviting and inclusive to all and tells the world exactly why we exist and what we aim to accomplish.
LEARN MORE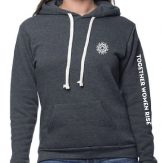 Limited Time Pop-Up Shop
Together Women Rise has partnered with Fairware to offer a variety of ethically sourced, sustainable products curated specifically for our new name launch. The shop is open for orders until March 27, 2021.
SHOP NOW
Collective Action for Global Gender Equality