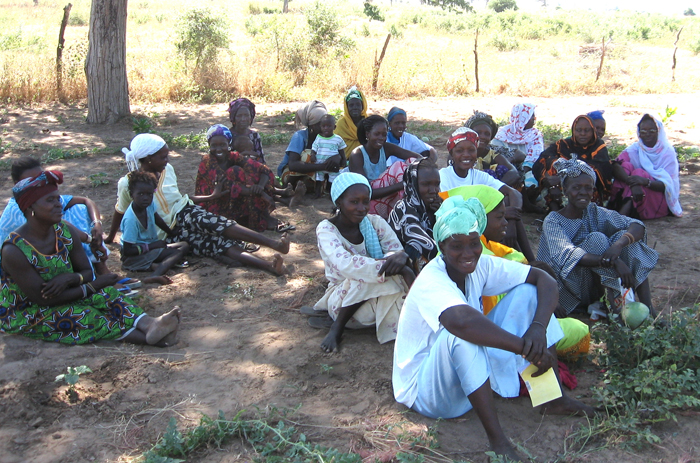 The mission of CREATE! Center for Renewable Energy and Appropriate Technology for the Environment is to help people living in poor rural villages in developing countries to respond to the increasingly disastrous effects of climate change on their lives, livelihoods, families and communities.
Life Challenges of the Women Served
Women and girls in rural villages face numerous challenges emanating from the underlying social structure, challenges that are exacerbated by the local impact of global climate change. In the traditional economies of these villages, men are responsible for the financial support of their wives and children.
But as water shortages continue, degradation of agricultural land and deforestation make it increasingly difficult to earn a living in their villages. A large number of men leave to seek employment in cities. This male exodus leaves the women to assume responsibility for completing all of the tasks required to sustain village life. 
Due to the enormity of the work they must complete each day, most women work continually from the time they wake up until the time they go to bed, enjoying almost no leisure time. Additionally, since women must complete so much physical labor each day, even very young girls are needed to assist with a multitude of tasks. Despite the fact that schooling is available locally, girls are often unable to attend or to obtain their diplomas because their daily assistance is needed in the village.
The most urgent need of the women and girls in rural villages is to reduce the amount of time and effort required to obtain water and firewood, two of the most arduous and time consuming tasks that they perform. Women and girls also need the opportunity to grow sufficient food for their families, generate income to meet their household needs and build their capacity for leadership within the community.
In 2011 women represented 52 percent of the population but they performed 90 percent of domestic work and 85 percent of agricultural work.
While roughly equal numbers of boys and girls were enrolled in primary education, UNICEF reported that 28 percent of boys were enrolled in secondary education compared with 22 percent of girls.
Life expectancy at birth is 58 years for men and 62 years for women.
Fifty-four percent of the population lives below the poverty line.
The Project
Among the 1,200 people in Thieneba are a number of men who have remained in the village for a variety of reasons. Some are those who have been able to work locally in skilled trades such as masonry and construction, while others are younger men and boys. Additionally, as in most traditional villages in this part of Africa, the village leadership council is made up of men – primarily elders – as is the local religious leadership group, which also plays a key role in guiding village life.
In Thieneba, the Village Chief and Imam (spiritual leader) are particularly strong supporters of the CREATE! program and are also genuine promoters of greater opportunities for women in the village. Operating in a traditional patriarchal structure, men's support of the program is essential in order for the women and girls to be able to participate. Also, from a practical standpoint, the men are able to assist with heavy tasks such as clearing land and digging ditches for the irrigation system. In order to have the men feel engaged in the program and therefore be more supportive of it, CREATE! sometimes includes a small number of men in their training sessions, though DFW's grant will support women and girls only.
A community garden cooperative group – the majority of whose members are women – has already been formed in Thieneba, and a gardening site has been established.  The gardening cooperative members will be trained by CREATE!'s Agriculture Specialists in sustainable, year-round crop production using compost, organic fertilizers and locally provided, non-GMO seeds.   The cooperative will include:
• 180 women in the garden group as it expands from 100 women once water becomes more easily available. This represents half of the direct beneficiaries in the community.
• 40 women in a poultry-raising project.
• 20 women in tree and vegetable seedling production.
• 30 women in fruit and nut harvesting.
CREATE! field staff will work with the community of Thieneba to install a solar powered pump in the hand-dug well that has recently been completed at the cooperative garden site.
The solar powered pump will provide abundant quantities of free, pure water for the garden – as well as for household use for the entire community – and it will free women and girls from the backbreaking work of drawing water by hand, all without the use of fossil fuels.
Members of the community will also be taught to design, construct and use a gravity-fed irrigation system to store and distribute water from the well for the cooperative garden.  With access to ample quantities of free water, a gravity-fed irrigation system, and training in year-round sustainable agriculture, women and girls will be able to grow and harvest a variety of produce on a year-round basis for the first time ever.
Women and girls also need the opportunity to generate income for their families and to build their capacity for leadership within the community.  The cooperative gardening program responds to these needs not only by producing vegetables that can be sold in the market but also by conferring significant responsibility on each group member to participate in training sessions and to work in the garden according to the schedule and program established by the group members themselves.
Additionally, the women in the cooperative and 88 other women and girls will be taught to build, use and maintain their own fuel-efficient cook stoves from free, local materials, thereby reducing their household firewood consumption by at least 50 percent.
The design of these stoves is such that women can still cook in the traditional manner using a pot over a three stone fire, but using half the amount of wood, reducing the time and effort in obtaining wood for cooking, as well as the amount of time it takes to cook a meal.
The cookstove program also builds leadership skills by giving women the opportunity to be in charge not only of the construction of stoves in their own households, but also to become community trainers and leaders in the promotion and tracking of cookstove construction and repair.
Questions for Discussion
1) What if you had only two gallons of water per day per family member, and you couldn't trust that the water wasn't contaminated. How would it change your life?
2) We all know what it feels like to be desperately in need of a bathroom. Imagine not being able to relieve yourself until you could slip out under cover of darkness.
3) What would your life be like if you had not had access to contraception or family planning? Would you have taken the same path? If so, would it have been more difficult?
The Project Budget and How DFW's Donations will be used
The proposed budget includes $67,840 of in-country expense. CREATE! has requested a total of $50,431 from DFW to provide 74 percent of the in-country expense in direct support of the program. The balance will be provided from matching funds committed by private donors.
| | |
| --- | --- |
| CREATE! – DFW Budget  | Expense |
| In-country program staff salaries – 74 percent of expense for Director, Agricultural Technician, Vocational Trainer, Village Animators*, Master Gardener Trainer, Leadership Trainer | $15,953 |
| Solar powered pumping system for newly dug water well | $12,000 |
| Irrigation and water storage system for crop cultivation | $ 3,500 |
| Garden fencing, poles and roofing materials for protection of garden and construction of seed nursery | $ 3,000 |
| Garden tools, seeds, seedlings, organic fertilizers and pesticides | $ 6,000 |
| Fruit and nut tree seedlings, supplies and materials to expand existing plantation of cashew, mango and lemon trees | $ 2,000 |
| Poultry project materials – Chicks, chicken wire, medicine, feed | $ 3,000 |
| Cookstove trainer stipends and training materials | $ 1,000 |
| In-country office rent, supplies, utilities, phone | $ 2,328 |
| Vehicle fuel and maintenance | $ 1,650 |
| Program Total | $50,431 |
*Village Animators are women who participate in the program and are selected by members of the cooperative to take a leadership position. Animators provide ongoing support for the community and reinforcement of information delivered in training sessions. CREATE! will provide them with extra training to build their leadership capacity.
Please note: Net donations over the grant amount will be reserved to ensure we fund in full all future selected program grant requests, provide Sustained Program Funding to former DFW featured programs, and to offer up to $30,000 to an organization selected by member voting through the new Member Choice Program.
Why We Love This Project
We love this program because it addresses many of the Senegalese women's basic needs (water, food, shelter, health) while focusing on environmental conservation through gardens for sustainable food harvests, clean and readily available water, cooking stoves that use significantly less fuel, as well as other income generating projects such as tree and nut cultivation and poultry farming.
Evidence of Success
A similar project carried out in the village of Diender in 2010 created a 36-member community gardening cooperative that is now able to grow a variety of vegetables year-round on a 2.5 acre plot of land adjacent to their village. Elizabeth A. Larson, an intern from Lawrence University in Appleton, WI, lived in the village, worked alongside the women, and communicated with them in their local language. In a December 2011 report she wrote:
"If one asks the women of Diender if life is easier now than it was before CREATE! arrived in their village, they answer a resounding 'Yes'. The program that CREATE! introduced in Diender produced an environment where the women of the village are becoming self-sufficient and independent. CREATE! provides these women with the tools needed to independently complete each task involved in the program. Not only has the program made life easier, it has also instilled in them an increased sense of leadership and responsibility. Due to the increase in responsibility, the women of Diender have a larger influence over their own lives. With proper resources, the successes of the Diender program can be extended to other villages in Senegal."
Elizabeth also noted that in Diender the impact of the program has made it possible for an increasing number of girls of all ages to attend the local school, which bodes well for their future and for the future of their community.
Successes during the 18 months that CREATE! has been implementing its programs in Senegal include:
Twenty cooperative groups with a total of more than 800 members established in six communities.
Twenty acres of land donated to CREATE! projects by local and traditional authorities.
Two existing village wells rehabilitated to provide water for household and gardening needs.
Two new wells being built in villages where well rehabilitation was not feasible.
Three solar-powered water pumps with associated water storage tanks and gravity-fed storage and irrigation systems.
Five 20,0000+ liter ferro-cement water storage cisterns constructed.
Two existing water networks in community gardens rehabilitated.
Three new water networks in community gardens, one completed and two under construction.
Six community gardens established.
More than 10,000 pounds of vegetables (eggplant, squash, tomatoes, okra, peppers and onions) harvested and sold locally.
More than 8,000 cashew, lemon, and mango trees for income generation planted in community sites and gardens.
Hundreds of women trained in the construction, maintenance and repair of improved cook stoves.
More than 500 improved cook stoves in use, reducing the need for firewood by at least 50 percent.
Voices
"I have noted a union of women as a result of the group activities. There is greater social cohesion at the village level and a new team spirit has been generated amongst us."
Sokhna N, Group Member
"We have a good team spirit, and since we know the importance of the benefits we will have from the garden, we have redoubled our effort to prepare the site."
Thiaffour S, Group Member
"We now have vegetables available locally that we have cultivated at the gardening site during the rainy season. In fact, it is my turn to harvest crops and take them to Gosass for sale. We hope for more success when water is available at the site for the whole year."
Ndiaye T, Group Member
"Before, we had a problem of firewood but now with improved cook stoves, we have a savings of 75 percent, our children are protected against fire and the fire dangers have greatly diminished."
Kolle N, Group President
About the Organization
The program was established in 2008 to help rural populations in the developing world cope with water, food and fuel shortages resulting from the impact of climate change on their communities.
Founder and Executive Director Barry Wheeler served in the Peace Corps for six years as an Appropriate Technology volunteer, trainer, and technical advisor in Togo, West Africa. After earning a Master's degree in International Agriculture and Rural Development from Cornell University, he focused on project planning and management, local capacity building and sustainable community rural development in developing countries. Before founding CREATE!, Wheeler served with the American Refugee Committee programs in Uganda/Sudan and Rwanda, as a consultant for UNICEF and UNHCR, and taught international community development at the graduate and undergraduate level.
Where They Work
Senegal is a developing country in Western Africa, bordering the North Atlantic Ocean between Guinea-Bissau and Mauritania. Slightly smaller than South Dakota, the country features lowland plains rising to foothills in the southeast (the highest point is only 500+ meters above sea level). The climate is tropical with a hot, humid rainy season (May to November) and a hot, windy dry season (December to April).
Senegal is considered a strong U.S. ally as a regional, diplomatic, and economic partner. The country shares many fundamental values and international goals with the United States, and it has been a symbol of democracy as well as ethnic and religious tolerance. Senegal also has contributed to regional peacekeeping operations. However, it faces internal threats to its stability due to a growing youth population (43 percent of the population is under 15 years old), limited employment prospects, increasing urbanization, weak private sector investment, and the gradual erosion of good governance and transparency. (In March 2013, Senegal's special prosecutor charged with investigating the embezzlement of state funds asked the son of Senegal's ex-president to justify a fortune that he estimates is worth up to US $1.3 billion.)
Senegal is not only representative of many Sub-Saharan African countries hardest hit by the increasingly disastrous effects of global climate change, but represents one of the most daunting challenges to respond to it, especially as it affects the rural poor. Rural village populations in Senegal, already under severe hardship, are increasingly subjected to the aggravated inter-connected effects of global climate change, threatening their access to water, their ability to grow sufficient food, their health, their livelihoods, their way of life, and their lives.
Conserving energy and protecting the environment are major challenges. This is especially true in rural areas, where most cooking is done over open fires and electricity is usually generated using non-renewable, unsustainable and costly diesel fuel.
Thieneba, Senegal is a rural village located in central-west Senegal in the Fatick region, with a population of approximately 1,200 and an average per capita income of $350/year.
Source Materials
CREATE! Website
CREATE! Facebook page
Documentation and images provided by CREATE! to Dining for Women
Additional Resources
Main Program Page
Food for Thought, an in-depth look at the challenges climate change brings to Senegalese women
Recipes, Customs, and Cuisine
Shop! Read! Watch! Listen!
The U.N. 2015 Millennium Development Goals
Politics / Economy / History / Geography

http://www.state.gov/r/pa/ei/bgn/2862.htm
http://www.usaid.gov/where-we-work/africa/senegal
https://www.cia.gov/library/publications/the-world-factbook/geos/sg.html
http://www.miamiherald.com/2013/03/15/3287989/senegal-ex-rulers-son-accused.html