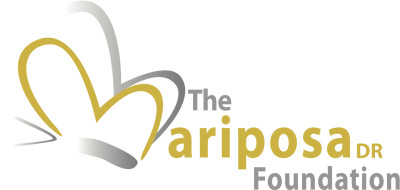 "I
nvesting in women is smart economics, and investing in girls, catching them upstream, is even smarter economics."
— Ngozi Okonjo-Iweala, former managing director, The World Bank
The Mariposa DR Foundation, featured program for April, is the recipient of a one year $44,450 DFW grant that will serve at-risk adolescent girls of Dominican and Haitian descent between the ages of 8 and 21 who live in poverty on the North Coast of the Dominican Republic, a region where poverty is rampant and sex tourism is on the rise.  Without help or guidance, these girls are at extremely high risk of teen pregnancy, sex trafficking, HIV/AIDS and a life that continues the generational cycle of poverty.
Mariposa DR is the only organization on the North Coast of the Dominican Republic that is focused on helping at-risk girls achieve knowledge, skills, and empowerment to help them break out of the poverty cycle.  The mission of Mariposa DR is to educate and empower girls to create sustainable solutions to end generational poverty.  Unleash the Leader in the Girl is a day program that invests in the economic potential of the girls through access to quality education, health care, job and life skills training which, when combined holistically, help the girls feel empowered and in control of their own lives.  Through empowerment they can break the cycle of generational poverty for themselves and their entire family.
The DFW grant will pay half of the annual expenses for daytime meals for the 150 girls in the education and leadership program, safe transportation for the girls between home, school and the Mariposa facility, and a large share of the personal and health items for girls including sanitary napkins, first aid, etc., school uniforms, and community service projects.  The grant funds will also help support the in-country program manager and the artisans who support the girls and the program.
Life Challenges of the Women Served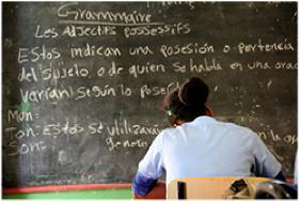 In a region where extreme poverty is rampant, literacy is low, and sex tourism is on the rise, girls stand little chance to succeed in life.  The Dominican Republic is a dangerous place for adolescent girls and even more dangerous for girls living in poverty.  In a country of extreme beauty and a thriving tourist industry, the sex trade also thrives and the adolescent girl is a prime target.   DR industries cannot support a large unskilled, unschooled workforce, and many poor families struggle to earn a few dollars a day.  They depend on their children to help.  Young boys generally must find work, and the girls are required to take care of the home and the youngest children. These conditions result in some sobering statistics. According to the Mariposa Foundation:
Fewer than 20 percent of all girls in the DR make it past 8th grade.
A 10-year-old girl growing up in poverty has already worked more than 1,000 hours doing domestic chores.
Only six cents of every dollar of international aid money is directed toward girls in poverty.
There are few choices for poor adolescent Dominican girls.  Although public school is free, parents often cannot afford the books and school uniforms for all of their children, and boys are generally sent to school while girls stay at home to handle domestic duties.  Girls must walk to school, putting themselves at risk of being hit by a car or being kidnapped or lured into the sex or pornography trades.  Girls may miss a week of school each month if they don't have sanitary protection during menstruation, causing them to fall behind in their studies.  If they aren't in school, adolescent girls are more likely to marry or get pregnant, thus perpetuating the cycle of poor, illiterate women raising poor illiterate children.
"Girls who receive an education marry later, have fewer children, and are more likely to seek healthcare for themselves and their children." – The Girl Effect
The Project
The program operates six days a week during the academic year. Girls live at home and travel to the Mariposa facilities daily.   Activities are carried out in small groups throughout the week, and on Saturdays all of the girls in the program meet together for leadership and bonding activities, including community service projects and field trips. During the summer the girls attend Girls Leadership camp, a 4-week girls-only day camp that encompasses all of the themes focused on throughout the academic year.
The program focuses on six key areas: academic enrichment, community engagement, experiential learning, health and wellness, international awareness and summer programs.  Girls are encouraged to be active partners in their learning process through an experiential learning curriculum that includes academic, health, arts, sports, community service, and environmental education programs.
Academic enrichment
Girls are encouraged to stay enrolled in the local public school and are given private tutoring to help them master their classes.  Their school supplies and uniforms are paid for through the scholarship fund if their families cannot afford them.   When girls are accepted into the program, Mariposa DR takes all the young girls in the family.  Children ages 2 – 6 attend the Three Mariposas Montessori, a partner program, until they are old enough to enter the public school.
Community engagement
Community service is important to teach girls that, even though they are poor, they can be powerful change agents in the lives of those around them. Each girl earns 15-20 hours of community service per year.  Community service projects include visits to the local nursing home, the maternity ward at the public hospital, a drug rehab facility for women, and working alongside student groups, service learning trips and volunteers to make improvements to local schools.
Experiential learning

Experiential learning activities are options centered on local resources that girls can choose during the course of the year.  These include field trips, environmental education, cultural arts, leadership development and job skills training.  Field trips may include horseback riding to zip lining, boat tours, museums, or other local and national tourist attractions.  Environmental programs include gardening, nature hikes and many opportunities to learn about locally grown fruits, vegetables, plants and the many natural wonders of the Dominican Republic.  Cultural arts, which include dance, visual arts, music, and theater classes, are important part of the educational experience because exposure to the arts and creative outlets are associated with gains in verbal skill, motivation, concentration, confidence and teamwork.  Older girls, 14 and up, receive about 100 hours of development training per year depending on their individual needs. This may include vocational training, career path counseling, English classes, individual and small group mentoring, and life skills coaching with regular trips to nearby urban areas to familiarize themselves with the resources available to them.
Health and wellness
Mariposa girls have weekly health education classes that cover an array of topics from sex education, basic hygiene and sanitation, food preparation, physical education, hand-washing and disease prevention and more.  Local community health organizations and international volunteers have partnered with Mariposa to ensure that all of the girls visit a doctor and a dentist at least once a year.  They also receive eye exams and glasses if needed.  Menstruating girls receive reusable cloth sanitary napkins.  All girls are expected to participate in some type of regular sport activity.  Mariposa has its own pool and teaches swimming as an essential skill for living in a water-sport focused community.  Other sports include surfing, windsurfing, kite surfing, soccer, softball, volleyball, tennis and circus training.  Mariposa has a program to supply beds and bedding for families when the girls are chronically sleep-deprived from sleeping on poor, crowded, bug-infested bedding. To ensure proper nutrition and regular attendance, girls receive healthy, nutritious meals and snacks throughout the day.
International awareness
To advocate for adolescent girls and inform as many people as possible about the importance of championing girls around the world, Mariposa DR promotes student groups and service learning trips and sponsors an active international volunteer program.  Service learning trips provide a unique opportunity for students to relate academic experiences to real-life situations and foster a sense of civic responsibility. They are a powerful medium for cross-cultural exchanges and open new horizons for students as well as community members working alongside them.
Summer programs
Summer activities include a full-day camp that covers all of the activities available during the year.  The summer programs keep the girls engaged, active, and safe.
Questions for Discussion
How is the girls' leadership program set up to address the wide scope of needs of the poverty-burdened girls they accept in their program?
In what ways does the program ensure that parents support their daughters and encourage them to attend on a regular basis?  Why is this effective?
Why does the program

not

consider it a failure if a girl becomes pregnant?  Why is it important to keep girls in the program during their pregnancy?
Why is security and safe transportation for the girls an essential part of the program?
The Project Budget and How DFW's Donations will be used
DFW's grant of $44,450 will support the program manager, local artisans, as well as safe transportation, medical supplies, school uniforms and other program necessities. The full project budget totals $313,450.  Only budget items covered by DFW funds are shown.
If net donations exceed the Featured Program amount, we provide Sustained Program funding (grants to selected programs previously funded by Dining for Women) and provide a reserve to ensure we are able to meet future grant obligations.
Why We Love This Project
Mariposa involves the local community in achieving its success in a unique and holistic way. By including family members, it ensures a higher participation rate, which ultimately is necessary for true systemic change. Their ultimate goal is to create a "conveyer belt from cradle to college for girls and their children." They engage regularly with their families and work along with parents, siblings, neighbors and community members, making sure that everyone benefits from their girls being in the program. We also love their belief that success is different for each child because each girl is unique and has a different set of challenges that may be standing in her way. Mariposa does an excellent job identifying these challenges and incorporating the entire community in finding realistic and sustainable solutions.
Evidence of Success
The biggest indicator of success is that every Mariposa girl has stayed in the program beyond the age her mother was when she was born.  Although they have had a few pregnancies, the girls have stayed in the program with emphasis on being a better, more responsible mother with a happy, healthy baby.  More importantly, the cycle of poverty does not continue.  Success is measured on a case-by-case basis with attention to attendance rates, grade completion rates, pregnancy rates, HIV rates and life choices.
For one girl, success was learning to swim and becoming the first Dominican girl kite boarder in a town where hundreds of boys grow to make a living from this popular sport.  For another girl who was not able to complete high school, success was learning sewing skills and discovering a talent that she converted into a successful quilting business.  And for yet another girl, success was graduating from college and returning to the DR to give back to the community through her work, service, and exemplary model.
Voices
"I like the Mariposa DR Foundation because there I learn a lot of things. I learn to study, to do homework, to swim and to read. I also practice my English." —Luismina, top left
"The Mariposa DR Foundation has given my daughter a scholarship and has given me a job." — Orquidea, top right
"The Mariposa DR Foundation has taught me about health, about the prevention of violence against women, about hygiene, about the importance of brushing my teeth and bathing." —Niurca, bottom left
"I like to do sports at the Mariposa DR Foundation because they make me strong and it's good for my body. The other classes, like reading class, are preparing me for when I'm grown up because I will know how to read and write well." – Lorena, bottom right
About the Organization
The Mariposa DR Foundation was officially founded in 2009 by a group of caring volunteers and children who were inspired by past works, and the urgent need for community-based solutions to end poverty. Their mission is inspired by the United Nations Millennium Development Goals.  Achieving these goals is dependent upon the education and empowerment of women and young girls.
The early beginnings of the foundation started in 1992 when founder and Executive Director Patricia Thorndike Suriel arrived in Cabarete, Dominican Republic and founded Iguana Mama Mountain Bike and Adventure tours, an eco-tourism company that helped put the Dominican Republic on the map as an international adventure destination. In Cabarete, she saw first-hand the plight of Dominican women and especially girls when she married into a poor Dominican family in 1995.  Over the years she witnessed a series of family tragedies that might have been avoided with money and access to proper health care for the women.  Polio took the life of a 15-year-old cousin. Her 14-year-old sister-in-law suffered a miscarriage.  Her 20-year-old sister-in-law lost one of her twins at birth and years later she lost her life to kidney failure.  In 1999, a powerful hurricane destroyed the family's home and their livelihood.
These tragedies strengthened Suriel's resolve and passion to alleviate extreme poverty in the Dominican Republic.  She began offering clients discounts if they donated children's books in Spanish, and raised enough money to build three small libraries at local schools, which lead to the founding in 1999 of The Friends of the DR.  By 2002 the organization became a full time effort and was transformed into the Dominican Republic Mentoring and Education (DREAM) project. In the winter of 2009 Suriel began to develop the concept that would become the Mariposa DR foundation and in October 2009 the Mariposa DR foundation was granted 501(c3) status as a recognized not for profit organization.  In the fall of 2012, the foundation purchased a large piece of property, formerly a private school in the town of Cabarete, that had been abandoned two years earlier.  The Foundation began a capital campaign to transform the run-down and dilapidated property into a beautiful facility where poor Haitian and Dominican girls could come to engage in sports, academic tutoring, library and computer access, job and life skills training, health and wellness care.
The foundation is now working hard – running their programs for girls and raising funds to continue transforming the facility into a place of learning, empowerment, and promise that grows with the program.
Where They Work
The Dominican Republic is located in the Caribbean Sea in the Greater Antilles archipelago.  It is located a little over 1,300 miles south east of Florida, north of Venezuela, and east of Cuba.  It shares the island of Hispaniola with Haiti, which occupies the western half.
In 1492, Columbus claimed the entire island for Spain, but by 1697 the Spanish ceded the western half of Hispaniola to France.  This colony was to become Haiti, a French-speaking country.
The lush tropical island nation is one of the poorest islands in the Caribbean. It is blessed with a unique tropical geography and rigorous terrain that makes it a top destination for tourists, but it is also plagued by a largely unskilled workforce that hasn't adapted from agrarian to modern demands.  Tourism fuels the economic engine of the DR, but tourist dollars do not trickle down to the entire population.