Gardens for Health International: Featured (2014), Sustained (2019-2021)
Sustained Funding
Project Title: Maternal Health Program
Location: Rwanda
Project Summary: Gardens for Health International (GHI) works to end chronic malnutrition in impoverished communities in Rwanda. Thirty-eight percent of children in Rwanda are malnourished mostly due to lack of proper nutrition. By focusing on pregnant women and mothers of young children, GHI hopes to prevent malnutrition before it begins. GHI conducts rigorous monitoring, evaluation, and data collection to ensure that its projects have the desired impact. For this Sustained Grant, GHI is expanding the project they completed for the $43,867 Featured Grant they received from Dining for Women in November 2014. For their Featured grant, GHI partnered with trained community health Workers to screen and monitor more than 1500 children for malnutrition. Mothers and families received Home garden packages and trainings on how to grow nutritious food all year.
During the three-year period of the Sustained Grant, 9,840 pregnant women will be educated on key nutrition and health topics such as the benefits of a healthy diet, and best practices for breastfeeding and complimentary feeding. They will also be encouraged to attend regular prenatal care check-ups. GHI field educators understand their community well and deliver engaging training sessions full of singing, dancing, skits, and live demonstrations. GHI's innovative One Pot One Hour lesson demonstrates how to cook a healthy meal with limited time and resources so that every mother can provide her children with the nutrients they need to thrive. Mothers also learn to identify symptoms of common illnesses, promote family planning, and discuss difficult subjects like traditional medicine and gender-based violence. This increased knowledge and behavior change leads to pregnant women being healthier and well-nourished throughout their pregnancies, fewer children becoming malnourished during the critical first 1,000 days of a child's life, and a healthier future for the entire family. Research shows that well-nourished children get sick less often, perform better in school, and are more likely to escape poverty.
Impact: This project will directly impact 9,840 women over the three-year period, and will indirectly impact 22,200 family members.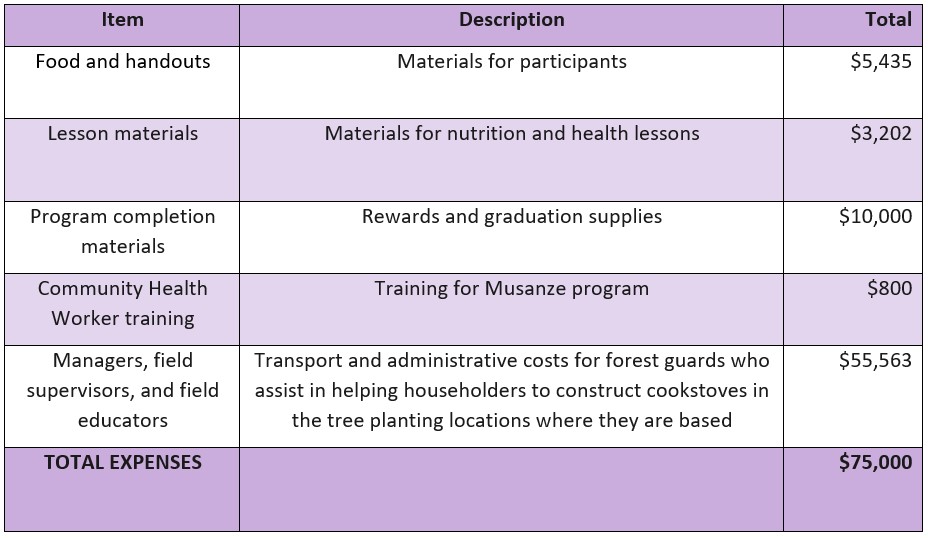 Why we love this project: We love that GHI pursues a simple concept: that food itself does not equal good nutrition. GHI works to end chronic malnutrition in Rwanda by empowering families to grow and eat nutritious food. By using extensive nutrition education, excellent monitoring mechanisms, home visits, and assistance in growing nutritious food, GHI prevents chronic malnutrition in pregnant women and children before it occurs.
Sustainable Development Goals: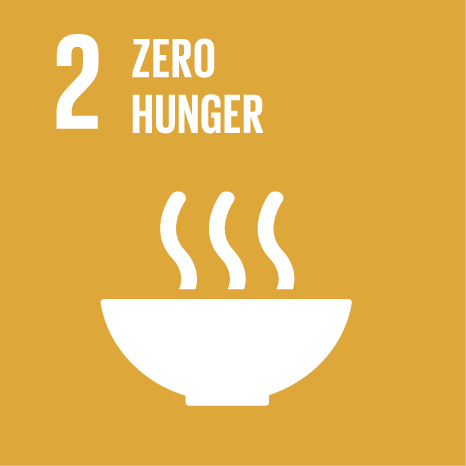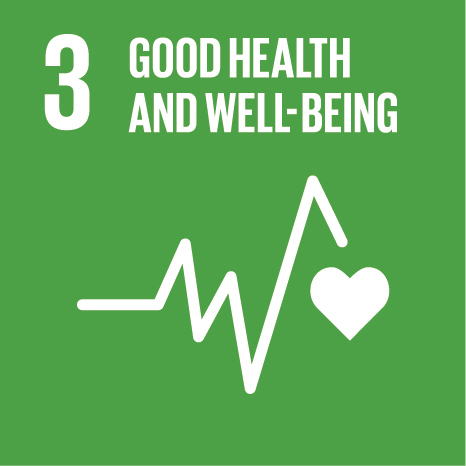 ---
2014 Featured Grant Info
Project Title:
Bumbogo Health Center and Community Outreach Support
Location:
Rwanda
Grant Amount:
$43,867
Grantee Website:
www.gardensforhealth.org
Areas of Impact:
Economic Sustainability, Health, Leadership Development, Safety and Security
Mission of Gardens for Health International: Featured (2014), Sustained (2019-2021)
Gardens for Health International works to provide lasting agricultural solutions to chronic childhood malnutrition.
Project Summary
DFW's grant will support health and agriculture programming at Bumbogo Health Center. The program will target the mothers of children with a clinical diagnosis of malnutrition and will arm them with the knowledge, resources, and support to feed their families now and into the future. GHI will accomplish this through a combination of comprehensive health education and targeted agricultural support, delivered by community leaders in close collaboration with the partner health center.
The objective is to meaningfully reduce rates of malnutrition in the Bumbogo Health Center area by equipping 120 mothers with the seeds, knowledge, and support to overcome malnutrition over the long term.
Why We Love This Project
GHI works to address the root causes of malnutrition. This organization utilizes a compelling model targeted at mothers in the community to create lasting, sustained improvements in the health of families previously trapped in the vicious cycle of malnutrition. They also have robust outcomes measures.