Sri Lankan Palak Dal (Lentils with Spinach)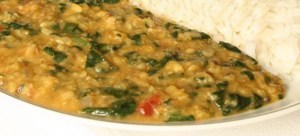 Serves
6
Ingredients
1½c red split lentils
1 ‐10 oz. box frozen chopped spinach, thawed and drained
2T oil
½t mustard seeds (preferably brown)
1 small onion, finely chopped
½t red pepper flakes
3 cloves garlic, minced
¼t ground cinnamon
½ t cumin seeds
½c chopped tomato, either fresh or canned (I used canned)
1½c coconut milk (any kind will work here so light is OK)
¼ ‐ ½t salt
Directions
Rinse the lentils and pick them over for stones and debris. Place in a large saucepan and cover with
water to cover by about an inch and a half. Turn heat to high and bring to a boil. Stir and reduce heat to
medium‐low. Cook lentils for about 10 – 15 minutes or until they are just tender and not dissolved – if
you cook them too long they will fall apart completely. Drain and set aside. Heat oil in another large
saucepan over medium heat and add mustard seeds. Cook for 2 minutes then add onions through
cumin seeds. Saute for about 6 minutes then add tomatoes. Stir well and cook for another minute. Add
the spinach and stir it in. Reduce heat to medium‐low, and cook 5 minutes. Add lentils and stir gently.
Add coconut milk and salt and stir gently but well enough to combine everything. Reduce heat to low
and simmer for 5 minutes,uncovered, stirring occasionally to prevent sticking. Serve with rice.
Country:
Sri Lanka
Notes and Instructions
Another pretty dish, especially for a dal, and a wonderful vegan entrée alternative. With more vegetables in it than your typical dal, this one seems lighter and more interesting than most. We loved it.