Shop! Read! Watch! Listen!
Fair Trade
Market bag, planter, or hamper – the possibilities are endless with this large and sturdy sisal bag with leather strap. Its colors and pattern are based on an abundant species of butterfly found in eastern Kenya.
Undugu Fair Trade Limited is a social enterprise that was incorporated in January 2010 as part of creating an independent and professionally run entity. It is a joint venture between the Undugu Society of Kenya and The Awendo Foundation that focuses on championing the welfare of those disadvantaged in the society through sustainable business approaches.
Undugu FTL, as a member of World Fair Trade Organization, uses its position to exploit opportunities offered by the fair trade network for optimal benefits of producers in Africa. The organization has established itself as the preferred marketing vehicle for African producers facing market access challenges and with the potential to positively change their lives through engaging in sustainable productive activities within their environment.
12" high by 12" diameter
Strap is 41"long
$52.00
Tacazze Sunbird – set of six Zulugrass Single Strands 
Made from grass beads dyed with low-impact dyes and strung on elastic. Waterproof and colorfast. So versatile they can be worn as a long necklace, wound 3 or 4 times around your wrist as a bracelet, or in nearly unlimited ways. For more on zulugrass and the many different ways to wear it, see the video at http://www.leakeycollection.com
From The Leaky Collection, founded in 2002 by Katy and Philip Leakey, who live among the Maasai in the Kenyan bush. Philip is the son of anthropologists Louis and Mary Leakey.
The Leakey Collection is dedicated to uniting caring communities worldwide with the rural women in East Africa by using commerce as a vehicle. Their goal is to enhance people's lives by creating work opportunity for the Maasai in an environmentally- friendly, sustainable way while maintaining cultural and traditional lifestyles.
Created by Namayiana, an informal cooperative of Maasai women artisans who create traditional beaded items, this iridescent, multi-strand necklace is 17" long. Namayiana means "We are blessed" in Maasai. When asked how long the Maasai have been doing beadwork they answer, "Since the first Maasai was born."
Income from craft sales has helped to provide food, clothing and school fees for the more than 100 artisans' families. The women work independently for Namayiana, both at home and at the workshop.
From Kenya's Great Rift Valley, beadwork decoration is an important cultural tradition for the Maasai nomads who follow the seasons in search of grass and water for their cattle. Namayiana was founded in 1990 when two Maasai handicraft groups merged. The group was initially sponsored by Mennonite Central Committee Kenya, and is now independent. Ten Thousand Villages has purchased products from Namayiana since 2001.
Books
Fiction
Penguin Classics, 2012
Centered on the pre-independence Kenyan struggle between the Mau Mau liberation fighters and the British colonial government in the late 1950s, A Grain of Wheat gives a portrayal of the struggle and how the lives of common Kenyans were transformed. One gets a good picture of the Mau Mau fighters, the attitude of the Colonialists, the ruthlessness of some of the soldiers of Colonial army and the direction to independence for the entire African continent. At the center of it all is Mugo, the village's chosen hero and a man haunted by a terrible secret. As we learn of the villagers' tangled histories in a narrative interwoven with myth and peppered with allusions to real-life leaders, including President Kenyatta, a riveting story unfolds.
"This book deals with colonialism and independence in Kenya and follows multiple perspectives focused around Uhuru – the day of celebrating independence. While only taking place across a few days, it deals with about 15 years of Kenyan history, and is as much about memory and how the past invades the present as it is a narrative of the Kenyan 'emergency'." – www.goodreads.com
Black Star Nairobi 
By Mukoma Wa Ngugi
Melville International Crime, 2013
It's December 2007. The Kenyan presidential elections have gotten off to a troubled start, with threats of ethnic violence in the air, and the reports about Barack Obama on the campaign trail in the United States are the subject of newspaper editorials and barstool debates. And two cops – one Kenyan and one American – have just gotten their first big break for their new detective agency, Black Star. A mysterious death they're investigating appears to be linked to the recent bombing of a downtown Nairobi hotel. But local forces start to come down on them to back off the case, and then a startling act of violence tips the scales, setting them off on a round-the-globe pursuit of the shadowy forces behind it all.
"Nairobi Heat takes us to Kenya with a refreshing authority … Besides the usual fun and thrill of crime novels, what makes the book a delicious read is that it's also packed with engaged and relevant social commentary." — The New York Times
Non-Fiction
By Elspeth Huxley

Penguin Books, 1992
An interesting anthology of Kenya, gleaned from the writings of explorers, travelers, settlers, politicians, and others who have formed the Kenya of the past and of today. Drawing on her knowledge of Kenya and its literature, Author Elspeth Huxley presents a full portrait of a nation, its peoples and wildlife, history and landscape, and the men and women who made their mark upon it. Isak Dinesen, Ernest Hemingway, the Leakeys, Beryl Markham, Winston Churchill, Evelyn Waugh, and Theodore Roosevelt are among the many writers in this classic anthology.
"This book is not a paean to the nation's grassy savannas and majestic beasts. It is an angry tale of a nation's tortured birth. Pioneers and patriots, war heroes and political foes all struggle for a place in the drama. The writers, white and black, spill their intense love for Kenya into Huxley's book. Huxley's method is to weave excerpts from primary sources to form an elegant counterpoint. On the subject of settlers, we hear from both the newly arrived and the disenfranchised. On the exciting journeys of exploration, readers see the white man's inconveniences and watch the black porters sweat. We read reminiscences of both the victors and the vanquished in the vicious wars fought in the bush. The eponymous nine faces of Kenya are each accorded one chapter: exploration, travel, settlers, wars, the environment, wildlife, hunting, lifestyles, and Kenya's legends and poetry. Both famous and obscure writers get space in the book. A virtually unknown white settler's memoirs often say more about the realities of Kenya than does Evelyn Waugh, who penned his lines during a luxurious tour." – Christian Science Monitor
Inkishu Myths and Legends of the Maasai 
By Kioi Wa Mbugua
Jacaranda Designs, 1994
Author Kioi Wa Mbugua offers detailed cultural notes, within which he describes his source – a Maasai elder whom he met on an OXFAM-sponsored research trip. The first of the stories tells of how the Maasai became cattle herders. The remaining three describe the legend of the lost girl in the forest, the sacred mountain that revealed to the warring clans the source of their hardship, and a temperamental warrior who became a wild giant. Interspersed with the retellings are Mbugua's own poems, which are based upon the legends.
"Inkishu (cattle), which are the measure of wealth for traditional Maasai, figure prominently in this collection of poetry, stories, and art from a publisher based in Nairobi. Each story is illustrated by a different Kenyan artist working in a free-flowing modern style and a variety of media and is prefaced by a color photo, an explanatory "Preamble," and one or two short poems." – Kirkus Reviews
Films
My Journey to Start a School in Kenya
2012, 15 minutes
Kakenya Ntaiya, founder of our February program, delivered this talk at TEDx MidAtlantic in December 2012.
Kakenya was set to follow the traditional path of all girls born in the small village of Enoosaen, Kenya. Engaged at the age of 5, she was to be circumcised by the time she became a teenager. But she had a different plan. First, she negotiated with her father: she would willingly agree to be circumcised only if he would allow her to finish high school. He agreed. Then she negotiated with the village elders to do what no girl had ever done before: leave her village to go to college in the United States. She received a scholarship to Randolph-Macon Woman's College in Virginia and returned to Kenya to change her hometown forever.
2008, 23 minutes
She defied all the odds to go from Maasai goat herder to qualified U.S. doctor. Sitatian travels to Chicago and trains as a doctor. On her return home, her friends look at her; "like this girl who is changing the world". Sitatian has returned to her village, hoping to inspire other Maasai women.
Ledama Ole Kina, founder of the Maasai Education Discovery program, aims to help girls follow their dreams of getting a good education by providing encouragement and scholarships. "I want to see that all girls are fully educated," he says in the film.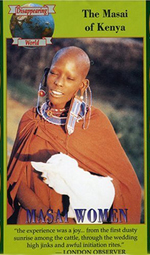 Disappearing World: Maasai Women – The Maasai of Kenya

2003, 60 minutes
Shot in the highlands of eastern Africa, this remarkable documentary chronicles the trials and triumphs of women in the highly patriarchal Maasai tribe, exploring topics such as marriage and female circumcision. Denied a role in the central power and economic structure of a culture centered on owning cattle, these women nevertheless have found a way to remain central to Maasai society.
Music
The nomadic lifestyle of the cattle-herding Maasai precludes the carrying of any large instruments, and as a result Maasai music is one of the most distinctive in East Africa, characterized by a total lack of instruments, and some astonishing polyphonous multi-part singing – both call-and-refrain, sometimes with women included in the chorus, but most famously in the songs of the morani warriors, where each man sings part of a rhythm, more often than not from his throat (rather like a grunt), which together with the calls of his companions creates an incredibly complex and hypnotic rhythm. The songs are usually competitive (expressed through the singers alternately leaping as high as they can) or bragging: about how the singer killed a lion, or rustled cattle from a neighboring tribe.