Shop! Read! Watch! Listen!
Fair Trade
The Wodaabe people are renowned for their embroidery. This colorful tote bag is made in Niger and embroidered by Wodaabe artisans in a cooperative with RAIN, our featured program for July 2014. Artisans receive 100% of proceeds
The nomads of the Sahara and Sahel have centuries-old artistic traditions working with leather, straw, and textiles. RAIN works primarily with Tuareg and Wodaabe peoples. RAIN provides materials, training, and marketing in Niger and the U.S. The artisans receive 100 percent of proceeds from your purchase and go on to donate 50 percent to support their local school, where nomadic children must live in order to learn. In this way, your purchase directly supports livelihoods in a place where there are no job opportunities and education for children in communities where the literacy rate is less than 10 percent.
Tuareg Striped Silver Cuff Bracelet
Tuareg jewelry is legendary; made of silver that is often the result of melted down vintage coins. This adjustable cuff bracelet is made in a traditional design with a black ebony stripe. A classic beauty…  The full purchase price supports RAIN's programs in Niger, West Africa.
·       $75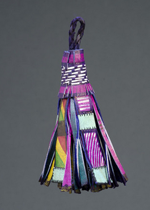 Miniature Tuareg Decorative Camel Tassels
The Tuareg, a semi-nomadic people of Niger, Mali, and Algeria, have fascinated travelers and scholars throughout history. The "art" of being Tuareg—their elegant dress and exquisite ornamentation, their refined song, speech, and dance—has been the subject of rhapsodic descriptions that suggest a Tuareg "mystique."
Nomadic girls in RAIN's Mentoring and Scholarship Program in the community of Gougaram have created authentic Tuareg camel tassels in their practical skills classes as they learn ways to support themselves and their families.
·       $15
Books
Fiction
By Kathleen Hill (Triquarterly, 1999)
This is a story about a woman who accompanies her husband to a small village in Africa and her experiences with the people in the village. Seventeen years later, she returns to the same village because her daughter, Zara, is doing humanitarian work there.  As she reacquaints herself with her own daughter and with the Africa of her past, the narrator meets other mothers and their children. Her own memories of young motherhood strong, she becomes aware of the strikingly similar ways in which the impassioned and often difficult bonds between mothers and daughters are revealed across the divide of cultures. The author paints a portrait of a community of women grounded by kinship and by care for their children.
"Still Waters in Niger is a book whose subject is the losses and lapses of motherhood in two different cultures." – New York Times
By Gavin Weston (Myrmidon Books, 2013)
Harmattan (from an Arabic word meaning destructive wind ) tells a story through the eyes of Haoua, a young girl growing up in a remote village in the Republic of Niger.  At 11, Haoua is a promising student in a remote village in Niger, her education supported by Vision Corps International. But her dreams of being a teacher die, and her life begins a downward spiral, when her mother, diagnosed with AIDS, is taken to a hospital in the capital city of Niamey. As the oldest of three children at home, Haoua is given even more chores by her father, who forbids her returning to school despite the entreaty of her teacher. Haoua's only support is from her older brother, Abdelkrim, a soldier stationed in Niamey, who does what he can before the unrest that follows the assassination of President Mainassara. At 12, Haoua becomes the third wife of her father's brutal cousin, with dreadful consequences.
"Weston's first novel captures a time and a place, from the beauty of Niger's vistas to the inhumanity of its patriarchal culture. The latter will arouse outrage, as will the restrictions posed by an NGO that is there to help. This is fiction that conveys truth more vividly than fact could." – Booklist
Non-Fiction
By Fadhma Aith Mansour Amrouche (Hardinge Simpole Limited, 2009)
This autobiography is the story of a Berber woman in at the turn of the twentieth century.  Born illegitimate, author Fadhma Amrouche would have been killed at birth with her mother to preserve the honor of the family, but for the intervention of the French authorities. Because of this, she received an education and eventually married a Christian convert, although they remained closely linked to their families of origin. Her tale is one of battling poverty, illness and exile. Fadhma's fight for an education in a world of almost universal female illiteracy was nothing short of heroic. She and her children moved from the harsh, fixed hierarchies of a traditional Berber village with archaic means of production to become cosmopolitan Parisians.  Her unassuming narrative throws an unforgettable light on Berber life, women's position in traditional societies and the tensions between governed and governors in the colonial world.
"In the pages of this book, Amrouche describes her schooling, her marriage, and her children. Her personal and family struggles are the clear focus, while world wars, epidemics and the war of independence flicker through the background." – Vine Voice
By Carol Beckwith (H.N. Abrams, 1983)
Nomads of Niger is a well-written and colorful depiction of the life of the ancient nomadic Fulani or "Peul" people. Belonging to the group known as the Wodaabe or Bororo, these nomadic herders of Niger have roamed for centuries across the sub-Saharan bushland, surviving where few others could. Living very simply, yet loving beauty and esthetics, their intricate culture and open hospitality is fascinating – especially as it is found in one of the harshest living environments on earth.  Photographer Carol Beckwith spent 18 months traveling with one particular band of Wodaabe, and her photographs concentrate on the family of a herdsman named Mokao and his family.  Not just photos, it is also an informative and highly entertaining account of the lives, customs, rituals, and taboos of this group of nomadic herders.
"The cover photograph alone tells you this will be a special journey; before you even reach the title page you've already been treated to several stunning portraits of a nomadic people known as the Wodaabe, "who number among the last nomads of Africa, indeed among the last nomads on earth." – Amazon.com
Films
Behind the Blue Veil (available on Netflix)
(2013, 62 minutes)
Two-time Emmy winner Robyn Symon takes us into the modern Tuareg world in Mali, led by protagonist Mamatal Ag Dahmane. Behind the Blue Veil explores issues impacting Tuareg people such as drought and conflict while offering an inside glimpse into the daily lives of an ancient Berber tribe finding their way in the 21st century. View the trailer
"The Tuareg chief who was leading them to his tiny village had made it clear their journey would have to wait until the following day. The river was impassable. "Well, I thought, what do we do?" recalls filmmaker Symon. "This isn't on my itinerary. And we can't very well check into a Holiday Inn." Within minutes, a group of Tuareg — descendents of the Berbers, known as the Blue People for their long robes and blue-veiled faces — materialized in the windy darkness, pitched three tents, slaughtered a goat and cooked it over a fire … Her documentary details the hard scrabble life of the Tuareg and their proud fight to maintain their culture and way of life." – The Miami Herald
(2013, 100 minutes)
From Academy Award-nominated director Richard E. Robbins, Girl Rising journeys around the globe to witness the power of education in the stories of nine unforgettable girls living in the developing world: ordinary girls who confront tremendous challenges and overcome nearly impossible odds to pursue their dreams. Prize-winning authors put the girls' remarkable stories into words, and renowned actors give them voice. Watch a post-screening panel – RAIN founder Bess Palmisiciano participates with film producer Tom Yellin.
Illuminating and ultimately hopeful, despite the horrible circumstances depicted, "Girl Rising" stands as a testament to the power of information. – Glenn Whipp, Los Angeles Times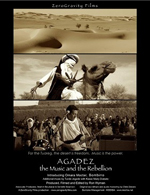 AGADEZ: The Music & the Rebellion (available from the producer – Zero Gravity Films)
Featuring the Tuareg international music star and RAIN supporter Bombino (Omara Moctar), AGADEZ is a documentary tracing Bombino's rise as a musician, paralleling the rise of music as an expression of cultural determination instead of guns. Footage includes Bombino performing at the Festival of the Desert in Timbuktu and his recording sessions for his new album, Nomad, with The Black Keys' Dan Auerbach in Nashville. View the trailer & learn more about the film.
Music
Omara "Bombino" Moctar, a young Tuareg guitarist and songwriter, was raised during an era of armed struggles for independence and violent suppression by government forces. His electrifying jams capture the spirit of resistance and rebellion while echoing with guitar riffs reminiscent of fellow Africans Tinariwen and Ali Farka Touré as well as  blues icons such as Jimi Hendrix, John Lee Hooker and Jimmy Page.  Listen to Bombino on NPR's World Café
Etran Finatawa: Desert Crossroads
Etran Finatawa, meaning "the stars of tradition" – is a remarkable musical collaboration between members of two nomadic African cultures in Niger, showcasing an eclectic sound that features a variety of modern and traditional instrumentation, strong polyphonic voices and high tenor solos.
Formed by 10 musicians in 2004, Etran Finatawa was meant as a gesture of reconciliation and recognition of differences between the two sometimes-feuding groups, the Wodaabe and the Tuareg. Their music blends the two languages and distinctive styles with bluesy overtones, leading to their coinage of the term "nomad blues" to describe their music. Desert Crossroads is their second album, released in 2008.
<hr>
Curated by Lynn O'Connell and Marcie Christensen
Fair Trade, Books, Film and Music recommended by RAIN