Together Women Rise is …
Together Women Rise is a powerful community of women and allies dedicated to achieving global gender equality. We have hundreds of local chapters across the U.S. where members learn about and advocate for gender equality issues, give grants to organizations that empower women and girls in low-income countries, and build community to forge meaningful connections that increase our strength and collective impact.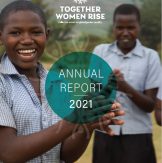 2021 Annual Report
This report highlights the enormous contributions that you made last year toward advancing global gender equality.
READ MORE
October Book Club Event
Our guest speaker will be Christine Stark, an award-winning writer, researcher, visual artist, and speaker who will discuss the current situation and challenges faced by indigenous women here in the U.S.
JOIN US
2022 Annual Appeal
Our annual appeal runs now through the end of the year. Nearly one-third of our total funds come from our annual appeal. Our 2022 annual appeal goal is $450,000. Whether it is $5 or $5,000 … every gift counts!

SEE DETAILS

Collective Action for Global Gender Equality

Body: