Together Women Rise is …
Together Women Rise is a powerful community of women and allies dedicated to achieving global gender equality. We have hundreds of local chapters across the U.S. where members learn about and advocate for gender equality issues, give grants to organizations that empower women and girls in low-income countries, and build community to forge meaningful connections that increase our strength and collective impact.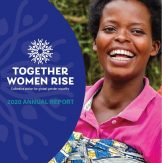 2020 Annual Report
This report highlights the enormous contributions that you – as Together Women Rise supporters – made last year toward advancing global gender equality.
READ MORE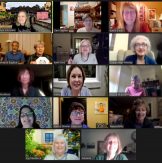 Monthly National Webinars
Join us on the first Thursday of every month to learn more about Together Women Rise, the gender equality issues we are addressing, and the projects we are funding to support women and girls around the world. These webinars are FREE and OPEN to the public.
SEE UPCOMING EVENTS
Travel with Us in 2022
Sign up for a once-in-a-lifetime experience traveling with Together Women Rise and Elevate Destinations. In 2022, we have spots available on trips to Malawi, Tanzania, and Nepal.

LEARN MORE

Collective Action for Global Gender Equality

Body: