DFW travel to the Dominican Republic — April 10-17, 2015
"A
lthough we came from all corners of the US, we speak DFW and instantly connected as sisters!"
– Ruthann Marquis, El Salvador 2012 traveler
Join DFW on its inaugural trip to the Dominican Republic! This journey will take us to the Caribbean coastal town of Carabete, to meet the girls at Mariposa (supported by DFW in April 2014). A service/learning trip, we'll be working with the girls for four of the days we are there, helping out with everything from painting to assisting in English classes.  This is a great opportunity to see firsthand the impact that our funds are having, and participate in making the impact even bigger! Traveling with other like-minded DFW members creates a welcoming spirit of camaraderie and leads to long-lasting new friendships.
Trip Highlights
Create meaningful friendships with the girls at The Mariposa Center
Tour the local community and visit the homes of several girls in Mariposa programs
Visit several of Mariposa's partner organizations, 3 Mariposas Montessori, Ruth Plaut Kindergarten and Community Center, and CORAL school, and learn about how they work together to weave a comprehensive web of support for girls in their community
Explore an organic cocoa farm on a day-trip and make chocolate by hand
Go for a boat ride in the famous Gri Gri lagoon
Savor a truly Dominican-style meal with a Dominican family at their own kitchen table
Trace the footsteps of the legendary Mirabal sisters who courageously fought to overthrow the torturous dictatorship of Rafael Leonardo Trujillo on the "Chasing the Butterflies" Tour
Service Opportunities
There is always a wide variety of activities going on at The Mariposa Center for Girls, and  we'll strive to match your talents with volunteer projects. Some activities require basic Spanish while others require none at all. You will find the girls in the program to be very receptive to learning from visitors and other cultures as it's Mariposa's goal to help raise worldly young women! Activities may include but are not limited to:
Gardening and composting
Painting, cleaning, organizing, basic repairs or small building projects at The Mariposa Center for Girls
Cooking
Dancing
Arts and Crafts
Sewing
Games, songs and basic English
Sports – baseball, soccer, basketball, yoga
Deadline to submit the interest form for priority consideration is Oct. 20
Priority will be given to chapter leaders and other DFW volunteers, and to those who have not traveled with DFW previously.
Group size is limited to a maximum of 18 travelers.
Cost is $2,300 (not including international airfare), payable to Creative Travel Planners.
Apply to join this trip
Accommodations
We'll be staying at Kite Beach Inn, a clean, casual, fun, and simple beach hotel in Cabarete. The location is directly on Kite Beach, one of the top kite surf spots in the world with a sandy beach right outside the door. (http://kitebeachinn.com/)
About The Mariposa DR Foundation
The Mariposa DR Foundation is a small nonprofit organization dedicated to educating and empowering girls to end generational poverty, and currently serves more than 120 girls and their families. The Mariposa Center for Girls is buzzing six days a week with a plethora of activities ranging from organic gardening to creating art from recycled materials, to dance, theatre, sports, academic tutoring, job skills training and much, much more.
About Carabete
Situated in the rural north coast of the Dominican Republic, Cabarete is home to two distinct and interdependent cultures. Cabarete is world-renowned for its prevailing winds providing some of the best windsurfing, kitesurfing, and sailing in the world. These conditions coupled with its breathtaking snorkeling, mountain biking, and hiking attract a plethora of international visitors year-round.
On the other hand, Cabarete is also home to a community of over 10,000 Dominican and Haitian men, women, and children who live in abject and extreme poverty. These families struggle daily to put food on the table. The education system historically has been abysmal and continues to fail the community's children. Mariposa's service tours look to unite these two seemingly divergent communities by encouraging those who were offered more opportunities in life to reach out a hand and help to lift up those who are struggling.
By choosing to participate in this community service project, you will have access to a side of the community not seen by traditional visitors. You will see, hear, touch, smell, and feel things that you have never known before. You will leave knowing that you have touched a life and made a difference.
About the trip leader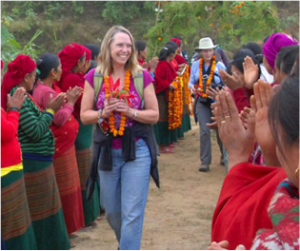 Patricia Andersson is DFW's Travel Program Director. She has been developing the program since 2009, expanding the list of destinations each year. Patricia has taken DFW groups to Kenya, Uganda, Nepal, Nicaragua, and Indonesia, and helped facilitate seven additional journeys. She has traveled to more than 25 countries, as well as having lived abroad for six years. Patricia has been a DFW chapter leader in Oregon since 2006, and is also a life coach and graphic designer.

This trip is not as physically demanding as some of our journeys, and is a good trip for those looking for a taste of international travel and to experience the joys of meeting and serving the women and girls we support.

Email us here if you have any questions.

Apply to join this trip

Body: