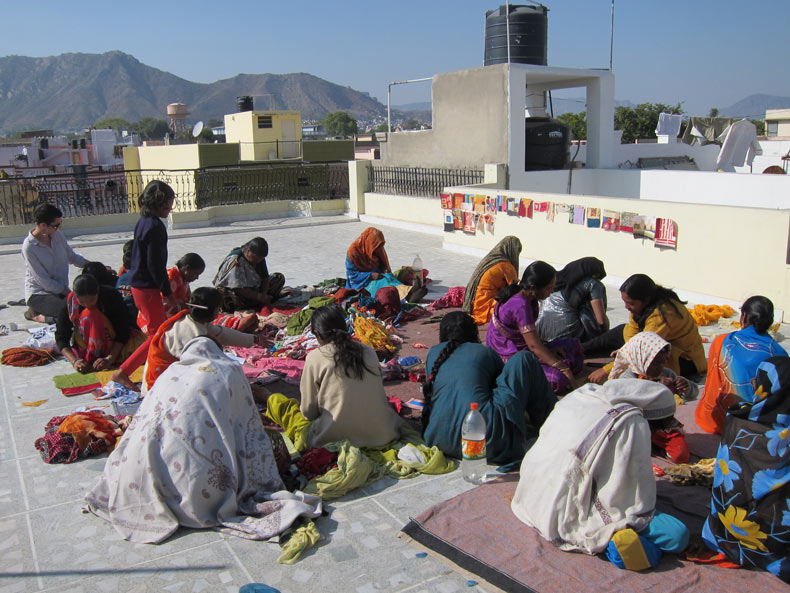 Anchal Project merges design, business, and education to empower marginalized and exploited women living in India. (In Hindi, the word 'anchal' refers to the edge of a sari used to provide comfort and protection for loved ones.)
Life Challenges of the Women Served
An estimated 2 to 3 million women work as CSWs in India. Some were trafficked into the country from Nepal and Bangladesh, while others were born into the commercial sex trade, being the children of generations of prostitutes. While not all of these women are forced into sex work, the reality is that few other options are available. Around India, there are castes that traditionally engage in familial, intergenerational prostitution (90% of girls born to sex workers follow in their mother's footsteps).
Starting from around age 13, girls are sold by their parents or married off and subsequently prostituted by their husbands. Earnings are higher for younger girls so there is an urgency to marry or sell them before their value diminishes. For many rural, uneducated parents, it is difficult to imagine how a female child could bring any value to the family beyond prostitution. And for the girl who has been denied education and training, it is equally difficult to imagine a brighter future. In this context, the caste system and cultural traditions provide easy justification for a practice driven by poverty, economics, and gender-based discrimination.
In addition to being disrespected and ostracized by society, CSWs commonly suffer daily attacks on their emotional and physical well-being from their pimps, husbands, and clients.
The Project
Anchal's proposed program to Dining for Women, titled Designing Change, Stitch by Stitch (DCSS), aims to provide alternative careers in textiles to 35 new commercial sex workers (CSWs) living in Ajmer, India.
DCSS will focus on kantha quilt making – a commonly practiced stitching technique rich in regional tradition. The products (quilts, pillows, and scarves) are hand-sewn and made from 100% cotton recycled saris. The familiar and nominal equipment and instruction requirements allow women to learn and innovate freely.
DCSS will provide Vatsalya/Anoothi with seed funding to offer bi-annual on-site design workshops in narrative textiles and other programming to Anchal artisans. Anchal will also provide Vatsalya/Anoothi with promotion in U.S. markets.
In exchange, Vatsalya/Anoothi will recruit women from their other programming into DCSS and supply health and education workshop instructors/experts for program services, and a project liaison to work closely with Anchal's on-the-ground Project Manager, who will oversee the program's operations.
Questions for Discussion
When it comes to how women are treated in a culture, where and how do you draw the line between respecting the culture and protecting women from what we see as exploitation and abuse?
How do you react to a statement that includes terminology about the way a culture/religion/ethnic group "treats its women"?
Have you had any experience with how a group changes to become more gender-inclusive  (e.g. opening membership in a club to women or allowing women to assume roles in a church that were formerly designated for men).  If so, how did it come about?  What was the experience like?
The Project Budget and How DFW's Donations will be used
This program will support 35 new CSWs in becoming full-time Anchal Artisans in 2012-2013. As part of the DCSS program, Anchal artisans are trained in design, paid competitive wages, given healthcare, and offered workshops in financial planning, leadership training, health, and stress management.
Due to Anchal's projected growth in 2013*, they have found a new space for the DCSS project.  The artisans previously met in the Vatsalya office, which only accommodated 15 artisans. The new Anchal workshop space will allow all 50 artisans to work simultaneously and will provide sufficient storage space.
*In addition to the grant from DFW, Anchal will benefit from the exposure in the documentary Half the Sky, as their first partner (New Light in Kolkata) is a featured program. Another boost in exposure and product sales is expected due to the involvement of America Ferrera, an activist and actress featured in Half the Sky, who is promoting Anchal's products beginning this month.
The Project Budget
| | |
| --- | --- |
| Budget Item | Cost |
| Salaries – 35 new Full-time Artisans, including one Project Manager, two Assistant Project Managers, and two Master Tailors – all promoted from among the Artisans | $39,330.00 |
| Workshop space, utilities & equipment (3 new sewing machines, needles, measuring tapes, and scissors) | $4,746.00 |
| Workshops in Financial Planning, Leadership Training, Design, Emotion/Stress Management, and Health, along with regular medical check-ups | $5,261.00 |
| Total | $49,337.00 |
Please note: Net donations over the $49,337.00 grant amount will be reserved to ensure we fund in full all future selected program grant requests, provide Sustained Program Funding to former DFW featured programs, and to offer a $25,000 – $30,000 grant to an organization selected by member voting through the new Member Choice Program.
Why We Love This Project
This is a life-changing program for commercial sex workers (CSWs) in India, and this is the first time DFW has supported a program specifically for CSWs. By offering an alternative to the otherwise demeaning and dangerous work performed by CSWs, this program helps women rediscover their self-worth, their potential and creativity, and helps them become role models and providers for their families and communities.
Evidence of Success
Anchal started their project in 2009 at New Light in Kolkata. They are still partners with New Light, though the program there is mostly self- sufficient at this point, having developed distribution channels for their products.  Anchal receives product shipments from New Light when they require additional distribution channels, and continues to offer design assistance and training workshops.
By partnering with Vatsalya/Anoothi in 2010-2011, Anchal provided part-time artisan work for 15 CSWs there, and 50 women have now joined the waiting list.
Measuring Success  
Anchal will measure the success of the DCSS program by collecting the following data:
Commercial Sex Workers –
Number of women with decent and fair employment as an artisan
Percent salary increase for artisan workers, as measured by comparison to former sex work salary and salaries of other sex workers
Number of women who no longer engage in commercial sex work
Number of women who rise to leadership positions within the program
Level of satisfaction with DCSS programming among the women
Business –
Sales of DCSS products
Revenue generated from DCSS products
Level of customer satisfaction with DCSS products (e.g., delivery time, quality, etc)
Other –
Money raised for children's scholarship fund as a result of DCSS products
Number of consumers who have been connected to an artisan's story and broader social issues
Voices
Quotes from participants in Anchal Project at Ajmer
"Working as a prostitute is the most humiliating and exploitative profession in the world.  I died every day when I had to sustain that way. Now, with this quilt-making, I feel a new respect for myself."
"Whatever I could not enjoy as a child, I ensure that my daughter gets. She will also get the best education possible. I used to worry a lot as to how I will do it but now I have courage and money. I will work more and earn more money and make her a doctor."
"I never was given milk as a child as it was my brother who got the best first.  Now, I make sure that my daughter gets the best first!  She is as precious for me as my son is."
"There is such a relief to be associated with an organization. We feel strong, emotionally, psychologically and morally. It is not so easy now for someone to exploit us and force us against our will."
"…..The Anchal project has given us unity, dignity and companionship. The loneliness of struggling alone has changed into a collective challenge to bring positive change in our lives. We support each other in it."
From Jaimala Gupta, Executive Director of Vatsalya – Anchal's Partner in Ajmer
"Anchal gave them a safe platform to share their plight and pain with other commercial sex workers. Realizing that they were all sufferers and victims, friendships quickly developed between women who would otherwise consider each other competitors.
A lot of these women have now pledged to keep their daughters away from this exploitative profession.  They were afraid to send them to school, fearing humiliation and isolation by other students, but now they are regaining the lost courage and are sending them to school regardless of the stigma. The income they bring home has empowered them and they have begun to participate in decision-making.  They can state their personal wishes more easily now and invest in things such as their health and their daughters' educations."
About the Organization
By merging the fields of human rights, business, design, and retail, Anchal is a revenue-driven social venture that addresses human suffering and offers real economic alternatives to women.
The Anchal co-founders met at the Rhode Island School of Design (RISD) as landscape architecture graduate students and bonded over a shared belief that design can change lives.  During a class trip to Kolkata in 2009, they met their first NGO partner, New Light. The founder Urmi Basu expressed the need to provide economic alternatives for the women in the red light district of Kalighat.
Through fundraising efforts in Rhode Island later that spring, they raised $400 selling cards and notebooks.  The money paid for sewing instruction, materials, and a stipend for the artisans. Anchal had officially launched and supported the training of 35 artisans through New Light.
Anchal partners with non-governmental organizations (NGOs) in India that serve CSWs and want to offer income-generating programs to their members. Their current partner is Vatsalya/Anoothi, an Indian NGO that provides HIV/AIDS awareness and prevention to female CSWs in Ajmer.
Where They Work
Ajmer, Rajasthan India
Ajmer is the 5th largest city in the state of Rajasthan. With a population around  542,580 (2011 census), Ajmer is located 84 miles west of Jaipur, the state capital, and 242 miles from Delhi. Flanked by the Aravalli Mountains and the Ana Sagar Lake, the city is a pilgrimage center for the shrine of the Sufi Saint Khwaja Moinuddin Chishti, and is also the base for visiting Pushkar, an ancient Hindu pilgrimage city, famous for the temple of Brahma.
Ajmer is a manufacturing trade center. Notable products include cotton, woolen textiles, leather, hosiery, shoes, soap, and pharmaceuticals. Poultry is a major source of income for farmers. Ajmer also has engineering workshops, re-rolling mills, and electronic component plants. The nearby town of Kishangarh is one of the largest centers for marble products, employing about 7,000 people.
Source Materials
Anchal Project website, www.anchalproject.org
Documents and images provided by Anchal Project to Dining for Women
Information on Ajmer – http://en.wikipedia.org/wiki/Ajmer
Official website for Ajmer District – http://www.ajmer.nic.in/
Google Maps – https://maps.google.com/maps?hl=en
Discussion Guide on Trafficking for Half the Sky documentary – http://itvs.org/women-and-girls-lead/half-the-sky
Additional Resources
On the DFW October Program webpage for Anchal Project you will also find links to:
Food for Thought – more information on the plight of prostituted women in India
Program Presentation – PowerPoint and PDF files, including a script, provided by Anchal Project
Program Video – links and downloadable files
Recipes, Customs, and Cuisine
Fair Trade, Books, Films, and Music recommendations
The U.N. 2015 Millennium Developmental Goals:  http://www.un.org/millenniumgoals/