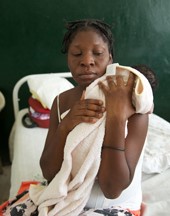 It is the mission of Midwives For Haiti (MFH) to reduce maternal and neonatal mortality in Haiti by training Haitian women in the skills needed to save lives.
Life Challenges of the Women Served
Poverty underlies many of the problems facing Haiti.  Cost is a significant obstacle to women receiving skilled care during their deliveries.  Among the poorest quintile of women only 6.4% have a skilled attendant at delivery as compared to 67.5% for the richest one-fifth of women.  Even small fees can be a barrier to care for the poorest women in Haiti.
The Haitian people value education but free public education is available to only a small portion of the population.  Most Haitians must pay for their children to attend school.  Only half of Haitian children attend primary school and enrollment drops to 20% for secondary school.  These educational challenges have an effect on the health of the population.  Myths about health and illness abound.  These myths can delay effective treatments or cause direct harm.  As an example, early feeding of infants with formula or solid food is common in Haiti.  It is a widespread belief that without supplements an infant will starve.
Most pregnant women in Haiti receive their care from traditional birth attendants, called matrons.  These men and women have no formal medical education.  The vocation may have been passed down from older family members along with myths about pregnancy.  Although the matrons are not trained or equipped to handle life threatening emergencies they are often the only help available.  Even when women have a choice between hospital and matron they may choose a matron because they trust them.
The lack of skilled birth attendants in many developing countries is the main barrier to reducing maternal mortality.  In Haiti only 25% of women have a skilled attendant at their delivery and this is reduced to 6% for the poorest women.  The impact of having a skilled birth attendant can be seen by comparing the maternal mortality rate of Haiti (630 per 100,000) to that of other countries in the region (63 per 100,000) where 93% of women deliver with a skilled attendant.
The Project
MFH's strategy to reduce maternal mortality is based on three principles.
All pregnant women are at risk for complications.  Prenatal, intra-partum and postpartum care must be universally available.
Birth attendants must have the skills to identify and treat the common complications of pregnancy.
Birth attendants must be part of a health system that allows referral to facilities that can provide higher-level obstetrical care.
Midwives For Haiti works to reduce maternal and neonatal mortality in Haiti by:
Training Skilled Birth Attendants
Skilled birth attendants are trained in a 10-month program that is based on the core abilities defined by the World Health Organizations.  The skills taught allow the graduate to provide prenatal and postpartum care, recognize high risk pregnancies and danger signs in pregnancy, manage normal labor and deliveries, manage obstetrical emergencies and stabilize patients before transport to high risk obstetrical facilities.
Bringing Medical Care to Poor Haitian Women
Midwives For Haiti operates a mobile prenatal clinic that visits 16 rural villages each month.  The women in these villages would not otherwise have access to care without traveling far from home.  The care is provided by 3 Haitian midwives, graduates of the Midwives For Haiti school.  Each woman receives vitamins, iron supplements, treatment for intestinal worms, education on a variety of pregnancy related topics, blood pressure monitoring, physical examinations and testing for gonorrhea, chlamydia, syphilis, HIV and malaria.
Supporting Emergency Obstetrical Services
Midwives For Haiti supports maternity services at St. Therese Hospital in Hinche, their primary clinical site.  When they started working at St. Therese there was one obstetrician and one midwife to care for all of the women that might deliver at the hospital.  There were times when no one was available to care for women.  To solve this problem Midwives For Haiti employs nine of their graduates to insure that women always have a skilled birth attendant at St. Therese to help them with their delivery.  They also provide support with medical equipment and medications.
Their mobile prenatal clinic provides care to women in 16 rural villages and is run by three Haitian midwives, graduates from the second and third year classes.  They manage medication supplies, medical record keeping and clinic schedules.
The midwives make recommendations for improvements to the mobile prenatal clinic and are the best informants about the needs of rural women.  MFH believes their philosophy of working in partnership has been a key factor to the success of the mobile clinic.
Questions for Discussion
Have you ever experienced a serious medical problem far from a populated area—perhaps backpacking in the wilderness or traveling in a rural area in a developing country?  How did it feel to be so isolated?  How did you cope?
What if you (or your wife, if you are male) had no access to contraception or medical care of any kind?  How would that affect your life, or how would it have affected your life in earlier years?
Most of us have camped out and enjoyed the experience.  Try to imagine what it would be like to live in that tent for years with your family, surrounded by literally thousands of other people in tents and makeshift shelters—almost all of them strangers -with only few toilets, no electricity, and no running water.   Your means of making a living are gone.  What would you do?
The Project Budget and How DFW's Donations will be used
| | |
| --- | --- |
| Midwives For Haiti DFW Budget | |
| Lead Midwifery Teacher at Leogane | $15,600 |
| Teaching Assistant | $10,800 |
| Mobile Clinic Midwives (3) | $11,700 |
| Mobile Clinic Driver | $5,200 |
| Mobile Clinic Medications – iron supplements, folic acid, albendazole (treats worms), chloroquine (treats malaria), ceftriaxone (treats gonorrhea), cefixime (treats gonorrhea in the partner), azithromycin (treats chlamydia), amoxicillin, nitrofurantoin, metronidazole (treat a variety of infections) and methyl dopa (treats hypertension) | $5,000 |
| Mobile Clinic Rapid Test Kits (budget will provide lab test kits for HIV, syphilis, gonorrhea, chlamydia, and malaria to approximately 212 women) | $1,700 |
| Total DFW Support | $50,000 |
Please note: Net donations over the grant amount will be reserved to ensure we fund in full all future selected program grant requests, provide Sustained Program Funding to former DFW featured programs, and to offer up to $30,000 to an organization selected by member voting through the new Member Choice Program.
Why We Love This Project
We love this program because it focuses on maternal and neonatal heath, addressing a real need in Haiti while providing training and a well-respected vocation for many women.
We also love the fact that they staff a mobile clinic; a pink jeep that allows them to see over 400 rural women in 16 villages a month.
Evidence of Success
The impact of the Midwives For Haiti training program has been both direct and indirect.  Among those most directly affected are their forty-two graduates and their families.  Thirty-seven of the graduates are now employed, supporting their families and caring for women in hospitals, clinics, birth centers, and mobile prenatal clinics.
Other direct beneficiaries are the thousands of women who have received care from MFH students and graduates.  Each month about 150 women deliver at the primary training site, St. Therese Hospital.  It is not unusual for women to arrive at the hospital having seizures due to eclampsia or with life threatening hemorrhage.  MFH graduates and students are able to administer the medications needed to stop seizures and lower blood pressure.  They know how to start IV's, give blood transfusions and use medications to control hemorrhage.  These skilled birth attendants are providing this type of sophisticated care at hospitals and birth centers in Port-au-Prince, Cange, Deschapelles, Thomassique, Fond Parisien and Cerca La Source.
The success of MFH can be seen in the number of graduates now working in Haiti, the number of patients their graduates care for daily, the quality and number of applicants for the next class (76 applicants for 15 slots), their official recognition by the Ministry of Health, and their growing reputation among health care providers in Haiti.
Voices
Patricia Lee, a Certified Nurse Midwife from Lancaster, PA, was a volunteer instructor at Midwives For Haiti. Her story of her first delivery at St. Therese Hospital in Hinche provides a beautiful introduction to the program.
"The 'maternity salon' holds five old-fashioned metal delivery tables whose stark stirrups jut up and out at all angles. Sheets are unavailable. The laboring women bring pieces of cloth or remove their skirts to cover the tables. Cistern water is available from the faucet for twenty minutes each morning; there is no more water until tomorrow. With intermittent electricity and no oxygen, the incubator in the corner is a lifeless monster.  I hear the housekeeper yelling in Creole.  Kindness is absent.  Other tools of my trade are also missing. Where is labor support, a drink of water or a cool washcloth, help with relaxation breathing? This miserable room is now my workplace. I meet my female interpreter and the three student midwives who are to observe and learn from me for the next two weeks. All four silence their cell phones. I am drawn to the woman on the table in the comer. She wears just a blouse, her skirt providing the table cover. Her clenched hands and taut grimace speak to me and I understand where she is in this labor.  In a moment I am at her side, my students next to me, and I introduce myself, and talk to her quietly, trusting my interpreter to repeat my words. She's just a girl, I think.  I roll her onto her side and rub her back during contractions, fanning her with a package of latex gloves.  I give her a drink from my water bottle.  I breathe into her ear to get her in synchrony with me, encouraging her to slow her rapid panting.  As her grip relaxes, her face releases its tension. Our dance continues until she has to bear down with the pressure of the baby, and we vary our rhythm to include the grunting and groaning of hard work. I feel the housekeeper looking at me and I glance up briefly and smile to her scowl.  Maybe an ally one day.
The baby arrives and is tucked into her mama's arms, cuddled to her chest while we wait for the cord to stop beating and the placenta to be born.  There are no tears and no complications.  We assess the baby in her safe space, clean them both, and prepare to move to the postpartum ward.  The girl-mother turns onto her back, her face toward me and speaks.  The interpreter inhales and the students murmur.
"Do you know what she just said to you" asks my interpreter.
"No, I do not understand yet", I reply.
She said, 'You have been kinder to me than anyone else in my whole life and you have done more than anyone else has ever done for me.  I wish I had something to give you but I have nothing.'"
 We reach for each other.  Blinking quickly, my voice unsteady through my smile, I tell her she has given me a gift. Her baby girl is my first birth in Haiti, I am honored to be here with her and I will never forget her.
The students are tapping my shoulder, talking, insistent.  With the help of the interpreter I hear them tell me that I must deliver their babies, that they will not have babies until I return, that they had never seen a birth like this.  I answer them. "You don't understand. I am here to teach you to deliver babies like this. You will learn to do this."
My new mama, my first baby, my students ~ this place has touched my heart."
~~~~~~~~~~~~~~~~~~~~~~~~~~~~~~~~~~~~~~
"The pride that I felt as a Haitian woman to see that this was a hope that eventually they (Haitian midwives) would lift themselves by the boot strap without waiting for the government to do something".  Magalie Hoo-Chung RN, volunteer for MFH
"The midwives are good teachers and they have taught me how to take care of myself while I am pregnant".  Anunze, patient at the MFH mobile prenatal clinic
"It is more than just about childbirth.  It is about the health of families and communities in Haiti". 
"We are giving women knowledge they will pass on to other women.  Women are really good at that all over the world.  You give them information and they share it with other people.  They will use that information.  It is very empowering. It is more than just about childbirth. It is about the health of families and communities in Haiti."  Nadene Brunk, CNM, Founder and Executive Director, Midwives For Haiti
About the Organization
Midwives For Haiti was started in 2006 by midwives who believed that every woman deserved a skilled midwife to help her at delivery.  The first students attended class in the shade of a large tree.  All teachers were volunteers who helped shape the curriculum and brought students equipment and medications.  Training was intermittent and took 2 years to complete.
Inspired by the persistence of that first class, MFH has made many improvements including hiring a full-time teaching staff that speaks Creole, renting a house in Hinche to act as classroom and headquarters, having a textbook translated into Creole, making improvements to the curriculum, and obtaining official recognition of their training program by the Haitian Ministry of Health. Their effort to care for Haitian women and to train Haitian midwives has become collaboration between women in the U.S. and Haiti.
Where They Work
Haiti occupies the western third of the island of Hispaniola, which it shares with the Dominican Republic.  The country is slightly smaller than the state of Maryland and has a population of 10 million.  The terrain is mountainous with the highest peak above 8,700 feet.  The climate is tropical with the eastern portion being semiarid.
Haiti's capital and largest city is Port au Prince with 2 million people.  The population of Haiti is almost evenly divided between urban and rural.  The official languages are French and Creole.
Poverty in Haiti is wide and deep.  80% of the population is considered to be living below the poverty line and 54% live in abject poverty (less than $1.25 a day) 40% of the workforce is unemployed and 2/3 of the workforce does not have formal jobs.  Income distribution is highly skewed with the bottom 10% receiving 0.7% of income and the top 10% receiving 47%.
Haiti's per capita GDP has declined by more than one-third in the past 30 years.  Not unexpectedly, the public infrastructure has also declined during that time.  If you tour Hinche, the city where the MFH school is located, you see roads that were once paved and are now in complete disrepair.  Electric power poles line the streets but their wires have been missing for decades.  There is a public water system but it cannot supply water for more than a few hours a day.  There is no municipal garbage collection so the streets are littered with trash.
Haiti does not have a postal service.  If you want to mail a letter you need to give it to someone traveling to another country. 
Since the earthquake in January 2010 there have been some improvements in Haiti.  Major road building has taken place and what previously was an arduous 5-hour trip from Port au Prince to Hinche is now an easy 2-hour drive.  Public electricity is still not available to most people outside of Port au Prince but some progress is being made.  The number of cholera cases is way down as is the mortality rate.  A new hospital is to open in Mirebalais in early 2013 that is planned to be "state of the art".  Construction of the hospital was funded by Partners in Health* and they will continue to support it, but it is to be operated by the Haitian Department of Health.  This is an example of the growing trend to assist the Haitian government towards self-sufficiency.
Source Materials
Additional Resources
On the DFW February Program webpage for Midwives For Haiti you will also find links to:

Food for Thought – an in-depth look at the issue of women as agents of change in Haiti
Program Presentation – PowerPoint files provided by Midwives For Haiti
Program Video – link and downloadable file
Recipes, Customs, and Cuisine
Fair Trade, Books, Films, and Music recommendations

The U.N. 2015 Millennium Development Goals:  http://www.un.org/millenniumgoals/