Guatemalan Red Chicken Pepian + Pepian Spice Mix (tested)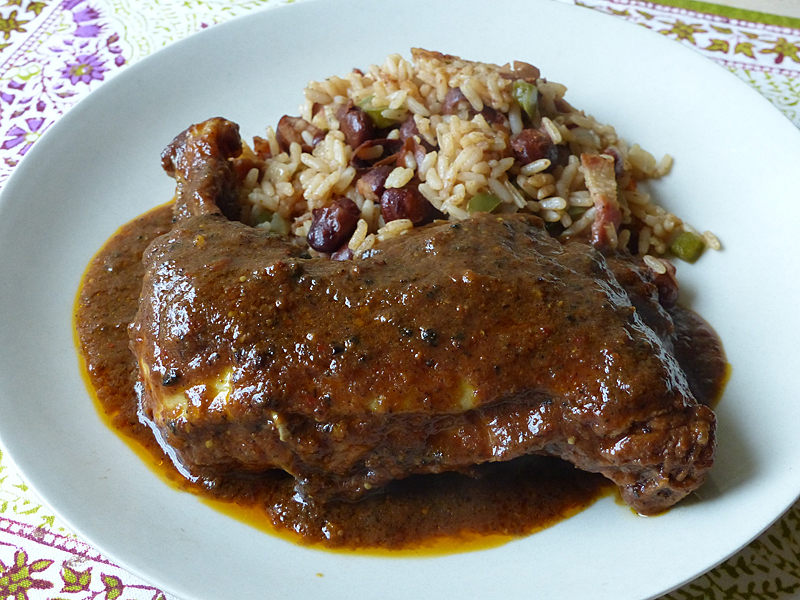 Serves
6-8
Ingredients
Pepián , a thick meat and vegetable stew, is a common dish in the area of Antigua (a town just outside of Guatemala City, the country's capital). It is thickened with ground nuts and seeds. Commonly pumpkin seeds (pepitas) are used, thus the name pepian was given to this type of dish. There are green versions and red versions.
For the chicken and marinade:
One 3 ½ lb. chicken, cut into 8 pieces, or equivalent amount of chicken thighs, bone-in and skin-on
6 cloves of garlic, finely chopped
1/2 orange, juiced
1 lime, juiced
1 tsp. salt
1 tsp. ground cumin
1 tsp. chili powder
¼ tsp. cayenne pepper
Marinate chicken at least one hour and no more than 24 hours.
For the cooking sauce (Recado)
3 medium plum tomatoes (about 9 ounces), cored and chopped
3 tomatillos (about 4 ounces), husked and quartered
1 small white onion (about 5 ounces), peeled and cut in half
2 tbsp. olive oil
2 ½ cups chicken broth
¼ cup pepian spice blend (recipe follows)
1 tsp. salt
2 tbsp. corn masa mix (or substitute flour)
Pepian Spice Mix
Makes about 1 ½ cups
Ingredients
16-17 dried guajillo chiles (about 8 ounces) (see note)
7 dried pasilla chiles (about 1 ½ ounces)
1/3 cup sesame seeds
1/3 cup hulled pumpkin seeds (pepitas)
1/3 cup whole almonds
1 tbsp. allspice berries
1 tbsp. whole black peppercorns
1 3" stick of cinnamon
2 tsp. whole cloves
4 ounces cacao nibs (about ¾ cup) (see note)
1 tbsp. salt
Directions
Guatemalan Red Chicken Pepian
Place the tomatoes, tomatillos and onion in a blender or food processor and puree. Set aside.
Heat the oil in a large skillet over medium heat and add the chicken pieces. Brown on both sides and continue to cook until the chicken is half done, about 10-15 minutes. Remove from pan and set aside.
Add the tomato puree to the oil in the same pan and simmer, stirring for 10 minutes, to reduce by about one-third. Add 2 cups of the chicken stock to the pan, along with the pepian seasoning and salt. Bring to a simmer and add the masa, mixed with ½ cup of the remaining chicken stock. (If you don't have masa you can substitute flour. Add the flour or masa to cold stock and shake vigorously and you shouldn't have any lumps.) Bring back to a simmer, stirring, to avoid lumps. Add the chicken back into the pan.
Continue to simmer until chicken is done. Serve with rice.
Pepian Spice Mix
Stem and seed the chiles. Heat a large skillet over medium-high heat. Toast the chiles a few at a time until they begin to soften. When you are done with the chiles put them all together and let cool. (ALTERNATIVELY use ½ cup of chile powder and proceed with the recipe.) Next add the sesame seeds for a quick jump in the pan, remove quickly when they turn golden. Place into a bowl. Next toast the pumpkin seeds and the almonds, stirring, until they take on some color, remove and add to the bowl with sesame seeds.
Reduce the heat to medium and add the allspice, black peppercorns, cinnamon stick and whole cloves. Roast the spices until they become aromatic, remove and add to the bowl with the seeds and nuts. If you're adding cacao nibs, add them to the pan and toast, stirring constantly for about 2 minutes. Add to bowl with nuts and seeds. Let everything cool.
Chop or tear the toasted peppers into smaller pieces with your hands and place in a food processor, and process to a coarse powder, transfer to a bowl. Place the rest of the ingredients, all the toasted nuts and seeds, into the processor and reduce again to a coarse powder and add to the bowl with the ground peppers. Mix in the salt.
Finally, working in batches, regrind everything in a coffee grinder or a spice grinder until it is as fine a powder as you can obtain. Pass through a strainer to remove any tough pieces left behind. Store tightly covered for 2 to 3 months.
 Note: If you're not able to find whole dried chiles, or it just sounds like too much work, I suggest a quick and dirty substitute of ½ cup of chile powder in place of the whole chiles.
Also, if you're not able to obtain cacao nibs, I would suggest substituting 1 oz. of unsweetened baking chocolate stirred into the sauce just before the chicken is done.
Recipe adapted from: "Gran Cocina Latina," by Maricel E. Presilla
Photo credit: Linda McElroy
Country:
Guatemala
Notes and Instructions
Recipe contribution from Linda McElroy adapted from "Gran Cocina Latina," by Maricel E. Presilla