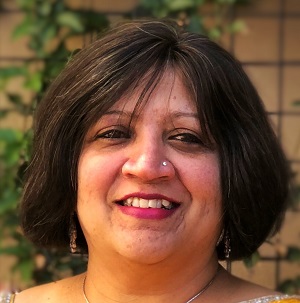 ---
Celebrating Staff Anniversaries
Happy anniversary to Dr. Veena Khandke, our Director of Grants and Partnerships, for five years on staff with DFW. Dr. Khandke manages DFW's Grants and Partnership Programs, working closely with our volunteer Grant Selection Committee and Education Team. The following are some reflections on her time with DFW.
In your 5 years, which is the grantee that always inspires you and why?
This is a difficult question to answer.  I love all our grantees; they are all so inspiring. Presently, I am fascinated by the ones that focus on issues of our times, such as climate change, conservation, food and water security, refugees, and forced migrations: African People and Wildlife, Community Cloud Forest Conservation, Gardens for Health, Development in Gardening, GRAVIS, Health in Harmony, and UNICEF.
In your 5 years, what issue facing women and girls always moves you?
The issue of maternal child health. The world community has the knowledge and the tools but thousands and thousands of women still struggle to access knowledge on sexual and reproductive health and services for safe births.
What are your favorite things about working at Dining for Women?
The opportunity to be inspired and humbled by so many wonderful, committed applicants who seek funding for their projects to change the world.  The deep love and generosity of DFW members who everyday want to be part of this transformation. I am so grateful to be part of this.
What is the biggest change you have seen working at DFW?
To have observed and to be part of DFW's growth into a well-respected and much loved agent of change for women and girls through our Grants, Partnerships, Advocacy, and Membership programs.