The Collateral Repair Project's Equipping and Empowering Female Leaders program introduces a new kind of woman to Dining for Women – the urban refugee. Displaced by war, lives shattered, possessions and status lost, these women arrive with their families as refugees in Amman, Jordan, seeking shelter and security. Some come with husbands, some have lost their husbands and family members and come with their children or alone. They bring what they can carry, what cash they have on hand, and they settle as best they can. But refugees are not allowed to work in Jordan and the money soon runs out. Yet, they need a roof overhead, food and clothing to survive. How do they continue to pay the rent, to buy food? How can they get their children into school? How do they exist with nothing to do, without a community to give them identity?
The focus for many past-featured programs has been the empowerment of women to increase their earnings to pull themselves out of poverty. The refugee women served by CRP are not permitted to work and they cannot increase their income. Instead, after helping women with basic needs, CRP focuses on empowering women with skills to more effectively cope with stress, protect their health and wellness, increase their social involvement in the CRP community, and develop leadership skills to become more involved in the community.
Life Challenges of the Women Served
As of May 2014, according to the humanitarian news service IRIN, the UN Refugee Agency (UNCHR) in Amman, Jordan registered 12,270 Iraqi refugees since the beginning of 2012, and the numbers are growing.
The vast majority of the urban refugee population suffers from PSTD-related medical conditions because they have experienced tremendous loss of families, wealth, and their past lives, and many have witnessed violence. The refugees typically leave their home in haste due to violence or fear of violence and bring very little with them. They may bring some money that allows them to begin renting an apartment, but once they do they have little left to eat or take care of basic needs. It is not uncommon for families to sleep on hard concrete floors with no bedding, no way to cook their food, and no utensils with which to eat. CRP's emergency assistance program helps the refugees find housing, food and essential household items for cooking and living. Through activities and learning experiences to bring the refugees together, CRP gives the refugees a community where they can experience a sense of belonging in an otherwise dire and uncertain existence.
However, two needs in the community are not being met: the need for psychosocial wellness to address the PTSD and the need to empower women to be leaders not only in their own lives, but also in the community.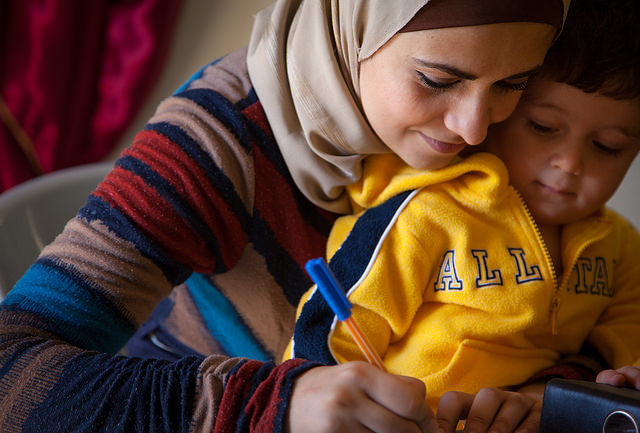 The women, who typically bear the brunt of family anxieties, experience persistent psychological stress. Also prominent among the women is lack of empowerment and leadership skills.  Although the men are more likely to take on leadership skills, the women are the bedrock of the family as they struggle with the deprivations of refugee life. Their husbands are forbidden to work to support the family and they may react to their frustration and boredom with anger and violence. School age children are often bullied at school because of their refugee status, and it is the women who must advocate for them. The women react to their predicament as refugees with depression and deep feelings of helplessness when it comes to their own self-actualization.
The Project
Women, selected on the basis of interest in the project and commitment to CRP activities, will be placed in three groups.  Those showing the most commitment will be part of the core group, which will serve a leadership role in the other two groups. Each group will participate in four elements of the program:
Psychosocial and wellness programs – yoga, art therapy, and relaxation techniques are offered four times weekly through the two years of this program to help the women learn to manage their stress. These activities are taught by volunteers and can be easily learned by the women.
Nutrition and health seminars – monthly seminars teach basic nutrition and health techniques, such as how to eat nutritiously on an extremely limited budget, to help the women learn to prioritize nutrition and health.
Leadership and training of trainer support – a 7-week program to teach the women community leadership skills and prepare them to participate in CRP's leadership in the health and wellness program and participate in CRP's Advisory Council.
Learning field trips to women-led organizations – two visits each in Phases II and III to learn best-practices from women-led organizations in Amman, which face many of the same cultural and logistical problems as CRP, to prepare them to take on leadership roles in the CRP community and give them an opportunity to interact with successful women role models.
Each phase is seven weeks long. Phase I of the program prepares the 25 core leadership trainees to assist with the other two phases and be influencers throughout all phases and beyond. Another 200 women in phases II and III  go through all the activities above, except the training of trainers, in groups of 25. Transportation is provided for women living outside of the neighborhood to encourage their participation. Small stipends are provided to core group trainers.
Questions for Discussion
What do you think are the most devastating aspects of refugee life in Amman?
How do you think PTSD and an uncertain future can be overcome by the youngest refugees?
In what ways do you think involving refugee women with little hope for their future in a health, wellness and leadership program will help them cope better with day-to-day life?
The Project Budget and How DFW's Donations will be used
DFW's grant of $37,058.04 over two years will fund three phases to reach 225 women directly.
Why We Love This Project
We love this program because it serves urban refugees from conflict zones in neighboring countries, a unique population with very special needs who live in extreme poverty with little ability to improve their lives. CRP serves a diverse population representing multiple nationalities, including Iraqis, Syrians and Somalis. They are reliable boots on the ground for other organizations providing emergency assistance. They supply not only emergency services for refugees, they also provide a community to help individuals feel a renewed sense of belonging in a foreign place. More importantly, they have tapped into the psychosocial needs of the population and offer holistic and effective programs for displaced populations with PTSD.
Evidence of Success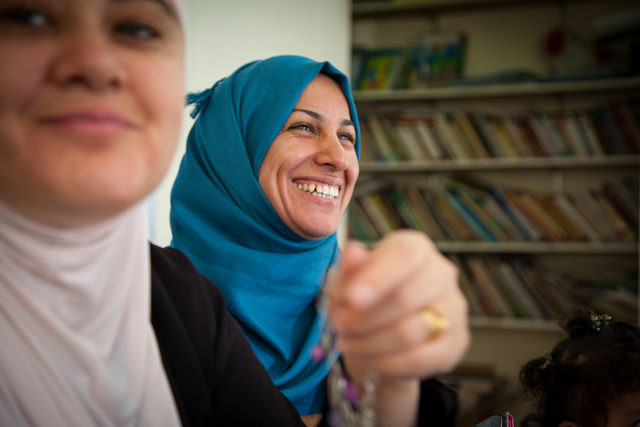 The organization's programs are now serving nearly triple the numbers they were one year ago and its emergency assistance program beneficiary numbers have more than doubled. The number of families on CRP's food voucher program has doubled over the past year. Distributions have also expanded greatly – this past winter the organization distributed winterization kits to 1,500 families, compared to the 70 families reached the previous winter. The success of the programming is also evident in the feedback of beneficiaries. One food voucher program beneficiary said, "I went to so many organizations, and none of them did anything for me until I came to CRP. The help they give me makes me feel good. I feel like they understand my suffering and feel it with me."
Similar success has been evident in community center programming. Attendance in English classes grew to almost 170 people during this past semester, from 45 people the previous semester. Likewise, attendance in computer classes has tripled, and the number of children in summer children's activities has doubled. The success is also apparent in the feedback from the community. For example, yoga programming has been met with great enthusiasm, and the community continually requests additional programming to address their psychosocial needs. One beneficiary said, "I relax to the point where I forget all my worries." The value of that statement must be understood in the context of a community that experiences severe PTSD and struggles to make ends meet every month.
Voices
EDITOR'S NOTE: These names have been changed

Nawal exemplifies the demographic that suffers from PTSD in the CRP community.  In Iraq, she was a practicing lawyer, but after her husband and father were both killed in violence and her mother and sister died in car bombings, Nawal fled to Jordan with her two daughters. Without any means to take control of her life or work to support her family, she became very depressed. She can express that she is depressed, and she adds that nothing could possibly make her smile. She has been unable to find ways of managing her depression. In speaking with her, the depression and feeling of disempowerment, felt even by a strong woman who was a lawyer in her home country, is apparent.
Rasha is optimistic, despite the adversity she faces. After her house was burned down in Iraq because of her husband's work, the family fled to Jordan. They found themselves without food or furniture. Though she has benefited from CRP's emergency assistance program, she describes Amman's refugee populations poetically as "a sinking people." She explains that she knocked on many doors before coming to CRP, but everyone told her they could not help her. She is thankful for CRP, because "they opened the door and told me to come in." Since then, Rasha has been very involved at the center, volunteering almost daily, and all four of her children have participated in a number of activities, including English lessons, sports and the teen Dreams Group.
About the Organization
Collateral Repair Project is a grassroots effort to bring much needed assistance to refugees and other victims of war and conflict – those commonly referred to as "collateral damage." They seek to repair some of this damage and through these efforts, foster peace and reconciliation. The CRP community serves over 500 urban refugee families. It was founded in 2006 by two American women, now retired, who worked passionately to stop the US invasion of Iraq and grieved over the loss of innocent lives in their name as Americans. Because of the great number of Iraqi refugees fleeing to Jordan, CRP's founders set up operations in Amman. Much of CRP's early work was charity related, distributing basic necessities to urban refugee families. CRP's programming expanded to include community building, education and emergency aid initiatives as the organization grew.
In 2008, the Community and Family Resource Center opened in the Hashemi Shamali neighborhood of East Amman where CRP hosts a variety of classes and activities. The goal of these programs is to allow refugees to regain the sense of community that was lost in their home countries.
Where They Work
Jordan (Hashemite Kingdom of Jordan) is in the Middle East, located northwest of Saudi Arabia, between Israel to the west and Iraq to the east.  It is a small country, about the size of the state of Indiana.   Like most of the region, it is an arid country.  It sits strategically at the Gulf of Aqaba and is the Arab country that shares the longest border with Israel and the West Bank.
Following World War I and the end of the Ottoman Empire, Britain governed much of the Middle East.  The British took a region from Palestine in the early 1920's and designated it as the semi-autonomous region of Transjordan. The area gained its independence in 1946 and became The Hashemite Kingdom of Jordan. The country's long-time ruler, King Hussein (1953-99), successfully navigated competing pressures from the major powers (US, USSR, and UK), various Arab states, Israel, and a large internal Palestinian population.
In 1967, Jordan lost the West Bank to Israel in the Six-Day War. King Hussein permanently relinquished Jordanian claims to the West Bank in 1988; in 1994 he signed a peace treaty with Israel. Hussein's eldest son, King Abdallah II, assumed the throne following his father's death in 1999. He implemented modest political and economic reforms, but in the wake of the "Arab Revolution" across the Middle East, Jordanians continue to press for further political liberalization, government reforms, and economic improvements.  In January 2014, Jordan assumed a nonpermanent seat on the UN Security Council for the 2014-15 term.
Source Materials
Source Materials and Further Reading
Documentation and images provided by Collateral Repair Project to Dining for Women
Stories about CRP community refugees
New York Times article on the lives of refugees
CRP Facebook page