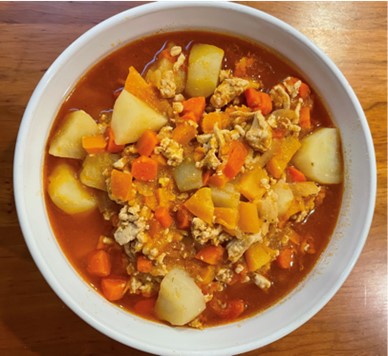 Serves
4-5
Ingredients
2 lbs potatoes
1/4 cup cooking oil
1 lb ground turkey
1 medium onion, diced
4 tomatoes, chopped
1 tsp smoked paprika
1/4 tsp cayenne pepper
2 cups chicken broth
4 garlic cloves, crushed
1 red bell pepper, diced
1 cup carrots, diced
Salt and pepper to taste
Directions
Peel potatoes and cut into big pieces and soak in water. Leave aside.
Heat oil in a medium saucepan over medium heat.
Add onions and sauté till brown.
Add ground turkey and continue to sauté
Add tomatoes, cayenne pepper, paprika, stirring for 5 minutes.
Add potatoes, chicken broth, and let it simmer for 5 minutes.
Add carrots and bell pepper and continue cooking until potatoes are soft.
Stir occasionally.
Add salt and pepper to taste. Serve hot as main dish for 4 – 5.
Country:
Cameroon
Notes and Instructions
Recipe and photo credit: Global Pearls, Inc.