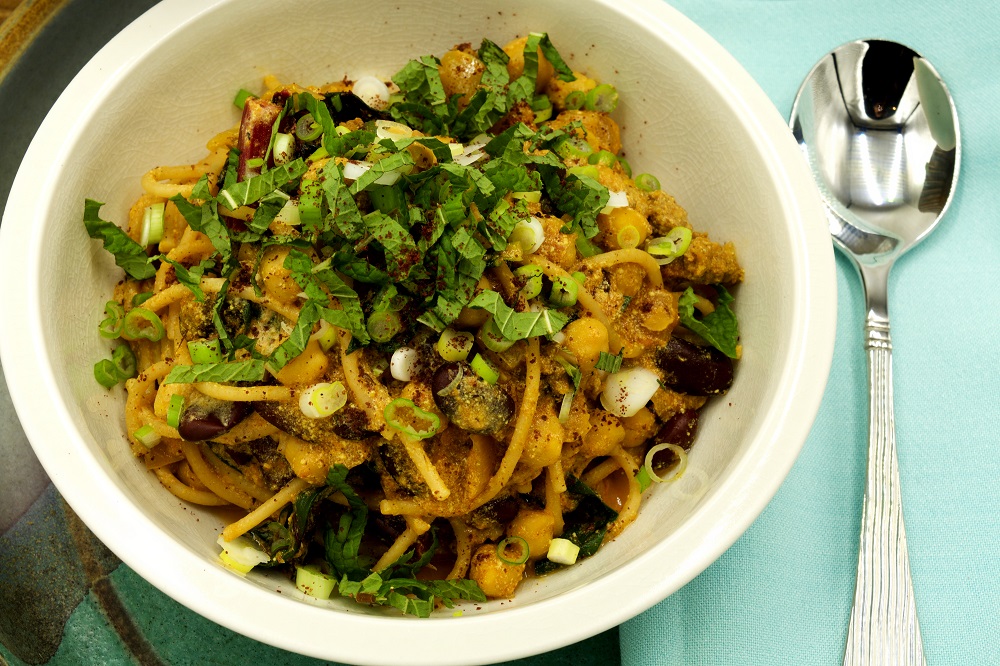 Serves
6-8
Ingredients
Cooking tips/notes: Like any sort of soup or stew, this one tastes even better the second day. If you decide to make it the day before, however, I suggest omitting the pasta step until you're ready to eat. That way, the pasta won't get mushy. I've mentioned this before, but it's worth repeating: buying whole, fresh spices – like cumin or coriander – at an Asian or Indian market is so much less expensive than buying them pre-ground. Toasting and grinding them yourself adds such tremendous flavor. I highly recommend it! I really like Swiss chard – even the stems – so I've used it in this recipe. But if you don't, spinach (even frozen) would be a great substitute. Ground turkey or lamb would work really well, too, instead of beef. If you don't feel like using any meat at all, just add an additional can each of garbanzo beans and kidney beans. Any sort of broth would work – beef, chicken, vegetable. Omit the red pepper flakes if you like something a little less spicy. Don't be shy about aggressively salting your pasta water so that it's "salty like the sea." You want the pasta to have flavor, too! You'll see there's a step to "temper" the yogurt so that it doesn't curdle when it goes into the pot. Give sumac a try, too. It's got a great lemony flavor.
Ingredients:
1 pound ground beef
2 tablespoons extra-virgin olive oil
2 medium yellow onions, diced
1 ½ teaspoons kosher salt (plus more for salting pasta water)
1 teaspoon ground black pepper
4 cloves garlic, minced
1 tablespoon minced ginger
2 tablespoons ground cumin
2 tablespoons ground coriander
1 teaspoon ground turmeric
1 teaspoon paprika
1 teaspoon crushed red pepper flakes
½ teaspoon ground cinnamon
1 large (28-ounce) can crushed tomatoes
2 cans (15-ounce) garbanzo beans, drained
2 cans (15-ounce) red kidney beans, drained
2 cups broth (see note above)
1 large bunch Swiss chard, cleaned and chopped into bite-sized pieces
2 cups plain Greek-style yogurt
1 package (16-ounce) whole wheat spaghetti
4 scallions, white and green parts, thinly sliced, for garnish
¼ cup chopped mint, for garnish
Sumac, for garnish
Directions
Brown the ground beef in a large, heavy pot over medium high heat, breaking it up into pieces as it cooks. When browned, remove from the pot with a slotted spoon and set aside. Wipe the pot clean.
Add the extra-virgin olive oil to the pot. Then add the chopped onion and sauté until light golden brown, approximately 6 to 8 minutes. Add the kosher salt, ground black pepper, minced garlic, minced ginger, cumin, coriander, turmeric, paprika, red pepper flakes, and ground cinnamon. Sauté for another 2 to 3 minutes, until very fragrant.
Add the crushed tomatoes to the pot and stir everything together until it's well-combined, scraping up any brown bits on the bottom of the pan. Add the garbanzo beans, kidney beans, broth, and the browned ground beef. Mix together, lower heat, cover pot, and simmer gently for 30 minutes. Stir occasionally.
While the meat and bean mixture simmers, fill another large pot with water. Add salt (see note above) and bring to a rolling boil. Add the pasta and cook just until "al dente" – firm to the bite. Depending on the pasta, this could take as little as 5 minutes. When done, drain in a colander and set aside.
After 30 minutes of simmering, add the chopped Swiss chard to the pot and stir everything together. Simmer for another 6 to 8 minutes.
While the Swiss chard is cooking, put the yogurt into a large bowl. Stir in several ladles of the hot liquid from pot, whisking it thoroughly. This will help prevent the yogurt from curdling.
Add the yogurt to the pot and stir in. Then add the cooked pasta, mixing everything together one last time.
Serve the Aush in large, individual bowls. Garnish each serving with some of the scallions, mint, and a pinch of sumac.
Country:
Afghanistan
Notes and Instructions
Recipe and photo credit: Traci Barr