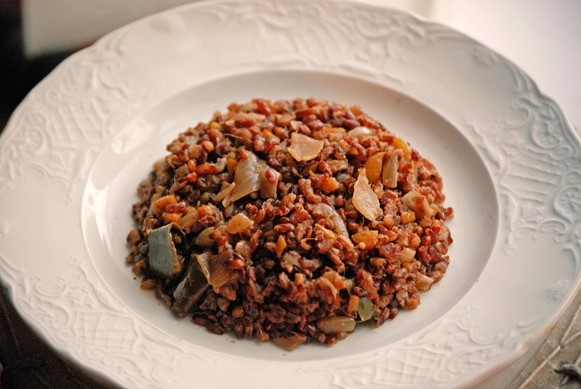 Ingredients
Bhutanese Red Rice is crunchy, nutty and one of the few rices that will grow in Bhutanese highlands. Thus, it is commonly eaten there. Other rices are also imported from the southern low countries, but red rice is Bhutan's own rice and the mother of many other red rice varieties.
This recipe comes from Laura Kelley, author of the Silk Road Gourmet blog. I have reprinted her recipes as she originally wrote it. She includes perilla seeds in this dish. The perilla is a staple food in many Asian cultures. It's also known as shisho (the leaf) and the seed contains a high concentration of fatty acids—as much as 40-45 percent oil, so you can see that they are highly nutritious. If you can't find perilla seeds, just eliminate them.
She also calls for "finger-hot chiles." I am not sure what these are, but I would think you could substitute a jalapeno or serrano chile instead.
Ingredients
1 cup uncooked Bhutanese red rice
2 tbsp. butter
1 small to medium onion, minced
3 to 4 finger-hot chiles, minced
1 tbsp. ginger, grated or minced
2 tsp. garlic, minced
Zest of 1 mandarin orange (if unavailable, substitute other orange zest)
1 tsp. salt
½ tsp. Szechuan peppercorns, roasted and ground
1 tsp. perilla seeds, roasted and ground
2 ½ cups water
Directions
Melt the butter in a medium sauté pan. Add onion and sauté 5 minutes or until tender. Add chilies, ginger, garlic, orange zest, salt, pepper and perilla, and stir well. If necessary add a tablespoon or two of water or orange juice to moisten.
Add water and rice and stir well. Heat to a boil and then reduce heat to a high simmer and cook covered for about 30-40 minutes until rice is tender and water is absorbed. Check the rice occasionally, but don't stir too much. When rice is done, let sit covered off the heat for at least 10 minutes.
Country:
Bhutan
Notes and Instructions
Recipe contribution from Linda McElroy
Recipe and photo credit reprinted with permission from Laura Kelley, http://www.silkroadgourmet.com/bhutanese-red-rice/