Black-Eyed Pea and Rice Salad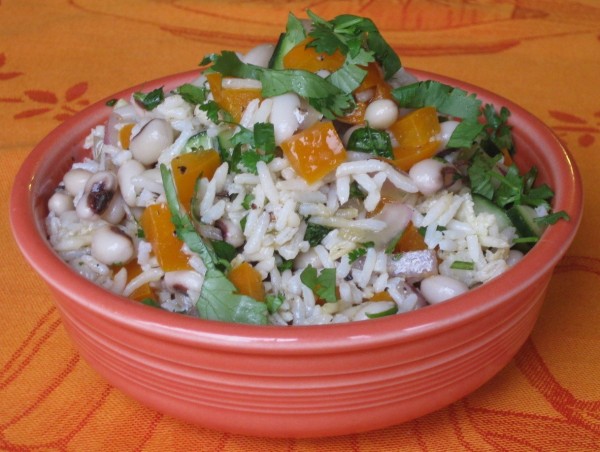 Serves
6-8
Ingredients
In doing research on recipes for Senegal I came across a Saveur magazine link to a Senegalese feast. One of the dishes featured was this black-eyed pea salad, and I thought that it sounded like a perfect accompaniment to the
Yassa Poulet.
I did change several things about the recipe, based on what I had in in the fridge that needed to be used up. I also greatly reduced the amount of oil called for, because, after all, wouldn't we rather save our calories for dessert?
But the biggest change I made was when I was putting away the leftovers and scraped the leftover rice into the black-eyed pea salad. Ooops! I didn't have a chance to take a picture of the salad yet and now there was rice in it. And as such, a new dish was born! The rice and the black-eyed pea salad were bound to get mixed up together on the plate anyway, right?
So here is my recipe, now adapted to include the rice. If you would like to make this salad without the rice simply decrease the lime juice and olive oil to 3 tablespoons each.
1 cup dried black-eyed peas (cooked yield about 2 cups) or the equivalent amount of canned peas
¾  cup basmati rice, uncooked
1 orange bell pepper, diced in ½" squares
½ large cucumber, diced in ½" cubes
¼ cup diced red onion
¼ to ½ cup roughly chopped cilantro
4 tbsp. fresh lime juice
4 tbsp. olive oil
1 tsp. kosher salt (or ½ tsp. fine salt)
freshly ground black pepper
Directions
Soak the peas in cold water for 4 hours, then cook until done, about 20-30 minutes, drain and set aside. Likewise, cook one cup of basmati rice and set aside. Cool, and combine the rice and peas. Meanwhile, chop the bell pepper, cucumber and red onion into dice about the size of the black-eyed peas. Place into serving bowl with the cooled rice and peas, lime juice, oil, cilantro and salt.
If you would like to prep the salad the night before that's fine, just be sure to let the salad come to room temperature and wait to dress the salad until about an hour ahead of time, this way the flavors stay brighter.
Country:
Senegal
Notes and Instructions
Recipe source and photo credit: Linda McElroy