Cabbage and Pineapple Salad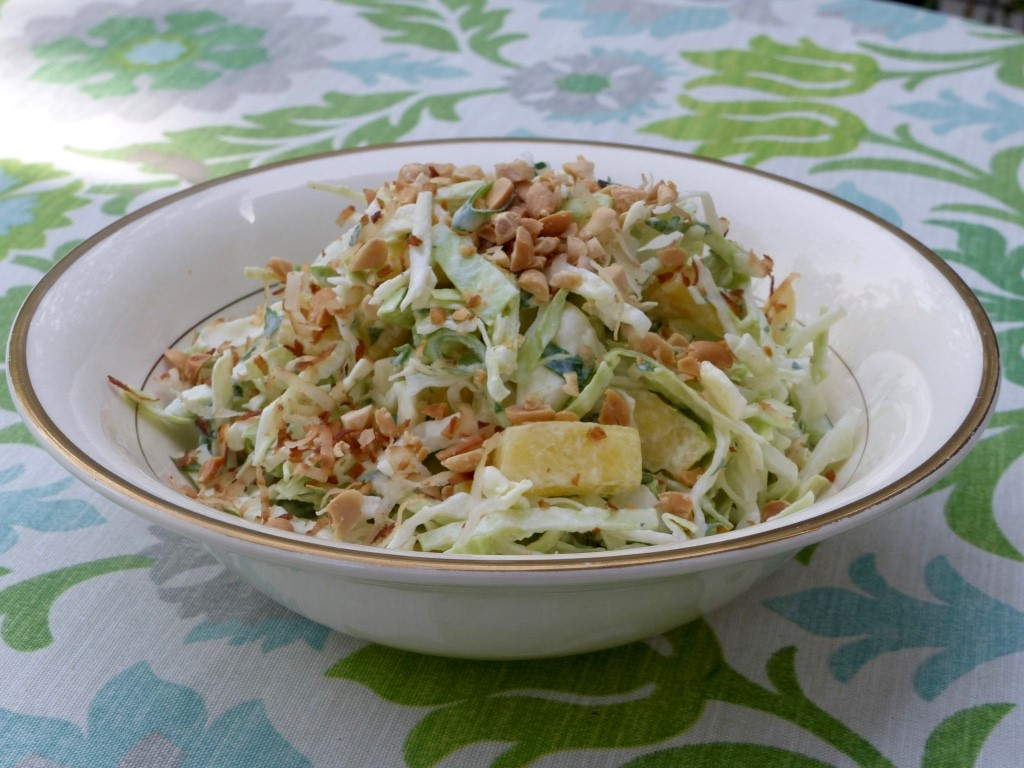 Serves
8-10
Ingredients
This is my own personal take on what a summer salad would look like in Uganda. Cabbage and pineapple are staple foods there, as well as peanuts, or groundnuts, as they are referred to in Africa. It's light and refreshing, and the pineapple provides a great juicy contrast to the crunchy cabbage and peanuts.
Ingredients
1 medium head of green cabbage (about 1 ½ lb.)
3 green onions, sliced, both white and green parts
1 cup cilantro leaves and tender stems, lightly chopped
1 cup shredded sweetened coconut
4 slices fresh pineapple, each about 1/2 –inch thick (about 12 oz. total)
Chopped peanuts for garnish (about ½ cup)
Dressing
½ cup buttermilk
½ cup plain, whole-fat Greek yogurt
¼ cup rice wine vinegar
1 tbsp. sugar
2 tsp. powdered ginger
1 tsp. kosher salt
Directions
Cut the cabbage head into quarters and remove the core. Slice thinly as you would for coleslaw and put into a large bowl. Add the green onions and cilantro.
Toast the coconut. To do this, put coconut into a skillet over medium heat and stir constantly until it has taken on a warm golden color. Remove from heat and take out of the skillet to stop
the cooking. Let cool on a plate. Reserve a couple of tablespoons of the coconut to use as a garnish.
Grill the pineapple rings. This can be done on a grill heated to a medium temperature or in a stove-top grill pan. Alternatively, the rings may be broiled. Grill or broil the pineapple rings for a few minutes on each side, turning once, until the fruit has browned in spots and softened. You're not really trying to cook the pineapple. You just want to caramelize some of the sugars in the fruit. Remove the fruit from heat and let cool.
Remove the firm inner core from the pineapple rings by cutting each ring into quarters and slicing out the firm inner piece. Chop the rest of the pineapple into slivers by slicing along the "grain" of the pineapple. Set aside.
To make the dressing, combine all dressing ingredients and shake well.
About a half hour before you plan to serve the salad, add the coconut (reserve some for garnish) and the pineapple to the cabbage along with all of the dressing. You want to give the salad time to mingle with the dressing and soften the cabbage just a bit. Toss with your hands to get everything evenly coated, place into a pretty serving bowl, and garnish with a shower of chopped peanuts and toasted coconut.
Do ahead: The dressing and all of the ingredients for the salad can be prepped and stored one day ahead of time. You can store the cabbage, onions, and cilantro together, but the pineapple, coconut, and peanuts should each be stored separately.
Country:
Uganda
Notes and Instructions
Recipe and photo credit: Linda McElroy