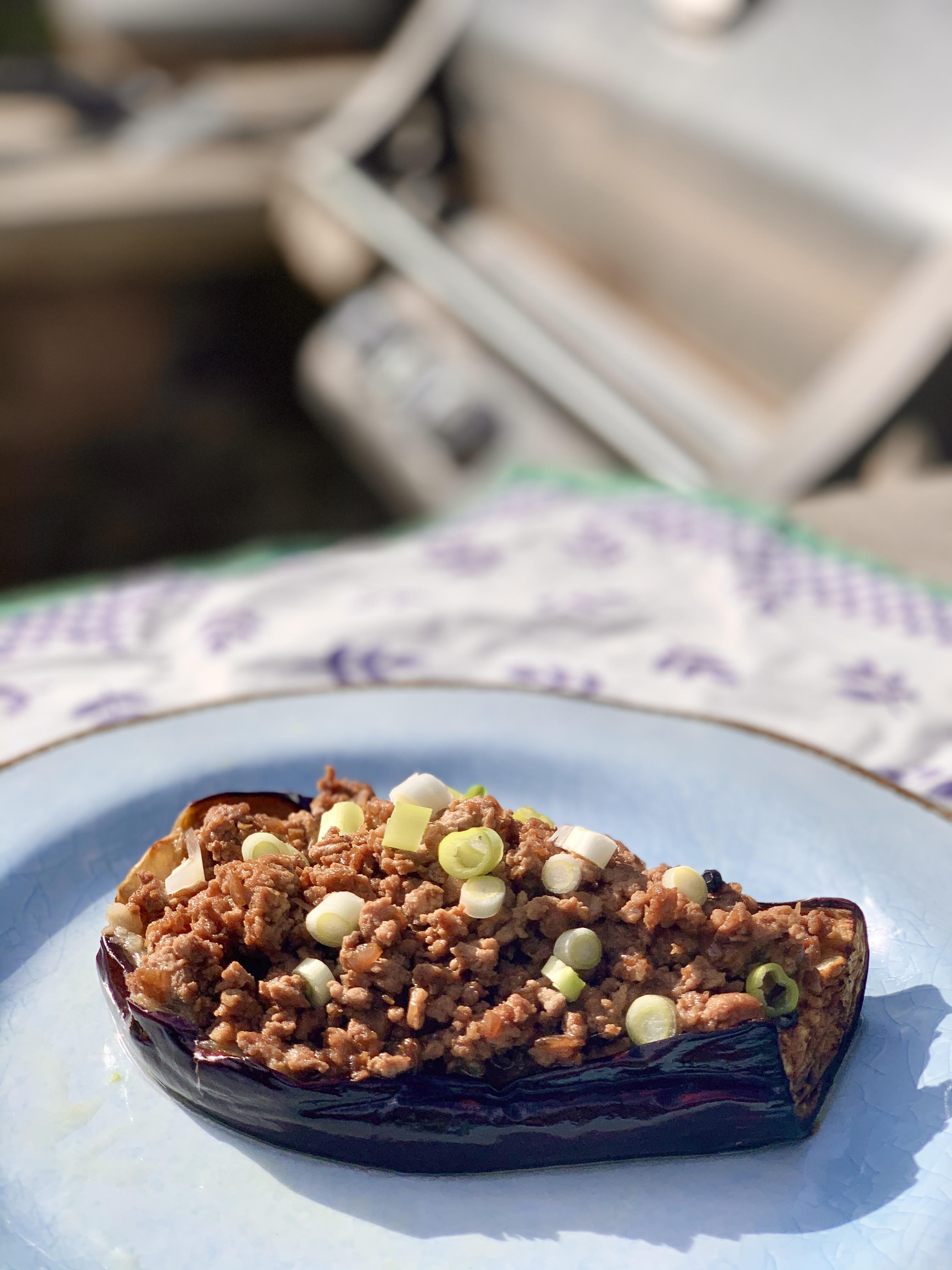 Ingredients
Eggplant – 3
Ground pork – 1 lb (Substitute crumbled tofu/ground plant-based meat substitute)
Garlic – 4 cloves, finely diced
Neutral oil – 1 tbsp
Soy sauce – 5 tbsp
Fish sauce – 2 tbsp (can substitute with Hoisin sauce)
Whole Peppercorn – 2 tsp
Salt and pepper – to taste
Scallions – sliced to garnish
Directions
Halve the eggplants (leave skin on) and salt them.
Let the eggplants "sweat" for 30 minutes in a colander. (This step allows the salt to draw out the bitterness from the eggplants).
Using a paper towel, wipe the liquid from the eggplants and pat them dry.
 If grilling, oil the eggplants and grill them until they are lightly charred.
If baking, preheat the oven to 350F.
Bake in the middle rack for about 20 minutes or until the flesh is soft and the skin is lightly browned.
While the eggplants cool, heat oil in a wok or stir fry pan.
Add the whole peppercorns and allow them to sputter and infuse some of the peppery taste to the oil.
Add the minced garlic and sauté until golden, being careful not to let them burn.
Add the ground pork and sauté until brown.
Add the soy sauce and fish sauce (or hoisin sauce) and stir to incorporate into the browned pork and cook until they caramelize.
Soy sauce and hoisin contain salt, so be sure to taste the pork and then adjust for seasonings (salt and pepper).
To serve, scoop heaps of the stir-fried pork on to the eggplant halves flesh-side, and garnish with the scallions. Serve with rice.
Country:
Cambodia
Notes and Instructions
Recipe and photo credit: Vinola Munyon
Email: vinola4dfw@gmail.com