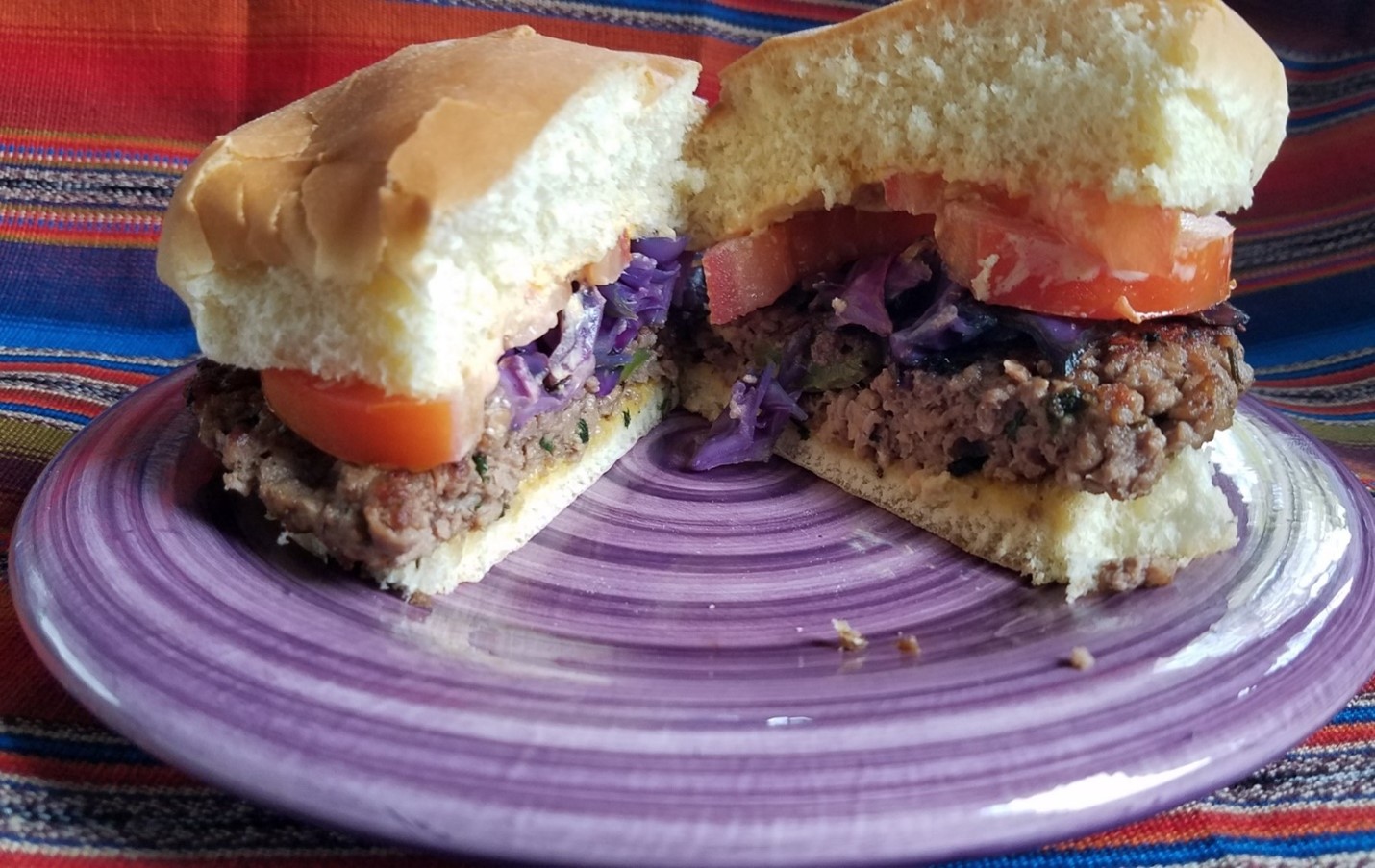 Serves
8
Ingredients
Burgers
2 lbs. ground beef chuck or Impossible burger (shown)
½ c onion, fine dice
½ c green pepper, fine dice
2 garlic cloves minced or 1 tsp granulated garlic.
1/2 c chopped cilantro.
2 tsp ground cumin
1 tsp dried oregano
¾ tsp salt
¾ tsp ground black pepper
2 tsp soy sauce
Sauce
¼ c mayonnaise
2 T yellow mustard
2 T sriracha sauce
8 hamburger buns
2 c thinly sliced cabbage
2 tomatoes, sliced
Directions
Heat 2 T avocado oil in a large cast iron skillet over medium heat. Add onion, bell pepper, garlic, cilantro, oregano, soy sauce, salt, and black pepper. Sauté until soft, about 5 minutes. Remove from heat, place in a bowl to cool for 5 minutes and then mix in ground beef. Form into 8 patties and refrigerate for 15 minutes.
While patties are cooling, heat ½ c water in skillet and sauté the cabbage slices until softened, 5- 10 minutes. Put in a bowl and set aside. Stir the sauce ingredients together and set aside.
Return the skillet to the burner on medium heat and toast the buns. Remove the buns from the skillet and add 1 T avocado oil to the pan. Cook the burgers to desired doneness, flipping halfway through so a crispy crust forms on both sides.
Spread top and bottom of bun with sauce, add hamburger topped with cabbage and tomato.
Country:
Dominican Republic
Notes and Instructions
Recipe and photo credit: Georgia Reader