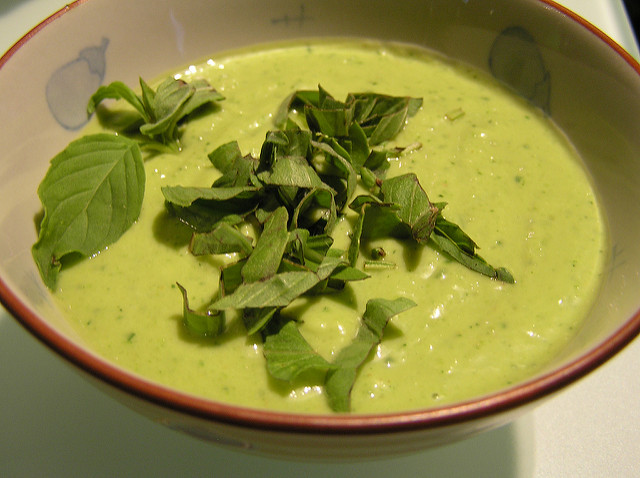 Serves
6
Ingredients
1T vegetable oil
1 small onion, chopped
1T ground coriander seed
1T flour
3c chicken stock
10 asparagus spears, cut into 1 inch pieces (optional)
2 very ripe avocados, pitted, peeled and chopped just before adding
salt and pepper to taste (I also added a pinch of cayenne)
3T heavy cream (optional)
Chopped chives and paprika for garnish
Directions
Heat oil in a medium saucepan over medium heat. Add chopped onion and sauté until onion is very soft,
reducing heat if necessary to prevent the onion from browning. Add the coriander and flour. Stir and
sauté briefly. Add stock, stirring and bring to a boil. Add asparagus, if using, and gently boil for about 5
minutes, stirring occasionally, until asparagus is tender. You could save a few Ups for garnishing if you
like. If not using asparagus, then just gently boil the stock for about 5 minutes, stirring once or twice.
Remove from heat and allow to cool to avoid burning yourself while blending. Put the avocado flesh in
the bottom of a blender, add the stock and asparagus and blend until smooth. Add more stock if it seems
too thick. Add salt and pepper, and cayenne if using, to taste. Blend until combined. Pour soup into bowl
or serving container and stir in heavy cream, if using. Chill. To serve, garnish each bowl with a sprinkle of
paprika and chopped chives, and any asparagus Ups you have set aside. Serve cold.
Country:
Kenya
Notes and Instructions
Adapted from The Congo Cookbook (http://www.congocookbook.com/soup_and_stew_recipes/index.html)
Avocados grow everywhere in Kenya. Smooth and creamy and rich, this soup recipe from 2009 when we were supporting another program in Kenya because it is SO good I wanted to make sure you didn't miss it! A beautiful way to start your Kenyan meal.
Photo Credit: Avocado Zucchini Soup by Laurel F, Creative Commons Attribution Sharealike 2.0