Crispy Pork (Carnitas) (Tested)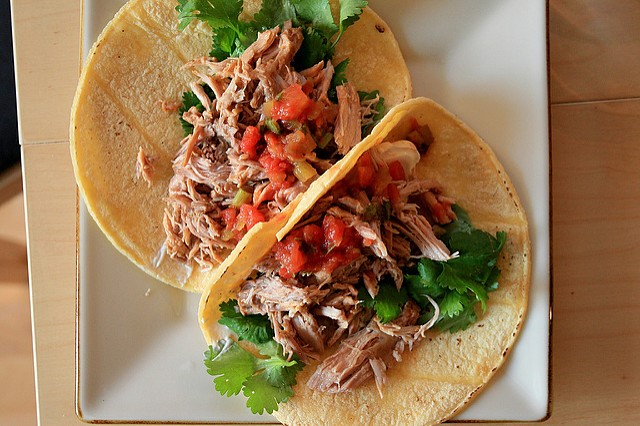 Serves
8-10
Ingredients
I have been making this carnitas recipe ever since the Bon Appetit Mexico issue came out in 2003! Adapted over the years, it is a family favorite whenever we crave Mexican food.
4 lb. boneless country-style pork ribs
1 large navel orange
6 large garlic cloves, peeled
2 tsp. fine sea salt
Directions
Cut the pork into 3 pieces each. Don't trim the fat, that's what will make the carnitas crisp and extra delicious!
Grab a deep 12-inch skillet and put the meat into the cold pan. Grate the zest of the orange right into the pan on top of the meat; this way none of the zest gets wasted, and the oils of the orange peel land on the meat as well. Cut the orange in half and squeeze both halves into the pan, then add the garlic cloves and salt. Mix with your hands to combine.
Cover the pan and bring to a simmer. At first the pork will steam and release a lot of juice, so there should be a fair amount of liquid in the pan to keep the meat from browning or burning. Check the meat after about half an hour and add water by the half-cup as necessary to keep the meat from sticking. Pay close attention and check under the lid every 20 minutes or so to evaluate.
Continue to cook the pork until it is very tender, about an hour and a half. Once the pork is tender, remove the lid from the pan and stir to break up the meat; it should readily fall apart. (If there is any liquid left in the pan, continue to simmer until the pan is dry and the pork is sizzling in its own fat.) Let the pork continue to cook for a bit longer to crisp, about 5 minutes.
You can easily make this one day ahead of time. When you want to serve the pork, break up the meat and place on a jelly roll pan. Slide into a hot oven, about 350 degrees, to heat and crisp. This will take about 15 to 20 minutes; you should hear the meat sizzling in the oven when ready.
Serve with tortillas and all the usual suspects.
Country:
Mexico
Notes and Instructions
Recipe adapted from Bon Appetit, May 2003 issue
Photo credit: Mike McKune from Flickr, Used under Creative Commons Attribution 2.0 Generic.