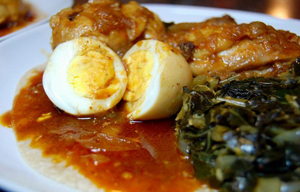 Serves
8
Ingredients
2 med. red onions, diced
Salt
1/4 c Niter Kebbeh (spiced butter) or ghee
1/4 ground cardamom—freshly ground if possible
1/4 t black pepper
3 whole cloves
2 garlic cloves, finely chopped
1 ½‐inch piece ginger, peeled and chopped
1 T berberé (adjust as you please up or down the heat scale)
2 1/2 c chicken stock, divided
3lb boneless chicken thighs, cut in half
1/4 c dry red wine
juice of 1 lime
4 hard‐boiled eggs, peeled
Directions
Dry and salt the chicken thighs and set aside. Combine the onions, a pinch of salt, and half of the butter
or ghee in a Dutch oven over low heat. Cook, stirring occasionally until the onions are golden, 15
minutes. Add the rest of the butter, and the spices. Cook about 10 more minutes until the onions are
meltingly soft and take on the color of the spices. Add 2 c stock and the chicken, bring to a simmer and
simmer for 15 minutes. Add the remaining ½ c stock and the wine, simmer again for 10 minutes. When
the chicken is done, gently stir in the lime juice and eggs and simmer another 5 minutes. Adjust the
sauce for salt. You can make this ahead and reheat it.
Country:
Ethiopia
Notes and Instructions
This spicy chicken stew is the national dish of Ethiopia. The sauce is thin— all the better to soak into
injera. I've modified the recipe for potluck ease to use boneless chicken thighs. A cut‐up whole chicken
would be more authentic.