Eggplant Avocado Dip (Kobo Kobo Avocado Honey Plasas) (Tested)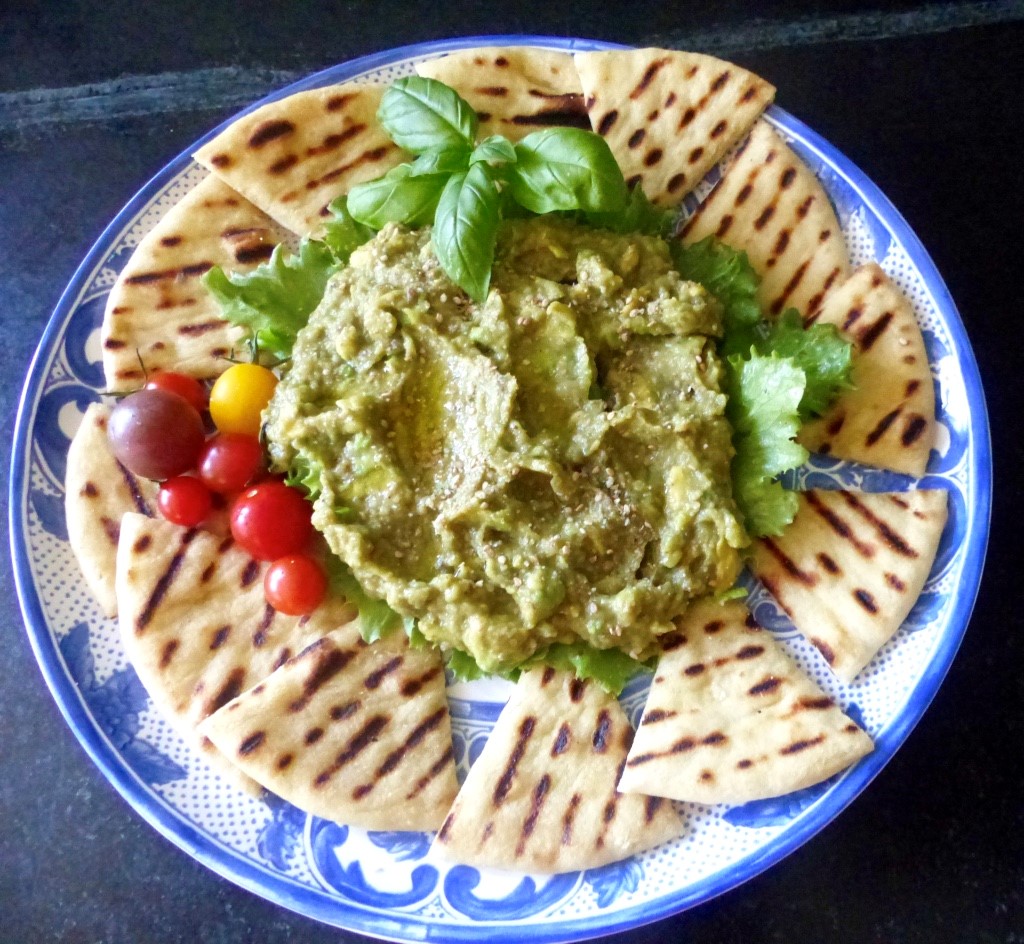 Serves
8 (as an appetizer)
Ingredients
Odd as this recipe sounds, have faith. I think I was attracted to the funny name. "Kobo kobo" refers to eggplant, or "gardenegg," which is so charming! And the word "plasas" means "sauce" in West African languages. I'm glad I took a chance on this one. The disparate sounding ingredients come together to create a dip unlike anything you've ever tasted.
For this recipe I made fresh ginger paste by grating a piece of fresh ginger on a microplane. Ginger paste can also be made in a blender or purchased at the grocery store.
Fun fact: male eggplants have fewer seeds than female eggplants and are therefore more desirable. If you find large pockets of seeds in your eggplant after roasting, you can remove and discard them.
Ingredients
1 medium eggplant, about 1 pound
¼ cup sesame seeds, toasted and ground
1 large ripe avocado, diced fine
1 tbsp. honey, warmed
1 tsp. sesame oil
½ tsp. salt
½ tsp. fresh ginger paste
½ tsp. curry powder
Juice of 1 lime
Pinch cayenne pepper
Pita wedges, grilled
Directions
To roast the eggplant: Heat the oven to 400 degrees. Poke a few holes in the eggplant with a skewer so that it doesn't burst in the oven. Line a sheet pan with foil or parchment paper, and place the eggplant on the pan.
Slide the pan into the oven. Giving the pan a turn every 10 minutes, bake for 40 to 50 minutes. The eggplant should feel completely soft and tender, with the exception of the stem end. It will look deflated, and you should see some juices collecting on the pan.
When cool enough to handle, make a slit lengthwise down the eggplant. With your fingers you should be able to peel the eggplant skin from the flesh. Start at the bottom and pull upward toward the stem end. Remove the stem end with a knife. Tear the flesh into strips; if there are any large pockets of seeds discard them. Place the flesh into a strainer to drain for 30 minutes; discard the liquid. Turn out onto a cutting board and chop. Place in a mixing bowl.
To toast and grind the sesame seeds: Place the sesame seeds in a heavy, dry skillet (cast iron is great) over medium-low heat. Stirring constantly, toast the seeds for 3 to 5 minutes, until they start to turn a darker shade and smell toasty. If you can crush a seed between thumb and forefinger, the seeds are done. Let them cool completely, then grind in a spice grinder or coffee mill. This took me only two shorts bursts with my coffee grinder to obtain a coarse powder. Alternatively, you could use a mortar and pestle. Set aside one tablespoon of the ground sesame seeds for garnish.
Add the ground sesame seeds (less that reserved for garnish) to the mixing bowl with the eggplant. Add the avocado, honey, sesame oil, salt, ginger paste, curry powder, lime juice, and cayenne pepper. Blend with a fork and continue to mash any large pieces remaining.
Arrange on a platter on top of a pretty lettuce leaf and surrounded with pita wedges. Before serving, drizzle a little oil on top and sprinkle with reserved ground sesame seeds.
Do ahead tip: You can prepare the eggplant one day ahead of time and store in the fridge. You can also toast and grind the sesame seeds one day ahead of time.
Country:
Mali
Notes and Instructions
Recipe adapted from: "Zainabu's AfricanCookbook," by Zainabu Kpaka Kallon
Photo credit: Linda McElroy