Ethiopian Eggplant Relish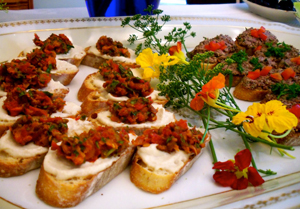 Serves
4 cups
Ingredients
1 large or 2 medium eggplant, cut into tiny dice, about ½‐inch
1/4c olive oil
3 cloves garlic, minced
1/2c celery, diced
1 – 8oz. can tomato sauce
1T sugar or more to taste
3T red wine vinegar
1t berbere spice blend
1/4t salt or to taste
1/4c parsley, chopped
Directions
Heat oil in a large skillet over medium‐high heat. Add eggplant and sauté, stirring, for about 5 minutes or until tender and lightly browned. Add all other ingredients except parsley and stir. Reduce heat to medium‐low and simmer, covered, for about 8 minutes. Uncover and simmer another 10 minutes or until sauce is thick. Stir in parsley. May be served hot or at room temperature.
Country:
Ethiopia
Notes and Instructions
Some interesting recipes on this site from all over the world. This eggplant relish is like an Ethiopian version of the Italian Caponata. More of an accent than a side dish, could be served with appetizers or dinner, your choice. Sweet/sour.