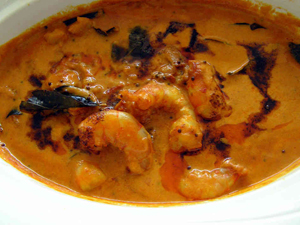 Serves
4
Ingredients
1lb. firm white fish such as halibut or grouper, or small scallops or shrimp (shelled)
1 medium onion, coarsely chopped
3 cloves garlic
1T chopped ginger
½ ‐ ¾c chopped tomato, either fresh or canned, your choice (I used canned)
2T oil of choice
1½T curry powder
¼ ‐ ½ t red pepper flakes (depending on how hot you like things)
¼ ‐ ½ t salt
1t flour
2c coconut milk (again, thicker is beder, and I used full‐fat)
Directions
Rinse and dry the fish. Whatever you are using, you need to cut it into approximately 1½ inch pieces –small bite sized. Small shrimp or scallops will probably be ok left uncut. Set aside. Place onion through tomato in bowl of food processor and process until well pureed. Heat oil in a large saucepan over medium heat. Add pureed mixture and cook approximately 5 minutes, or until some of the liquid cooks off. Stir in the pepper flakes and curry powder and cook for 1 minute. Stir in the flour and salt and cook
for 1 minute more. Add the coconut milk and turn the heat up to medium‐high, stirring well until all ingredients are well combined. Cook until coconut milk boils, stirring occasionally. Add the fish of choice and stir. Cook 2 – 3 minutes over this heat then reduce heat to medium or medium‐low, just enough to keep it bubbling just a bit. Cook another 8 minutes or so, less for scallops, or until fish is cooked through and opaque. Serve hot over rice, preferably basmati.
Country:
Sri Lanka
Notes and Instructions
This is NOT a tomato based curry, but rather a coconut milk based curry with some added tomato. A snap to make and absolutely scrumptious. I used halibut in this recipe, but any firm white fish, or even shrimp or scallops could be used in this, just adjust the cooking time. Whatever you use the pieces should be fairly small and of relatively uniform size so as to finish cooking all at the same time. This is a very pretty light orange color and looks beautiful with the cabbage stir‐fry a few recipes down. Enjoy!