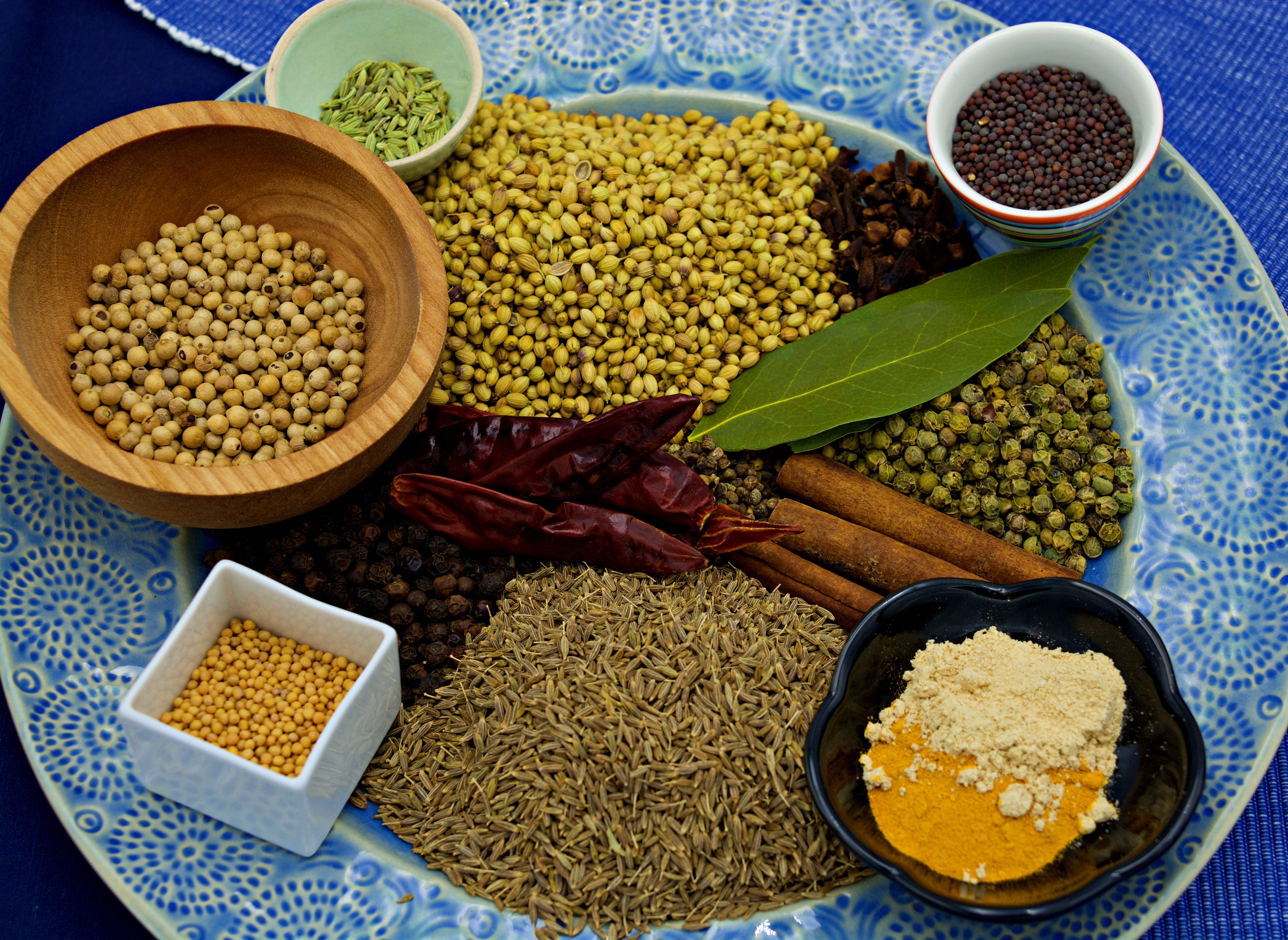 Serves
Yield: 2 cups
Ingredients
Cooking tips/notes: Garam simply means "warming" and masala means "blend" or "mixture." This particular combination has some heat from the chilies, mustard seeds, peppercorns, and ground ginger. The great thing about spice blends like this is that you can always adjust the quantity of any one ingredient to suit your personal taste. Always be careful when working with dried chilies! Wash your hands and don't touch your face – especially anywhere near your eyes. If you have trouble breaking the cinnamon sticks into smaller pieces, toast them first. They'll be more brittle after toasting and easier to break. Some of the spices will "pop" as they warm. Don't worry if that happens! This recipe yields a significant quantity; feel free to cut it in half. (I love to package up this mixture and gift it to my friends who like to cook.) A small coffee grinder is the piece of equipment that's key to making spice blends easy to produce. I've been using the same one for over 10 years.
4 whole dried red chilies
3 cinnamon sticks, each about 3 inches, broken into pieces
3 dried bay leaves
1 tablespoon yellow mustard seeds
1 tablespoon brown mustard seeds
1 teaspoon cardamom seeds
1 teaspoon whole fennel seeds
½ cup whole cumin seeds
¾ cup whole coriander seeds
2 tablespoons black peppercorns
2 tablespoons white peppercorns
2 tablespoons green peppercorns
1 tablespoon whole cloves
1 teaspoon dried ground turmeric
1 teaspoon dried ground ginger
Directions
Warm a large skillet over medium heat. In batches, add the chilies, cinnamon sticks, bay leaves, seeds, peppercorns, and whole cloves to the skillet. Toast each batch over medium heat, moving the skillet around so that the spices don't scorch. Empty skillet after each batch onto a large plate or sheet pan. Repeat until all spices have been toasted. Let cool completely.
After toasting, break the chilies, cinnamon sticks, and dried bay leaves into small pieces with your hands. Working again in batches, grind all of the toasted spices in a small coffee grinder. Add each batch to a bowl.
When all the toasted spices have been ground, stir in ground turmeric and ground ginger.
Store in an airtight jar, away from the stove.
Country:
India
Notes and Instructions
Recipe and photo credit: Traci Barr