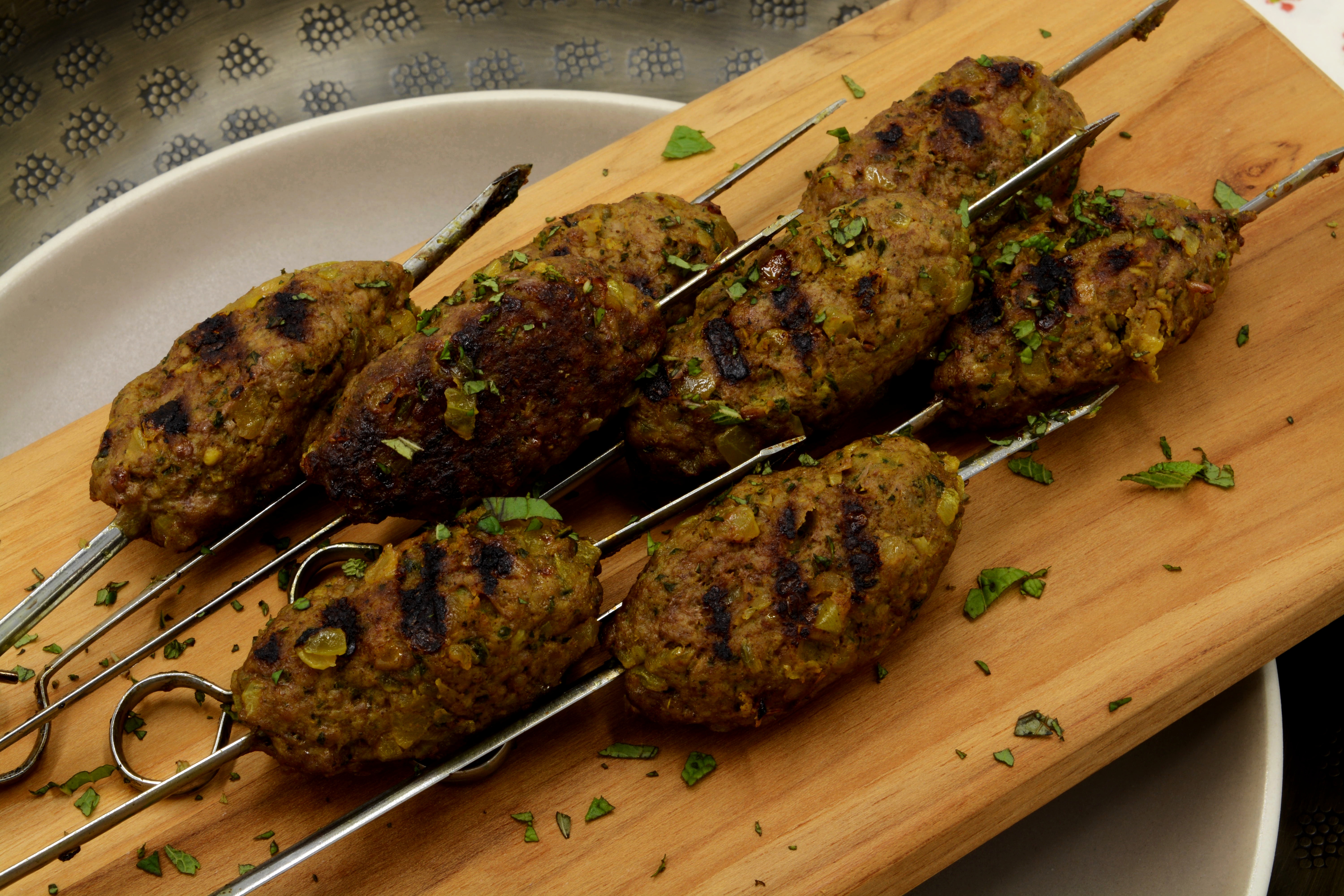 Serves
4
Ingredients
2 tablespoons grapeseed (or other neutral-flavored) oil
1 medium white onion, minced
2 cloves garlic, minced
1 teaspoon ground cumin
1 teaspoon ground coriander
1 teaspoon ground turmeric
1 teaspoon kosher salt
½ teaspoon ground black pepper
¼ teaspoon ground cinnamon
¼ cup finely chopped fresh mint
1 pound ground lamb
Directions
Warm grapeseed oil in a frying pan over medium heat. Add minced white onion and sauté until translucent and slightly golden, approximately 4 to 5 minutes. Add the minced garlic, ground cumin, ground coriander, ground turmeric, kosher salt, ground black pepper, and ground cinnamon. Cook for another minute or two until very fragrant.
Stir in the finely chopped fresh mint, just until combined. Remove from heat and let cool.
As the onion and spice mixture is cooling, preheat the broiler.
Put ground lamb into a large bowl. When the onion and spice blend has cooled, gently mix it into the ground lamb until thoroughly combined.
Using approximately 2 ounces of the lamb/onion and spice mixture for each kebab, form cylinder shapes. Thread each, long-wise, onto a metal skewer. You should be able to make a total of 8 skewers.
Place skewers on a broiling pan and broil 4 to 5 minutes per side. Alternatively, you could cook them on top of the stove in an oiled grill-pan or cast-iron skillet.
Serve immediately.
Country:
Kenya
Notes and Instructions
Cooking tips/notes: In Kenya, these kebabs are called kofta. Take a look at the photo that accompanies this recipe to get an idea about the shape of them. They're really just meatballs, formed into a cigar shape. Made even smaller, they would be great to serve as an appetizer for a party. Metal skewers are preferable.
Recipe and photo credit: Traci Barr