Haitian Spaghetti with Hotdogs (Tested)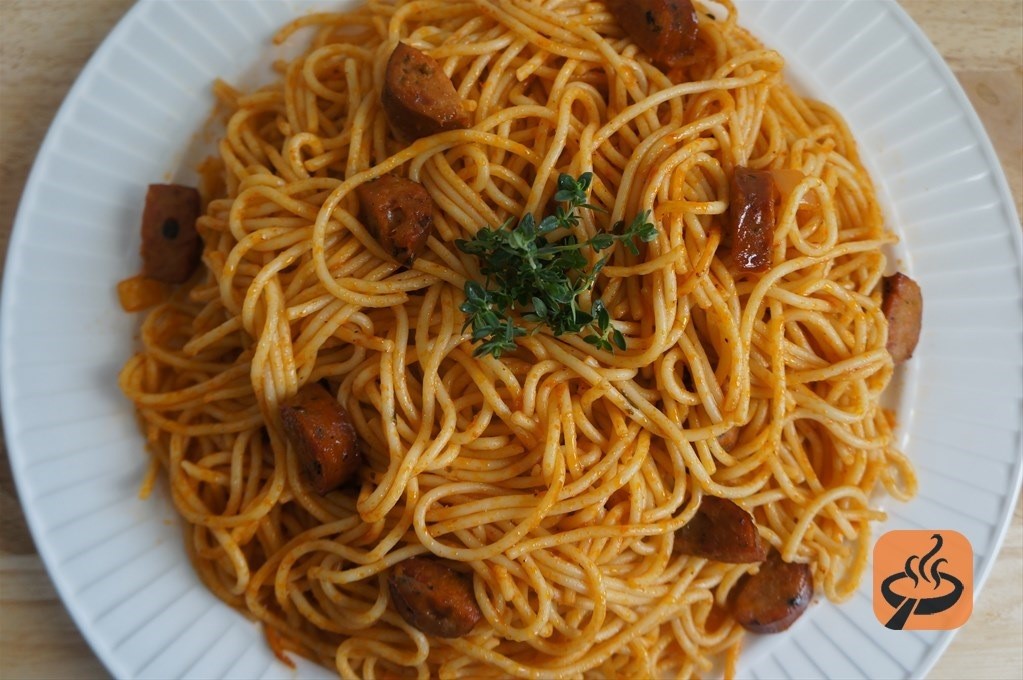 Serves
6-8
Ingredients
1lb. spaghetti
3 tbsp. olive oil
3 tbsp. tomato paste
1 tbsp. chopped garlic
1 ½  cups diced white onions
1 tsp. fresh thyme, chopped
5 hotdogs or sausage links, cubed or sliced
1 ½ tbsp. chicken bouillon powder (about 6 cubes crushed)
1 ½-2 cups reserved pasta water—very important
pepper (to taste)
½ teaspoon red pepper (crushed) or habanero pepper – optional
Directions
Boil pasta according to package instructions two minutes short of recommended cooking time or until "al dente." Don't worry, it will cook further in the sauce. In a heavy large saucepan, heat oil and add tomato paste. Cook tomato paste for 3 – 4 minutes while stirring occasionally. Add garlic, onion and thyme and cook for 5 minutes while occasionally stirring. Add the hotdogs and chicken bouillon and continue browning the meat. Add the cooked pasta and stir to scrape up all the deliciousness on the bottom of the pan while gradually adding the reserved pasta water. Lower heat and cook for another 3-5 minutes, the starchy pasta water will help distribute the sauce and thicken, the finished dish will not have any excess liquid in the bottom of the pan, all the sauce will be clinging to the noodles.* Add crushed red pepper if using. Season with salt and pepper to taste, but be careful as you may not need any more salt due to the chicken bouillon. Serve hot.
*Note: For transport to a potluck I would recommend that after you put the spaghetti in a serving bowl add some extra pasta water, maybe about ½ cup, it will eventually be absorbed by the pasta and your spaghetti won't be dry by the time you serve the dish.
Country:
Haiti
Notes and Instructions
Note from recipe curator Linda McElroy:
This recipes is courtesy of Gemma's Kitchen Delights. Gemma grew up in Haiti and went to cooking school there, although her early and most formative education came from her Aunt Jeanne who introduced her to basic Haitian cooking. I contacted Gemma and asked her for a recommendation for an authentic recipe or a favorite. She told me that Haitian Spaghetti with Hotdogs is one of the most searched for and very authentic to Haitian cuisine. Gemma—you had me at hotdogs! There, I said it, don't judge me! Haitian Spaghetti is made with spaghetti, hot dogs, tomato paste and spices. You can definitely substitute other types of meat for the hotdogs. Gemma suggests Italian sausage, chicken sausage, cut up ham or no meat at all for a vegetarian version. Use your fancy sausage if you like, I'm putting hotdogs in mine!
Recipe contribution from Linda McElroy, adapted from and photo credit with permission from:http://www.gemmasliving.com/haitian-spaghetti-2/