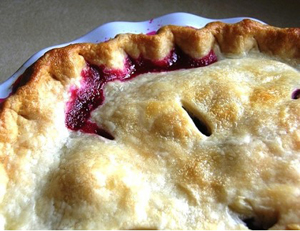 Serves
10-12
Ingredients
1 package prepared pie crust for 2‐crust pie, or your own recipe
3c blackberries, picked over and rinsed
3c blueberries, picked over and rinsed
2 ½ c raspberries or other summer berries such as red currants or boysenberries picked and rinsed
1/3 cup cornstarch
1T flour
1‐1/4 cups sugar plus additional for sprinkling the pie
1/4 cup fresh lemon juice
1/8 teaspoon freshly grated nutmeg
1/8 teaspoon cinnamon
1 tablespoon unsalted butter, cut into bits
1/4 cup half‐and‐half
Directions
Roll out half the dough (you will even have to do this with the prepackaged crust to make it big enough) about 1/8‐inch thick on a lightly floured surface, fit it into a 9‐inch deep‐dish (1 quart) pie plate, and trim the edge, leaving a 1/2‐inch overhang. Chill the shell while making the filling. In a large bowl toss together the berries, the cornstarch, flour, 1‐1/4 cups of the sugar, the lemon juice, the nutmeg, and the cinnamon until the mixture is combined well, mound the filling in the shell, and dot it with the butter bits. It will be VERY full. Roll out the remaining dough into a 13‐ to 14‐inch round on a lightly floured surface, drape it over the filling, and trim it, leaving a 1‐inch overhang. Fold the overhang under the bottom crust, pressing the edge to seal it, and crimp the edge decoratively, or press the tines of a fork into it all the way around. Brush the crust with the half‐and‐half, make slits in the top crust, forming steam vents, and sprinkle the pie lightly with the additional sugar. Bake the pie on a large baking sheet in the middle (not too close to the top or it will burn before it is cooked) of a preheated 425°F. oven for 20 minutes, reduce the heat to 375°F., and bake the pie for 35 to 40 minutes more, or until the crust is golden and filling is bubbling. Allow to cool for an hour before serving.
Notes and Instructions
The BEST pie recipe in the world! How convenient that the berries are in season now. We have been
making this recipe for years and it is always a big crowd pleaser! Serve with good vanilla ice cream, or,
even better, homemade whipped cream! You may use any combination of berries you like, just keep in
mind that blackberries and raspberries are juicier than blueberries and so you will need to add another
tablespoon or more of flour.