Kyuri no Sumomi (Japanese Sliced Cucumber Pickle)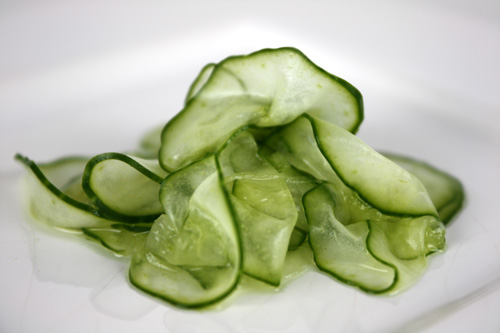 Serves
4
Ingredients
8 – 12 pickling cucumbers, depending on size, very thinly sliced
Salt
1c rice vinegar
¼ ‐ 1/3 c sugar
Directions
Place a layer of cucumber slices in a medium‐sized bowl. Sprinkle this layer with salt. Repeat with all remaining cucumber slices, alterna4ng layers of cucumbers and then salt. Use a fair amount of salt – you will be rinsing it off. Allow to sit for one hour to allow the salt to draw moisture out of the cucumbers. Place the cucumber slices in the bowl of a salad spinner or in a colander. Rinse very well with cold water to remove the salt. They will still taste a little salty. Dry bowl, and place a kitchen towel in the bottom. Place the cucumber slices in the bowl on the towel, fold the towel over the cucumbers and press to squeeze out excess moisture. Mix vinegar and sugar, stirring well to dissolve sugar completely. Taste and add more sugar if necessary. You should be able to taste the sweetness of the sugar over the sourness of the vinegar. Add vinegar mixture to cucumbers and toss well. Chill for at least one hour before serving as a salad or condiment.
Notes and Instructions
This is a recipe Tom's Mother learned from her Japanese friends while she was in Japan with Tom's Dad,
who was in the Navy during the Korean War. Tom was born in Japan, and has a special place in his heart
for Japanese foods and culture. This recipe that is really like cucumber salad is super easy and so refreshing on a hot summer day. We have an abundance of cucumbers coming in from the garden and this is a great way to use them. The finished product keeps for at least a week in the refrigerator. We pack it into canning jars and cover it with the vinegar solution.