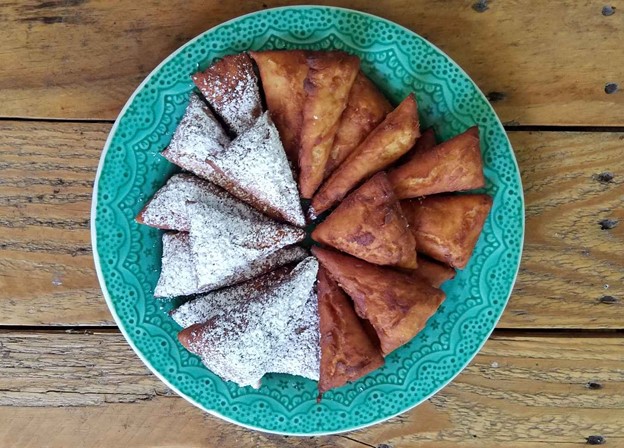 Ingredients
¼ cup warm water
2.5 tsp active dry yeast
1/2 c sugar
3/4 c coconut milk
1 egg
3 c flour
1 cup shredded coconut
1 tsp salt
1.5 tsp ground cardamom
1/2 teaspoon mace
canola oil for frying
Directions
Mix warm water, yeast, and sugar in a mixing bowl and let sit for a few minutes until the yeast begins to bubble. Slowly whisk in the coconut milk and egg. In a separate bowl sift together the flour, salt, ground cardamom, and mace. Mix the dry and wet ingredients together and knead by hand until they are thoroughly combined.
Place the dough in a greased bowl, cover loosely, and let rise until dough has doubled in size. This will take 1-2 hours, depending on the temperature of the room.
When the dough is ready, transfer it to a floured cutting board and let rest for 20 minutes. Divide the dough in two pieces and roll them out to ¼ – ½ inch thick and cut into desired shape.
Pour 1 inch oil in a fry pan and heat on medium until oil is 375 degrees.
Place a few of the mandazi in the pan and fry each side for a few minutes until they are golden brown. Remove the cooked mandazi from the oil with tongs and place on paper towels to remove the excess oil. Allow the oil to return to 375 degrees between batches.
These can be eaten warm as is or cooled and dusted with powdered sugar.
Country:
Kenya
Notes and Instructions
Recipe and photo credit: Georgia Reader