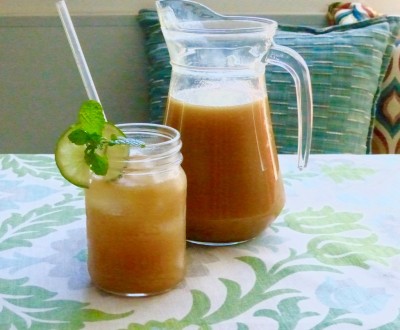 Serves
6 cups
Ingredients
Tea is an extremely popular beverage in India, and is more popular than coffee. Indians drink tea all year round, but in the summer iced is the way to go. If fresh mangoes aren't available, try using frozen mango chunks.
Ingredients
2 black tea bags (or 2 tsp. loose black tea)
2 cardamom pods, lightly crushed (optional)
4 cups boiling water
2 small mangos, peeled and diced (about 1 ½ cups)
3 tbsp. honey
Mint sprigs
Lime wheels
Directions
To make the tea, place the teabags in a pitcher, along with the cardamom pods, pour the boiling water over and steep for 3 minutes. Remove the teabags and cardamom (or strain the leaves) and let cool on the counter.
When the tea has cooled, pour into a blender and add the mango chunks and honey. You may have to do this in batches if your blender is small. Blend until very smooth.
Can be made one day ahead of time.
To serve, fill glasses with ice and add tea. Garnish with a mint sprig and a lime wheel.
Country:
India
Notes and Instructions
Recipe contribution from Linda McElroy, adapted from: http://www.vegrecipesofindia.com/mango-iced-tea/
Photo credit: Linda McElroy