Moroccan Apricot Chicken Tagine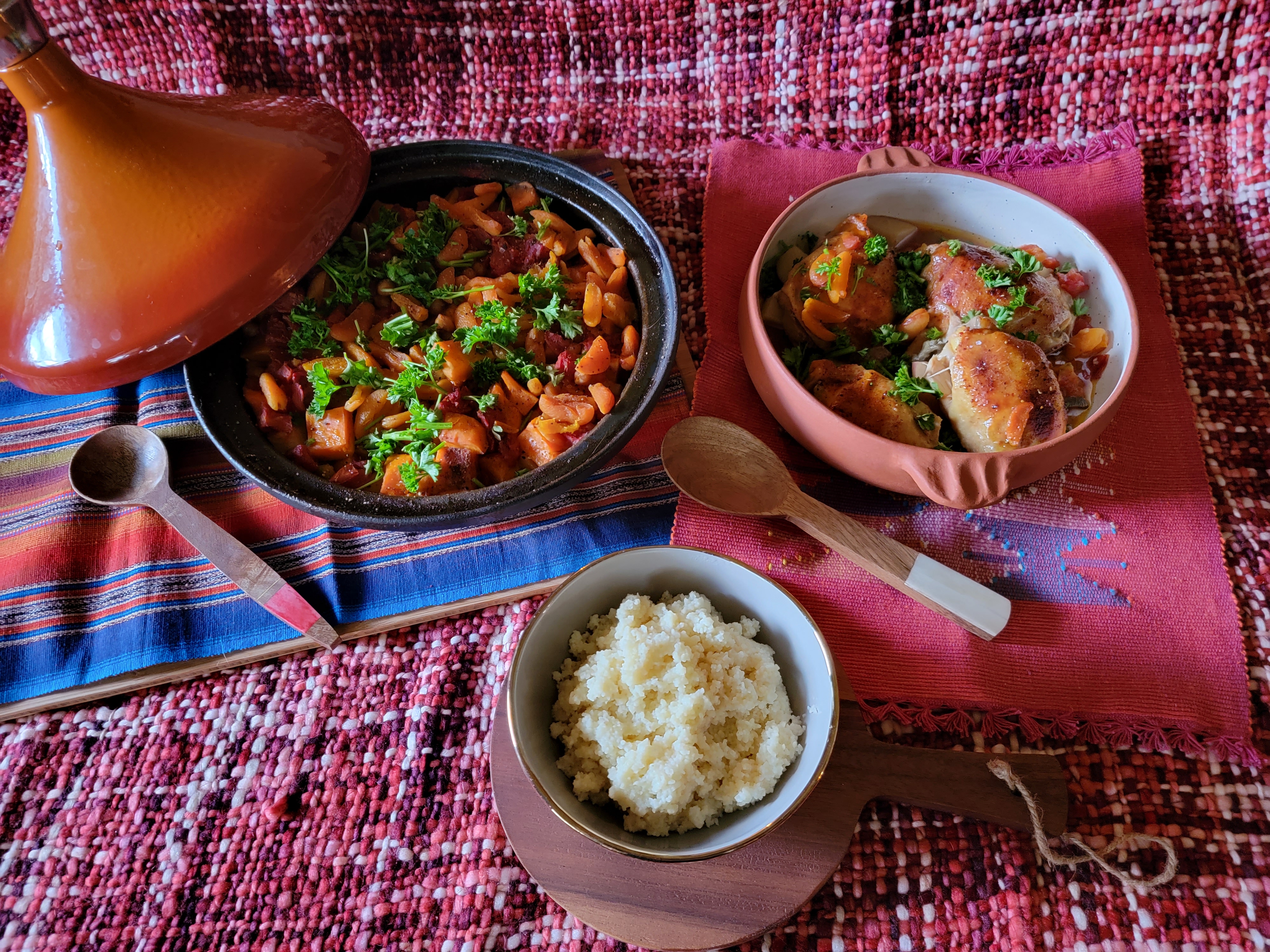 Ingredients
3-4 lb. chicken thighs (See instructions for vegetarian option)
2 T harissa seasoning
2-3 T olive oil
1 red onion, sliced
1 large eggplant sliced
2 c zucchini, chopped
3 c potatoes, chopped
1 each red, yellow, and orange pepper, chopped
1 yellow pepper, chopped
2 c tomatoes, chopped
2-3 c chicken broth (or vegetable broth for vegan/vegetarian option)
2 T Ras El Hanout seasoning*
1 3 in piece of cinnamon
1 c apricot, sliced, stew in water for 10 minutes if using dried
parsley, chopped, to serve
cooked couscous, to serve
Directions
Dry rub the chicken thighs with the harissa seasoning. Refrigerate for 2 or more hours.
Coat the bottom of the tagine with the olive oil. Layer the onion and eggplant slices in the pan. Put the zucchini, potatoes, peppers, and tomatoes on top of the eggplant. Sprinkle with Ras El Hanout. Add chicken broth to cover vegetables. Put the cinnamon stick in broth. Put the seasoned chicken thighs, skin side up, on top of the vegetables.
Cover and put in a 350 F oven for 1 hour or until the pan heats up and the liquid starts to bubble. Turn the oven down to 300 F and let simmer for 2 hours.
When meat and vegetables have cooked, take the top off the tangine and top with the apricot slices. Return to oven and cook until the apricot is warm.
Serve over couscous and top with chopped parsley.
For a vegetarian option, substitute 2 pounds cooked chickpeas for the meat and sweet potato for the eggplant. This version may require an additional cup of liquid after the first hour.
*This blend of warm spices is more readily available than you might think. Find it online and in big box stores. Target even has a store brand.
Country:
Morocco
Notes and Instructions
Recipe and photo credit: Georgia Reader