Ingredients
1 qt of water
1 c green bell pepper, chopped
1 c onion, chopped
1 bunch of cilantro leaves
3 cloves garlic
1-2 tsp salt and pepper
2 lb masa flour
1 c lard (butter or oil can be used for vegetarian and vegan options)
2 lb. chicken breasts, chopped, medium
1 c red bell pepper, chopped, medium
1 c water
1-2 tbsp of achiote paste
2 c olives, medium chop
2 c potato, medium chop, parboiled
2 c of white rice, parboiled
1 c red beans, precooked
¼ cup of capers
Banana leaves
Directions
Blend the 1 qt water, green pepper, onion, cilantro, garlic, salt, and pepper until pureed. Pour into a large pot, add the masa and lard, and cook over low heat, stirring constantly until it thickens. Remove from heat and separate into two bowls.
Simmer the chicken, red pepper and achiote paste in the 1 cup water until the chicken is cooked. Reserve the liquid and mix with ½ of the masa and cook until it thickens again.
Mix the olives, potato, rice, capers, and red beans in a bowl. Warm the banana leaves in the microwave or steamer for a minute or until they become pliable for wrapping. Cut into 9 in X 9 in pieces.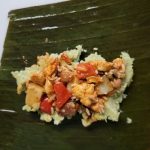 Lay out one banana leaf on a cutting board. Put one scoop of the white masa and spread it into a rectangle. Add a scoop of the seasoned chicken and a scoop of the olive mix and spread on white masa. Top with a scoop of the red masa and spread to cover the olive filling.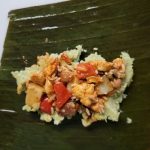 Wrap the filled masa in the banana leaf. Start by folding the bottom of the leaf to cover the masa. Fold the two sides of the leaf in over the masa. Fold the top of the leaf down to enclose the masa and filling. Tie the rectangle with a banana leaf strips to hold the banana peel in place.
Put the nacatamales in a steam pot and with enough water in the base to steam for an hour. Use high heat for 15 minutes to get the water boiling and then lower heat to medium heat for 45-60 minutes until they are cooked through and hold together when unwrapped. Do not pack the nacatamales tightly as they will expand slightly as they cook.
These can be eaten as is or with your choice of toppings and sides: hot sauce, sour cream, salsa, avocado slices, or fresh squeezed lime.
Country:
Honduras
Notes and Instructions
Recipe and photo credits: Georgia Reader