Not your Grandmother's Creamed Spinach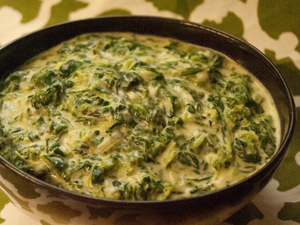 Serves
6
Ingredients
2T butter
6 scallions, minced
1 clove garlic, minced
1 – 5.2oz. package of Boursin garlic and herb cheese, at room temperature
2 – 10 oz. packages frozen chopped spinach, thawed and drained
3T heavy cream, light cream or half and half, or more to reach desired consistency
¼ t ground nutmeg
Salt
Freshly ground black pepper
Directions
Melt butter in medium‐sized skillet over medium heat. Add scallions and cook until softened, about 3 minutes. Add garlic and cook 1 minute. Add Boursin cheese, breaking into chunks and stirring until it melts. Add the spinach and cook 5 minutes. Reduce heat to low. Add cream, nutmeg and salt and pepper to taste. Serve warm.
Notes and Instructions
Kitchen Garden Magazine, April/May, 1997 issue. Now I know creamed spinach is not generally thought of as a summer food, but I decided to include it here because spinach is so popular in Tanzania. You will never make creamed spinach any other way once you have tried this. ALWAYS gets compliments from company.