Pork in Sweet Soy Sauce (Be Celeng Base Manis)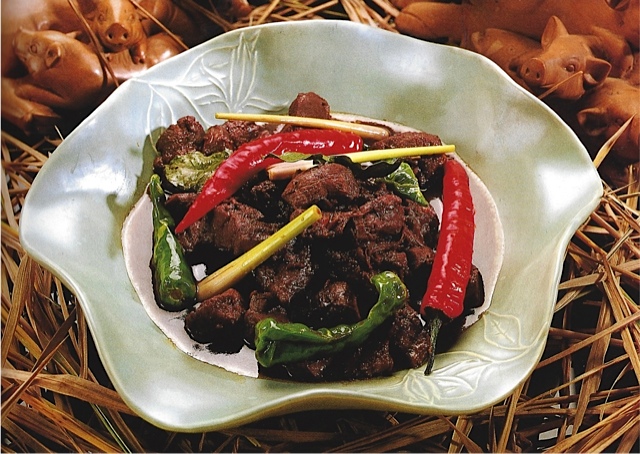 Serves
4
Ingredients
This pork dish often appears on festive occasions, when a whole pig is slaughtered. It includes one of my very favorite condiments, "kecap manis," or sweet soy sauce. You should find it readily at an Asian market, but in case you don't want to buy a whole bottle of the stuff I'll tell you how to make an acceptable substitute. But I promise that if you do buy a whole bottle you will find many ways to drizzle it on everything!
2 tablespoons oil
5 shallots, peeled and sliced
5 cloves garlic, peeled and sliced
1 ¼ pounds boneless pork shoulder or leg, cut into ¾" cubes
3" piece of ginger root, peeled and sliced lengthwise, cut into matchsticks
4 tablespoons kecap manis (sweet soy sauce – or substitute, recipe below)
2 tablespoons thin soy sauce
1 teaspoon black peppercorns, crushed
2 cups chicken stock
6-10 bird's-eye chilies, left whole
Directions
Heat the oil in a wok or a heavy saucepan. Add shallots and garlic and sauté for 2 minutes over medium heat or until lightly colored. Add pork and ginger and continue to sauté for 2 more minutes over high heat. Add both types of soy sauce and black pepper and continue sautéing for 1 minute.
Pour in chicken stock, add chilies and simmer over low heat for approximately 1 hour. When done, there should be very little sauce left and the meat should be tender, shiny and dark brown. If the meat becomes too dry during cooking add a little chicken stock or water.
Country:
Indonesia
Notes and Instructions
Substitute for kecap manis: Mix together 1 part molasses, 2 parts brown sugar, 3 parts soy sauce. Add crushed garlic and ground star anise, or star anise pod. Heat the mixture until the sugar dissolves.
Recipe source: The Food of Bali, Periplus Edition