Red Rice with Grilled Shrimp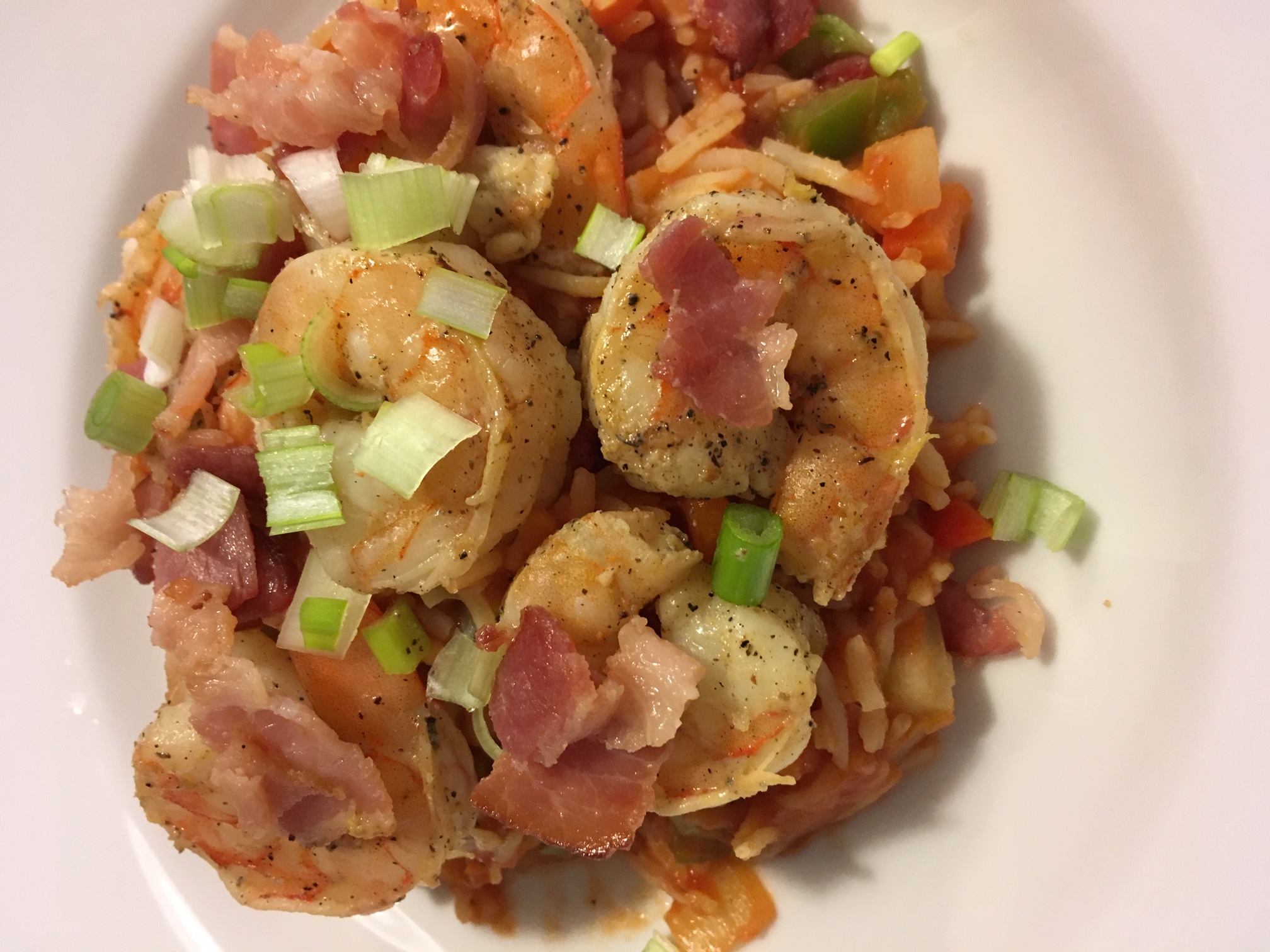 Serves
4
Ingredients
Cooking tips/notes: Like with any dish that uses a hot pepper of some kind – in this case, jalapeño – the final amount to include is really a matter of personal taste. If you'd prefer no heat at all, feel free to leave the jalapeño out altogether. A great way to add flavor to rice (or any grain) is to cook it in a broth of some kind, rather than water. For this recipe, vegetable broth is a good choice. But for something even more flavorful, it's nice to combine (in equal proportions) vegetable broth and bottled clam juice. A long-grain "non-aromatic" white rice is best for this dish. If you're able, it's worth seeking out a variety called Carolina Gold. Whenever you need both lemon zest and lemon juice for a recipe, zest the lemons first, then squeeze for the juice! If you'd prefer not to use bacon, sauté the vegetables in 2 tablespoons of extra-virgin olive oil instead. You could also include 1 teaspoon of smoked paprika (at the same step where the garlic, bay leaves, and minced thyme are added) for the bacon's smoky flavor.
Ingredients:
1 pound large, raw, deveined shrimp
1 tablespoon extra-virgin olive oil
1 tablespoon lemon zest
4 cloves garlic, minced, divided
¼ cup lemon juice, divided
2 ½ teaspoons kosher salt, divided
¼ pound bacon, cut into ½-inch wide strips
1 large yellow onion, diced small
1 red bell pepper, seeded and deveined, diced small
1 green bell pepper, seeded and deveined, diced small
2 celery stalks, diced small
1 small jalapeño pepper, seeded and deveined, minced
2 bay leaves
1 teaspoon minced fresh thyme leaves
1 large (28-ounce) can crushed tomatoes
½ teaspoon ground black pepper
2 cups low-sodium broth
1 cup long-grain white rice
4 scallions, white and green parts, thinly sliced for garnish
Directions
Put shrimp in a large glass bowl. Add the extra-virgin olive oil, lemon zest, half of the minced garlic, half of the lemon juice, and 1 teaspoon of kosher salt. Gently toss everything together so that all the shrimp is coated. Set aside while you make the rest of the dish.
Heat a large, heavy pot over medium heat. Add the bacon strips and cook until crisp and most of the bacon fat has rendered. Remove the bacon strips with a slotted spoon and drain on paper towels. Reserve to use as garnish at the end.
Add the onion, red and green bell peppers, celery, and jalapeño pepper to the pot. Sauté until the vegetables are slightly tender, approximately 5 minutes. Add the remaining garlic, bay leaves, and minced thyme. Season with 1 teaspoon kosher salt and ½ teaspoon ground black pepper. Cook for another minute until very fragrant. Add the drained canned tomatoes and stir everything together. Reduce heat and simmer gently, stirring occasionally.
While the vegetable mixture is simmering, put broth into a medium-sized pot and bring to a simmer. Add the rice and ½ teaspoon of kosher salt. Stir together and return to a gentle simmer. Reduce heat to low and cover the pot with a tight-fitting lid. Cook rice for approximately 15 minutes until tender and all liquid has been absorbed.
While rice is cooking and vegetable mixture is still simmering, heat a large heavy skillet or griddle pan—cast iron is best—over high heat until very hot. Sauté the shrimps for 2 to 3 minutes, just until they're turning pink and getting slightly charred on the edges. Remove from skillet and set aside.
When the rice has finished cooking, fluff it a bit with a fork and then add it to the pot with the vegetable mixture. Add the remaining lemon juice and stir everything together. Discard the bay leaves.
Divide portions into large, pasta-style bowls. Arrange several shrimps over the top and garnish each serving with some of the sliced scallions and reserved bacon strips.
Country:
Mauritania
Notes and Instructions
Recipe credit: Traci Barr
Photo credit and recipe testing: Kathy Williams