Sabita's Egg Curry Recipe – Bengali Style, Simplified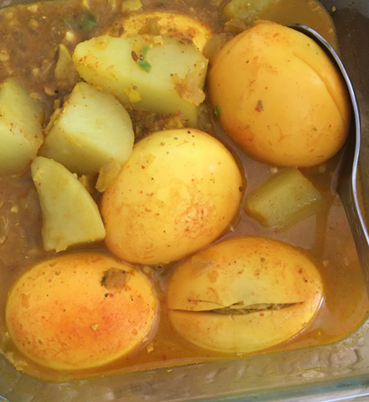 Ingredients
Eggs – half dozen
Potato – one large
Onion – one medium
Garlic – 3-4 cloves
Ginger – one-inch piece
Tomato – small, chopped
Cumin powder – 1 tsp
Coriander powder – 2 tsp
Turmeric – ½ tsp
Chili powder – ¼ teaspoonful (omit, if you prefer less heat)
Green chile – Thai hot, to taste
Garam Masala – 4 whole cloves, ½ inch cinnamon stick and one cardamom pod
Cooking oil – 2 Tbsp
Salt to taste
Directions
Make onion, garlic, ginger into a paste in a blender.
Wash and cut the potato in quarters. Boil the eggs and potatoes with a pinch of salt until the potato is cooked through. Drain the water and let it cool down in fresh cold water for 5-7 minutes. Peel the potatoes and the eggs. Sprinkle salt and turmeric on both. (Make some slits in the boiled eggs for the salt to enter and taste better.)
Heat the oil and fry the potatoes and eggs until golden. Take out with a slotted spatula and set aside.
Temper the same oil with the whole spices (lightly bruised to release the aroma). Once they start to sputter, add the onion/ginger/garlic paste. Fry on low heat for 5 minutes or until you see oil oozing out from the onion. Add the coriander, cumin powder, turmeric, and salt and cook for one minute. Add the chopped tomato.
Cover and cook until the tomato is soft. With your spatula, mix the tomato with the spice paste to get a smooth consistency. Cook for a minute and then add the eggs and potatoes. Give it a good mix and then pour in 1/2 cup of water. Check the salt and adjust to taste. Cover and let it simmer for 5-6 minutes until the eggs and potatoes take on the flavor.
Sprinkle with chopped coriander or garam masala powder, if desired, and serve hot with steamed rice or roti or paratha.
Enjoy!
Country:
Bangladesh
Notes and Instructions
Recipe and photo credit: Georgia Reader and Sabita Rakshit