Shaking Beef (Bo Luc Lac) (Tested)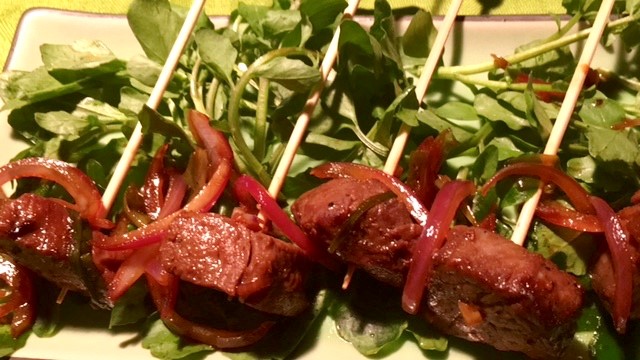 Serves
6-8
Ingredients
This recipe comes from Charles Pham, who owns a very famous Vietnamese restaurant in San Francisco, The Slanted Door. They typically go through about 800 pounds of beef each week! In Vietnam the dish is usually made with tough beef cuts, but Pham knew this dish would be exceptional if he used better ingredients, like beef tenderloin. You could substitute another type of beef, just as long as it's a tender cut.
This recipe has been adapted by Alice Krause, and tested in her home kitchen. It's also been tested out on our Dining for Women group to much acclaim!
Ingredients
1½ lb. beef tenderloin, cut into 1" cubes
1 tsp. sugar
1½ tsp. salt
¾ tsp. fresh black pepper
2 tbsp. neutral cooking oil, such as canola or corn oil
Dipping sauce:
Juice of 1 lime
2 tsp. sugar
½ tsp. kosher salt
½ tsp. fresh black pepper
Vinaigrette:
¼ cup rice vinegar
1 tbsp. light brown sugar
2 tbsp. fresh lime juice
3 tbsp. light soy sauce
1 tbsp. dark soy sauce
1 tbsp. sake
1 tbsp. fish sauce
4 tbsp. neutral cooking oil, such as canola or avocado oil
4 green onions, white and green parts, cut into 1" pieces
½ small red onion, thinly sliced
2 tbsp. thinly sliced garlic
2 tbsp. butter
2 bunches watercress, for garnish
Directions
Marinate the beef by combining sugar, salt, pepper and oil in a large bowl, cover bowl with plastic wrap and set aside to marinate at room temperature for an hour or refrigerate overnight.
Prepare the dipping sauce by combining the lime juice, sugar, salt and pepper.
Prepare vinaigrette by combining vinegar, sugar, lime juice, light soy, dark soy, sake and fish sauce. Set aside to infuse flavors.
Heat wok over high heat. (Note: these directions call for wokking the beef in two additions). Add 2 tablespoons oil to the wok. When the oil starts to smoke, add half of the drained beef (discard marinade) in a single layer. Continue to cook, flipping once until browned, approximately 3 minutes for medium rare.
Add half of the green onions, red onions and garlic and cook for 1 more minute. Pour half of vinaigrette down the side of the wok, and then shake pan to release the beef and toss with the vinaigrette. Add one tablespoon of butter and continue to shake pan until butter melts, hence the term "Shaking Beef." Remove the meat and onions from the wok. Set aside on a serving platter and keep warm.
Repeat entire process again with all remaining ingredients. Combine with previously wokked beef.
To serve, garnish the platter of meat with the watercress and the dipping sauce. Alternatively, you can skewer the beef cubes, as shown in the photo above.
Country:
Vietnam
Notes and Instructions
Recipe adapted from "Vietnamese Home Cooking," by Charles Pham
Photo credit: Alice Krause