Suvir Saran's Spinach and Potato Patties (Palak Ki Tiki) (Tested)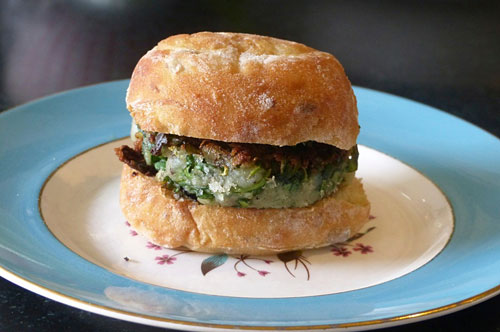 Serves
10-14
Ingredients
2 pounds red boiling potatoes, peeled and quartered
5 oz. bag of baby spinach
1 fresh, hot green chili, seeds removed, finely minced
3 green onions, minced, white and green parts
1 tsp. fresh minced ginger
1 tsp. garam masala
½ tsp. ground black pepper
1 ½ tsp. kosher salt
1 cup panko or breadcrumbs
oil for frying
Directions
If you plan to serve the finished patties all at once, heat oven to 200 degrees and hold them there. If you're not cooking and serving all at once, then there is no need heat the oven.
Place potatoes in a pot of cold water, bring to a boil, and then simmer until done, about 20 minutes. Drain the potatoes and put into a large bowl and lightly mash with a potato masher. Leave them just a little bit lumpy.
While the potatoes are cooking, slice the spinach into ribbons, about ¼ inch wide. A good way to do this is to grab a handful of spinach leaves and try your best to contain them in one hand and roll into a log shape, then thinly slice the rolled leaves
Add the seasonings to the mashed potatoes while they are still hot. This will help temper the chile and ginger just a bit, and take the bite out of them. Taste and correct seasoning if need be. Then stir in the shredded spinach. Mix with your hands so you can easily break up any remaining large lumps of potato.
Let the potato mixture chill in the refrigerator for an hour until it firms up a bit, making it easier to handle.
To begin forming patties (called "tikis"), scoop out about ½ cup of the mixture with a measuring cup, ice cream scoop, or your hands. Squeeze together to form a ball and lightly flatten in your hands. Place the patty on a baking sheet coated with a thin layer of panko or breadcrumbs, press into the crumbs, and then sprinkle more on top.
Do ahead tip: When all patties have been formed you can store them on the baking sheet for a day or two before cooking, or proceed directly to cooking.
Heat a medium skillet, big enough to cook just half the patties, over medium heat for a few minutes, and add a couple tablespoons of oil. Add the patties and cook for about 5 minutes, until nice and brown on the bottom. Take care to monitor the heat so they don't burn. Drizzle in some additional oil around and over the top of the patties and flip them. Cook until heated through and brown on the bottom, about 5 more minutes. Put the cooked patties into the warm oven and proceed with cooking the rest. I recommend doing this in two batches because you'll get a better result with all the patties browning evenly.
Serving tip: You can serve this patty as part of a Thali platter, or as pictured above as a fun little slider, garnished with coriander chutney. See following recipe for chutney.
Country:
India
Notes and Instructions
Recipe contribution from Linda McElroy, adapted from "Masala Farm," by Suvir Saran
Photo credit: Linda McElroy