Sweet Potato and Okra Stew (Daraba) (Tested)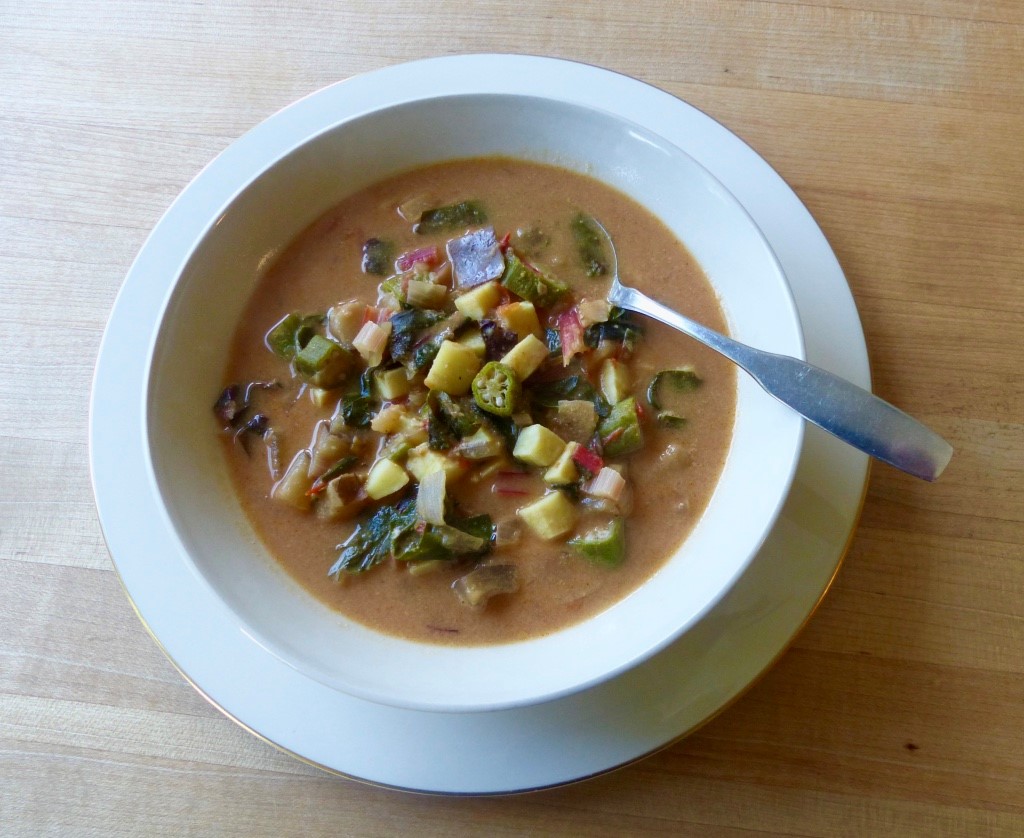 Serves
6
Ingredients
This is a wonderful vegetarian stew that is so easy to make. In about 30 to 40 minutes you'll be sitting down to a delicious, comforting stew. The peanut butter stirred in at the end really brings all the components of the stew together. Serve with white rice if you like.
Ingredients
2 tbsp. oil
1 medium onion, chopped, about 2 cups
1 Asian eggplant, skin on, diced, about 2 cups
3 small tomatoes, diced, about 2 cups
1 large sweet potato, diced, about 2 cups
1 beef or chicken bouillon cube
2 to 3 tsp. salt
¼ to ½ tsp. crushed chile flakes
20 fresh okra, sliced, or 1 ½ cups frozen
4 cups Swiss chard, chopped, about ½ bunch
½ cup peanut butter
Directions
Sauté onion in one tablespoon of oil for 5 minutes, until softened. Add the remaining tablespoon of oil and then the eggplant, saute for another 5 minutes. Add the tomatoes, and cook for a few minutes until the tomatoes start to break down. Add the sweet potato, along with 5 cups of water. Add the spices and simmer for 15 minutes. Add okra and greens and simmer for 5 minutes. Put the peanut butter into a small mixing bowl and add ½ cup hot water, stir to blend the peanut butter into a smooth paste, and add to the soup. Simmer for 5 minutes. Serve along with white rice.
Country:
Chad
Notes and Instructions
Recipe and photo credit: Linda McElroy