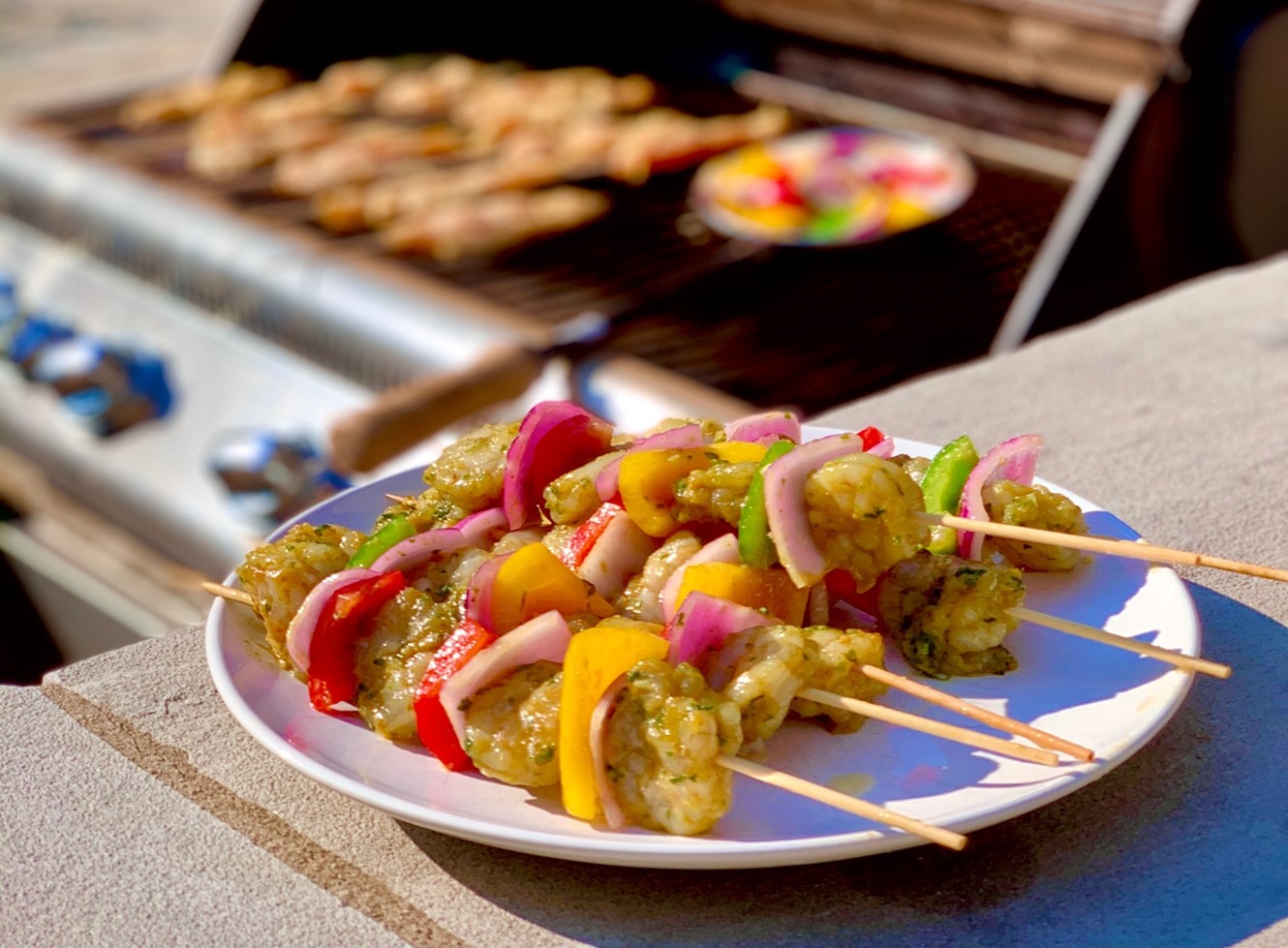 Ingredients
Shrimp, peeled and deveined – 1 lb (about 20—24, large sized)
Bell peppers – 2 (1 each of a different color), cubed
Onion – 1 large, cubed
Lemon – 1, quartered
Marinade
Fresh Ginger – 2" knob
Garlic – 6 cloves
Plain yogurt (Greek preferred)– ½ cup
Turmeric powder— ½ tsp + ½ tsp, divided
Cumin powder – 1 tbs
Coriander powder– ½ tbs
Cayenne powder– ½ tsp
Clove powder – ½ tsp
Cinnamon powder – ½ tsp
Ground Black pepper — ½ tsp
Fresh cilantro, washed, destemmed and finely diced – ½ cup
Salt – to taste
Equipment
Blender or mortar pestle
Bamboo skewers
Directions
Soak Bamboo skewers. This prevents them from catching fire on the grill or in the oven.
Add salt and ½ tsp turmeric to a bowl of water and rinse the shrimp.
Pat shrimp dry.
Make a ginger-garlic paste by pounding both together in the mortar pestle or by blending in a blender. Do not make it a fine paste, keep the consistency a little coarse and chunky.
Prepare marinade by adding the ginger-garlic paste and all the other ingredients listed under "marinade."
Marinate the shrimp in the marinade for a minimum of 30 minutes. Can be allowed to marinate overnight. Must be kept in refrigerator.
Fire up the grill to high heat or preheat oven to 350 degrees.
Thread the marinated shrimp alternating with peppers and onions.
The shrimp is done on the grill (10 minutes or so) when it turns opaque and is slightly charred.
For oven, bake for 10 – 15 minutes, then turn setting on broil and broil (on middle rack) for less than 5 minutes to get a char. Note that ovens have different heat intensity and shrimp cooks quickly, so check halfway into cook time to prevent burning.
Serving suggestions:
Have with a light summery salad.
Wrap it: requires naan and tzatziki. Take grilled shrimp, peppers and onions off the skewer and wrap in naan with a good drizzle of tzatziki.
Serve over rice pilaf with tzatziki.
Country:
India
Notes and Instructions
Note: Image is of skewers pre-grilling. The grilled skewers disappeared before your recipe curator could take a picture!
Recipe and photo credit: Vinola V. Munyon