Tilapia in Coconut Lime Sauce (Tested)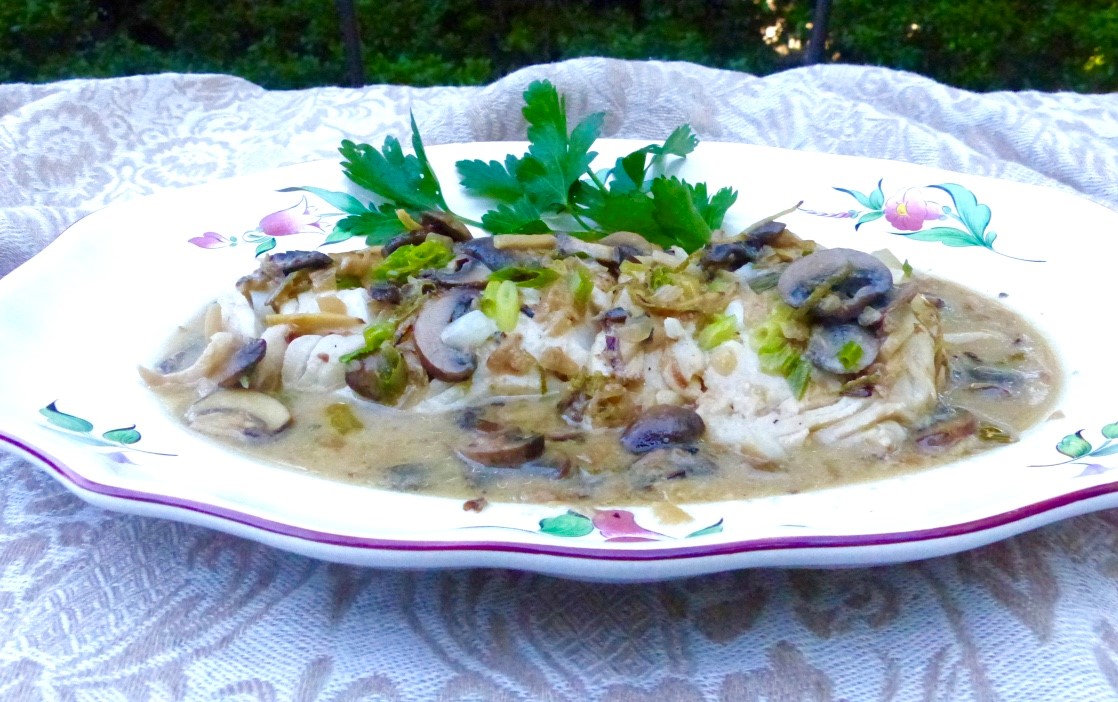 Serves
6
Ingredients
Tilapia, or "ngokah," is also referred to as "Nile perch" because it is abundant all along the Nile River region. Now that California aqua farmers are successfully raising this delicate perch-like fish, we can find it in our supermarkets, bringing this once "only in Africa" fish to our dinner tables. If perch is available in your area you can substitute perch for the tilapia. Other worthy stand-ins are red snapper or cod, or any white fish that you enjoy.
Note that this recipe calls for either fresh hot pepper or green sriracha sauce and that these ingredients are added at different times in the recipe.
2 tbsp. peanut oil or vegetable oil
1 small onion, chopped, about 1 cup
2 large cloves garlic, sliced
One (2-inch) piece fresh ginger, peeled and slivered
1 fresh hot pepper, chopped, or 2 tsp. green sriracha sauce
2 cups sliced mushrooms, about 6 oz.
14 oz. coconut milk, canned or homemade
1 lime
1 tsp. kosher salt
2 lbs. tilapia
2 green onions, chopped (white and green parts)
Fresh parsley, chopped, for garnish
Directions
Heat a skillet large enough to contain all the fish and coconut milk. Add the oil to the skillet along with the onion. Sauté for 2 minutes until slightly softened, then add the garlic, ginger, and hot pepper, if using. Cook for one minute.
Add the mushrooms and stir for one minute. Cover the pan and let the mushrooms steam for a few minutes. Remove the lid and let the mushrooms finish cooking.
Add the coconut milk. Using a zester or grater, grate the lime peel right over the pan, then cut the lime in half and squeeze the juice into the pan. Add the green sriracha, if using, and the salt. Bring the sauce to a simmer.
Lay the fish in the sauce, and sprinkle with the green onions. Cover, and simmer until fish is done. This could take anywhere from 5 to 10 minutes, depending on the thickness of your fish. Remove the fish to a platter and reduce the sauce if it looks thin and you would like it to thicken. Pour sauce over the fish and garnish with parsley.
Country:
Mali
Notes and Instructions
Recipe adapted from: "Zainabu's African Cookbook," by Zainabu Kpaka Kallon
Photo credit: Linda McElroy