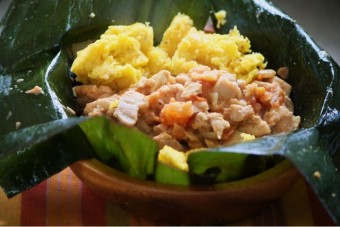 Serves
8
Ingredients
Chicken seems to be the traditional meat to use in this dish, but pork or beef are fine as well. When I made the dish I used pork because that's what I had. If you use chicken, boneless skinless thighs would be preferred as it can withstand longer cooking time.
2 pounds chicken, pork or beef (cut into serving-sized pieces)
1 cup unsalted peanuts, finely ground
2 onions, halved, and then sliced crosswise
1 cup sliced mushrooms
4 tomatoes, chopped
1 chicken stock cube
Salt and black pepper, to taste
Banana leaves (parchment or tinfoil will work)
1 smoked fish (optional)
3 plantains, peeled and cut into 1" chunks
Directions
Brown the meat in an oiled frying pan, do this in batches so as not to crown the pan, then remove and set aside.
Add a couple of tablespoons of oil to the same pan then add the onion slices and saute for 10 to 15 minutes to lightly caramelize them, then add the mushrooms and cook for 5 more minutes. Next add the tomatoes, chicken stock cube, salt, pepper, peanuts and the (optional) smoked fish. If necessary add a little water to form a smooth sauce. Cook to heat through and thicken up just a bit.
Plunge the banana leaves in boiling water to soften them, remove the mid-rib and cut the ends off the leaves to form rectangles. If you buy packed banana leaves, most brands (like Goya) have already removed the mid rib for you. Place a portion of meat and some of the tomato-onion sauce (and smoked meat or fish, if desired) in the center of a leaf. Then add two or three chunks of peeled plantain.
Fold the leaf from the sides then wrap from the ends to make at least a double layer. Tie into a package with oven-proof string then repeat until all the mixture is used up.
Place a wire rack or trivet in the bottom of a large casserole dish then add water to the bottom of the trivet. Place the meat packages on top of the trivet and cover the dish. Bring to a boil and steam the packets for an hour.
Remove the packets from the pot and serve.
Note: To see a pictorial on how to make this dish and tie up the packets be sure to click on the link provided below.
Country:
Uganda
Notes and Instructions
Recipe and photo, used with permission. Source: http://whatscookinginyourworld.blogspot.com/2012/03/day-184-uganda-chicken-luwombo-up-next.html