Vinegared Cabbage (Pikliz) (Tested)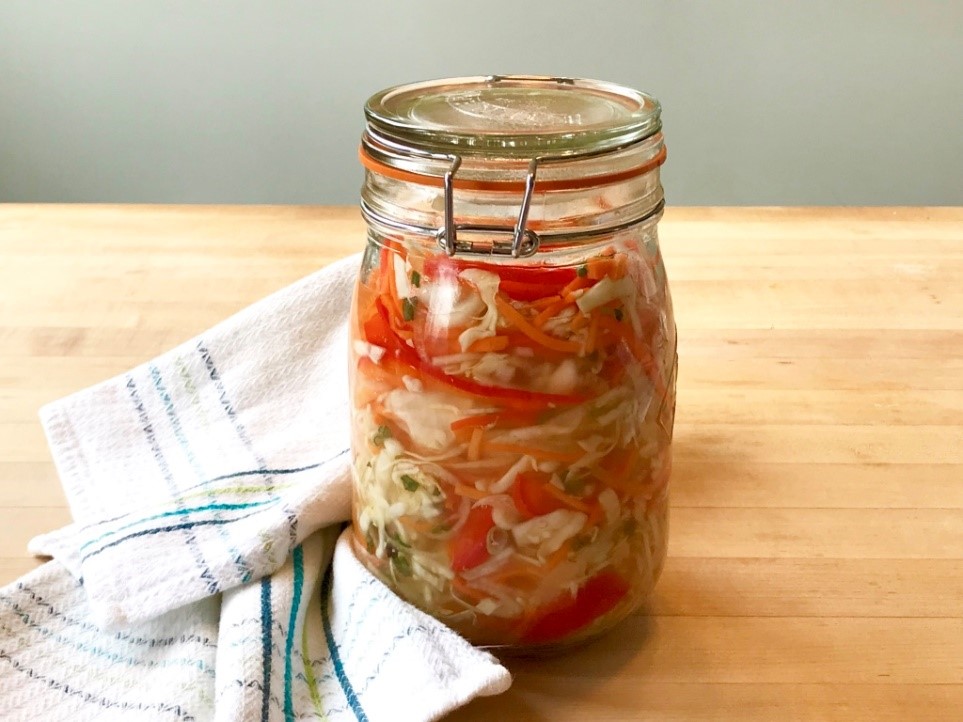 Serves
8
Ingredients
This is supposed to be a spicy cabbage relish, but – Yikes! – in doing research for this recipe I found recipes that called for as many as 8 habañero chiles with seeds intact! I could only imagine a three-alarm fire in my mouth, and I wasn't about to take one for the team, heh.  So I've adapted the recipe and recommend to cut down the chiles to between 2 and 4, with the seeds removed.
In my test batch I used 3 habañero chiles and I did not find it to be too spicy. I also used Adobo seasoning because I had some on hand, but it's not necessary. You can substitute salt to taste.
Also of note, this can be made well ahead of time, but do try to make it at least one day ahead of time. This gives the cabbage time to soften up a bit in the vinegar and the flavors to meld. This keeps indefinitely in the refrigerator and goes well with other foods as well.
Ingredients
4 cups cabbage, thinly shredded
1 large carrot, julienned, or shredded
1 medium onion, thinly sliced
½ red bell pepper, thinly sliced
4 cloves garlic, minced
2 to 4 habanero or scotch bonnet chiles, seeded and finely diced
2 green onions, sliced
2 cups white wine vinegar
6 whole cloves
1 tbsp. sugar
2 tsp. Adobo seasoning, or kosher salt
Directions
Mix all ingredients in a large bowl. Pack snugly into a jar large and let marinate, ideally for three to four days, but at least one day. Stir once a day to redistribute the ingredients and push down so that the vegetables are covered in the vinegar.
Country:
Haiti
Notes and Instructions
Recipe and photo credit: Linda McElroy