Warm Asparagus (or snap bean) Salad with Crispy Prosciutto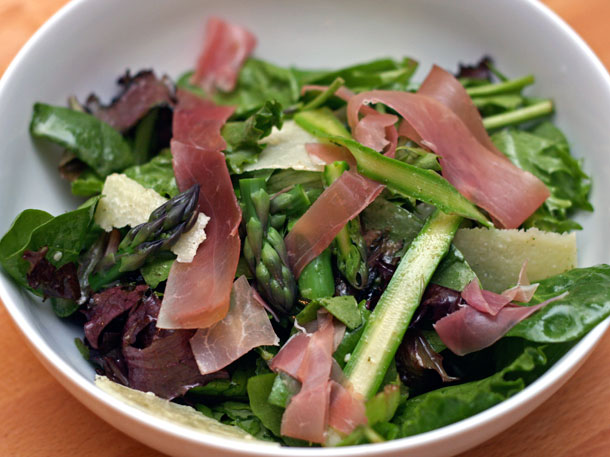 Serves
6
Ingredients
4 oz. VERY thinly sliced prosciutto
1 ¼ lbs. asparagus or snap beans, or both! ‐ trimmed
3T plus 1/3 cup olive oil
2 anchovy fillets, chopped, or 1t anchovy paste
3 cloves garlic, thinly sliced or chopped, your choice
¼ t red pepper flakes
¼ c fresh lemon juice
1 ‐ 5‐ounce package mixed baby greens (about 10 cups) or arugula
Directions
Preheat oven to 275°F. Line baking sheet with parchment paper. Place prosciutto slices in single layer on
parchment. Watch this as it may smoke if your oven runs hot. Bake until crisp, about 18 minutes. Cool.
Break prosciutto into bite‐sized pieces and set aside. Meanwhile, cook asparagus or beans in heavy large
Cucumber layers pot of boiling salted water until crisp‐tender, about 3 minutes. Drain and place in ice water bath to stop the cooking process. Drain thoroughly. Heat 3 tablespoons olive oil in large nonstick
skillet over medium heat. Add chopped anchovies and garlic and sauté about 1 minute. Add asparagus or beans, red pepper flakes and half of prosciutto and sauté until heated through, about 2‐ 4 minutes. Add fresh lemon juice and remaining 1/3 cup olive oil (you may use less of both – this makes a lot of dressing) and simmer 1 minute. Remove from heat. Season to taste with salt and pepper. Allow to cool slightly. Divide greens among 6 plates. Top with asparagus mixture, dividing equally. Pour dressing from
skillet over each serving. Garnish with remaining prosciutto.
Notes and Instructions
This is a spring and summer standard in our home, using asparagus in spring and snap beans in summer.
Once you have tried proscuitto this way you will find lots of uses for it – sometimes we even put it out in
big pieces for company as "prosciutto chips". You may either leave the asparagus/beans whole, or cut
into bite‐sized pieces. Also, you may omit the anchovy and add in a little bit of fine lemon zest.