Shop! Read! Watch! Listen!
Fair Trade
Singing Rooster Haitian Coffee
100 percent Arabica, washed Haitian coffee – grown and hand-picked on small scale farms
Direct Fair Trade plus – 100 percent of proceeds support farmers
Roasted in small batch/air roaster for a clean, bright cup with eco-friendly footprint
Definitive roasty goodness, hints of dark chocolate, medium body. Balanced cup, mellow acidity. Smooth.
$12.50
Sun Blowing in the Wind, Outdoor Garden Yard Art
Hand-crafted from cast-off 55 gallon steel drums, artists in Haiti follow four generations of tradition in metal sculpture. The artist first visualizes his design, often taking inspiration from his culture and natural surroundings. Next, he chalks his design onto the flattened metal and then, using only a hammer and chisel, gives the sculpture form and dimension. The result is a unique piece of folk art, perfect for home or garden use. To learn more, visit Beyond Borders.
$69
Books
Non-Fiction
Mountains Beyond Mountains: The Quest of Dr. Paul Farmer, a Man Who Would Cure the World
By Tracy Kidder (Random House Reader's Circle, 2009)
This book tells the story of Dr. Paul Farmer, a 44-year-old specialist in infectious diseases and an attending physician at the Brigham and Women's Hospital in Boston. Farmer founded a hospital and health center, Zanmi Lasante, in Cange, Haiti, hours from the capital and at the end of a gutted road in a region destitute even by Haiti's standards, as part of an extensive community-based health network linked to a hospital, Clinique Bon Sauveur. For more than 20 years, Farmer has spent many months every year there, often taking care of patients himself and continually improving the treatments offered by the clinic. (Adapted from The New England Journal of Medicine.)
On That Day, Everybody Ate: One Woman's Story of Hope and Possibility in Haiti — With Post-Earthquake Update
By Margaret Trost (Koa Books, 2008)
Following her husband's untimely death, Margaret Trost visited Haiti to heal her broken heart through service. Struggling to make sense of the extreme poverty, and touched by the warmth and resilience of those she meets, she partners with a local community to develop a food program that now serves thousands of meals each week to children and others in need. On That Day, Everybody Ate, which now includes a post-earthquake update, tells the story of her remarkable journey.
Films
Narrated by Paul Newman, The Price of Sugar follows Father Christopher Hartley, a charismatic Spanish priest, as he organizes some of this hemisphere's poorest people to fight for their basic human rights. At risk to his own life, Father Hartley must go up against one of the country's most powerful sugar baron families and even the government of the Dominican Republic to give voice to the people.
The life of Haitian radio journalist and human rights activist, Jean Dominique, told through historical footage of Haiti, interviews with Dominique and his wife, Michele Montas and footage shot before his assassination in April 2000.
Music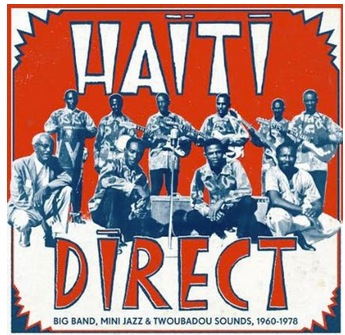 This two-CD collection explores Haiti's development of Caribbean music in the 60s and 70s. It is also available on vinyl.
$15.90